As the Earth continues to warm, more focus is being placed on sustainability. Plastic straws are being swapped out for metal ones, tampons for menstrual cups, shower gels for soap bars.
We've already started paying closer attention to what we're feeding our bodies, but now more consideration is being given to what we apply to our skin, with natural products becoming a major growth area for the beauty industry.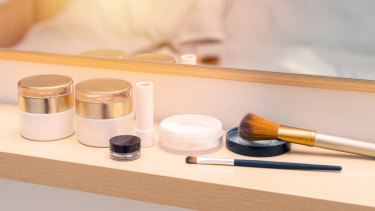 How should you store natural beauty products?Credit:Shutterstock
Both Mecca and Sephora, two of the country's beauty behemoths, have curated sections devoted entirely to this wellness trend: clean, cruelty-free products that don't skimp on quality.
"It seemed like a no-brainer to launch a small, highly-curated edit of the best there is," says Sophie Bottwood, Head of Category at Sephora Australia. "There has definitely been a huge shift towards wanting to understand not just the ingredients within a product, but also how and where it was produced. There's so much information out there, and we're really committed to demystifying beauty choices."
But, buyer beware: products labelled "natural" aren't always necessarily better for you.
"The term 'natural' and 'organic' is used too loosely in the cosmetic industry. Natural is not always best and it is important to understand the concept of 'natural' in our industry and realise that natural ingredients can be extremely harmful," says cosmetic chemist Terri Vinson.
For those who can't be bothered googling every single ingredient while shopping, avoid the following where possible: SLS and other foaming sulfates, proplyene glycol, parabens, phthalates, artificial colours and fragrances and benzoyl peroxide.
Another thing to keep in mind before embarking on this eco-friendly shift is that natural products have a different shelf life to regular products.
You should throw something out if it smells, or, if you're like my colleague, it's taken on a life of its own. (Her face cream impressively grew mould.)
Mould grown in a pot of natural moisturiser by one anonymous colleague.
"Moulds can cause skin irritation or infection depending on the mould and the person. The risk is higher if the skin is broken," says biomedical scientist Dr Emma Beckett.
"If you are putting it on your face there may also be a risk associated with inhaling the mould or spores and getting them in your eyes or mouth as these are higher risk areas for infection."
So how does one avoid mould growth? Scrape it off and carry on a la Theresa May and her beloved jam?
"You would discard a loaf of bread growing mould and should do the same with your skincare," says Anna Mitsios, founder of Australian brand Edible Beauty. (See, Theresa?)
Instead, follow these tips:
Keep your products away from direct heat and direct light
Store them in a cool dry place (or in the fridge if the instructions say to)
Wash your hands prior to use and/or use a little spoon or spatula to scoop out the face cream
Source: Read Full Article