The New Year is only a few days away, which means it's time to put away the mulled wine, eggnog, or whatever holiday drink you fancied this season and instead bust out the champagne. And since there's truly no better way to ring in the New Year than with a bottle of bubbly, why not take it a step further and try a champagne hair color? New Year, new you, you know!
The beige blonde shade with a golden undertone is already a favorite on Instagram, and it's easy to see why. New York-based hair colorist Kimberly Bonondona says two of the most commonly requested blonde shades are gold blonde or icy blonde, and champagne is the perfect mix of both. "When the root is warmer and it melts into this bright beige blonde with a golden undertone, it resembles a glass of champagne," says Kimberly.
To get this specific shade of blonde, Kimberly says she first colors the hair to a true level 10, then tones it with a 10 natural for a bright-but-beige look to capture all the dimension of a glass of bubbly.
View this post on Instagram
SLAY bells 🔔 . . @trussprofessional #inbeautywetruss #trussme #crazyfortruss
A post shared by NYC HAIR ARTIST 🌻 KIMBERLY (@hairby_kimberlyy) on
View this post on Instagram
B U B B L Y 🥂⠀ ➰⠀ Who else loves these comparison pics? They give me life!⠀ •⠀ •⠀ •⠀ #leftandright #comparisonpics #champagne #champagnehair #bubbly #champagneblonde #highqualityhair #highclasshair #champagnebalayage #champagnehilights #blondehair #blondebalayage #showmethebalayage #handpaintedhair #teasylights #moneypiece #cthair #ctbalayage #beautifulhair #hairgoals #pinteresthair #blendedhair #perfecthair
A post shared by ILONA🦋 | CT BLONDE SPECIALIST (@thehairfaerie) on
View this post on Instagram
It's been an almost 2 year journey since we started to shed the orange tone that had been left from a not so healthy hair lightning job that wasn't meant for this Jamaican beauties #curls (original color in story) . Today @serenaneona says to me . "Look we have proved it . You can #bleach out your hair and still grow it out long with out damage" I got so happy and you're right my love this is another #Curlpopmoment ! #WEDIDIT . Shout outs to the following @olaplex and @guy_tang ….. but why your lightner so good ?!?!!!! SERENA YOU ARE OFFICIALLY A #CURLPOP OG !!!!!!TAG A FRIEND WITH #BLONDEHAIR TAG 2 2 FRIENDS WTH #CURLY BLONDE HAIR !____________________________________________ #blondeandcurly #curlyhairstyles #hairofinstagram #hairoftheday #liscensedtocreate #hairofig #essencefestival2018 #jamaica #jamaican #soca #dancehall #wewentblonde #curlyhairkillas #loiragostosa #cachosloiro
A post shared by CURLPOP®️/Aleisbel V. (@curlpop) on
View this post on Instagram
AMEN, Alleluia! 🎄🤶⛄ . . . . . #olaplex #rossmichaelssalon #redkenlicensedtocreate #redken #redkenobsessed #redkenshadeseq #creamyblonde #seattlehair #seattlebleachandtone #seattleblonde #bremertonbleachandtone #bremertonblonde #champagnehair #instagramhair #hairoftheday #hairgoals #hairttends #hairbymonicamarie #monicamariehair #hairporn #hairenvy #lovewhatido #holidayhair #christmas #christmashair #newhair #behindthechair #saloncentric #cosmoprofbeauty #blondehair
A post shared by ROSS MICHAELS SALON (@monicamarie_hair) on
View this post on Instagram
Comfy sweater 🥰 #rainyday #makeupforblackwomen #curls #curlyhair #blondelife #fro #natural #naturalhair #bigchop #naturalhairstyles #naturalhaircommunity #blondecurls
A post shared by 💄📷Coreana Cerey📷💄 (@coreana_coreana) on
If you've already tried champagne blonde before and are looking to try something new, might I interest you in rosé champagne instead? This shade is similar to the champagne blonde in that it also is a beige with a golden undertone, but it has a little more rose gold.
"To spice it up, I'll add in a hint of light pink or a hint of rose gold, or sometimes just a hint of gold to create the illusion of a different undertone," she says.
View this post on Instagram
Blushed out #PinkChampagne. 💗 @anya_partnershair rose to the occasion with #WellaPlex. . . #PROtechnique: #WellaPlex Strengthening Treatment A. Pre-shampoo and towel-dry. B. Mix WellaPlex No1 Bond Maker with water in an applicator bottle. (1:6) C. Apply mixture to hair. Develop 5 minutes & do not rinse. D. Apply WellaPlex No2 Bond Stabilizer. Process 5 minutes. E. Rinse, shampoo with FusionPlex & towel-dry. Condition with FusionPlex & rinse. . #wellalife #wellahair #wellaeducation #stylistspotlight
A post shared by Wella Education (@wellaeducation) on
View this post on Instagram
Champagne + Faded 🥂 | What do you guys think of this beautiful translucent pink glaze? | @byoungbeautystudio #byoungbeauty #byoungbeautystudiospa #byoungbeautyalchemist_brittanyyoung
A post shared by Brittany Young-Brutcher (@brittany_thebeautyalchemist) on
Happy new hair!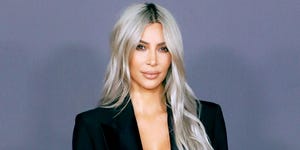 Source: Read Full Article