One Day at Time – the Netflix original starring Rita Moreno and Justina Machado – confronts controversial socio-political issues with a sense of humor and a breathtaking degree of heart.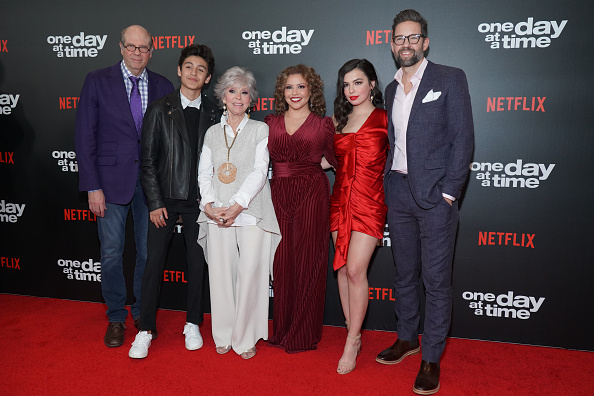 The show, based on Norman Lear's 1975 sitcom of the same name – centers on the Alvarez family and the day-to-day struggles that life throws their way. Penelope, a war veteran and mother of two, is the show's main protagonist. With support from her mother Lydia (Rita Moreno), she works to raise her strong-willed children into contributing members of society.
View this post on Instagram
#tbt our first season poster. We start streaming on @netflix Feb 8th which means where ever you are in the world you can start binging tonight at midnight . I love this show and I love these people. Get ready the Alvarez family is back!! Los quiero Happy Thursday Mi Gente❤️❤️
A post shared by Justina Machado (@justinamachado) on
Penelope and Alex: LGBT exploration, consent, and racism

Penelope's daughter Elena (Isabella Gomez) is a politically active and scholastically inclined teenager whom, due to her homosexuality, possesses a fractured relationship with her father (and is forced to confront societal and cultural ignorances). Born to a family with a strong Cuban heritage, not everyone is quick to accept her once she comes out.
View this post on Instagram
Any guesses as to why Elena might look so down or what might be about to happen? #ODAAT #ODAATS3
A post shared by Isabella Gomez (@isabella.gomez) on
Alex, Penelope's son, is played by Marcel Ruiz. With great hair and an exaggerated sense of self-importance, Alex struggles to grasp concepts like consent and harassment. He also yearns to uphold his "cool guy" image, while living up to the man he, and his family, expect him to be.
View this post on Instagram
There's nothing better than an enthusiastic "yes"
A post shared by One Day At A Time (@odaatnetflix) on
From Instagram posts made in poor taste to comments such as "go back home" directed at Alex by a classmate, the show traverses a lot of territory through the children.
Though always finding space for a laugh or a Lydia-inspired dance number, One Day at a Time uses the children to explore LGBT issues, racism, and society under a Trump administration.
Schneider: alcoholism
Schneider – the wealthy neighbor and building landlord who finds a family in the Alvarez home – suffers from Alcoholism. The show reveals what addiction entails, and how difficult it can be to stay sober. However, rather than harbor on addiction, the show focuses on the importance of trusting an individual who is currently sober.
Through Schneider and Penelope's relationship, One Day at a Time reveals how much it can mean to someone who struggles with addiction to find purpose and support.
View this post on Instagram
Familias go through ups and downs, but they never do it alone ❤️ #ODAATMoment
A post shared by One Day At A Time (@odaatnetflix) on
Lydia: The immigration story

One Day at a Time is based on the lives of the show's creator and its executive producer: Gloria Calderon Kellet and Mike Royce. Lydia serves to tell Gloria Calderon Kellet's own immigration story.
Gloria Calderón Kellet's parents were both Cuban immigrants who came to America when they were 15 years old. Neither could speak English and they worked multiple jobs to stay afloat. Kellet's personal life inspired the relationship between Lydia and Penelope, while Royce's dynamic with his children is the basis for Penelope's relationship with her kids.
View this post on Instagram
That's a wrap!
A post shared by Rita Moreno (@theritamoreno) on
Penelope: The glue

Penelope, struggling with anxiety and depression, must confront her own mental hurdles regarding medication. From her mother, she's learned to believe that medication is for the weak.
Overwhelmed with her family, her job, and her financial predicament, she is the one that keeps her family's life at baseline. When she's down, the family is down; however, Schneider is often right by her side when she needs a pick me up. She can always count on him to send her cute pictures of fat babies.
Why 'One Day at a Time' works on multiple levels

Though the descriptions above may lead you to believe that this show is intense and utterly unmanageable after a long workday, it's exactly the opposite.
Each season, comprised of 13 half-hour episodes explores societal issues without ever diving completely into turmoil. The show takes a comedic approach but is never insensitive. It's smart, relevant, and most importantly, it's effortless to appreciate.
The show creators consistently remind us of one thing: above all else, One Day at a Time is about family, and the importance loved ones play in our lives.
Source: Read Full Article