https://www.womenshealthmag.co…Like any of my fellow beauty product junkies, my multi-step skincare routine accumulates to about an hour a day. What I didn't take in to account till a particularly dry winter a few years ago was the skin on my dry, itchy scalp. Dates began to be interrupted by my urge to scratch, and I became increasingly self-conscious about any flakiness manifesting in dandruff.
For the most part, a regular routine of massaging my scalp with castor or almond oil at least once a week has helped, but if I skip even one week out of sheer laziness or just a desire to avoid the mess, my scalp reverts to its traditionally dry self—no matter the season. That's where Briogeo's Scalp Revival Scalp Therapy Essentials Kit ($85, Sephora) comes in handy. It includes an exfoliating shampoo, cooling conditioner, nourishing leave-in treatment, and in-shower massager (my favorite!).
But I don't just love it for dry, windy winters—I even take the four-piece kit with me on vacations to India for deep, nourishing treatments after spending long, sweaty days basking in heat and humidity. Here's why the kit is the latest standby in my dry, sensitive scalp care arsenal: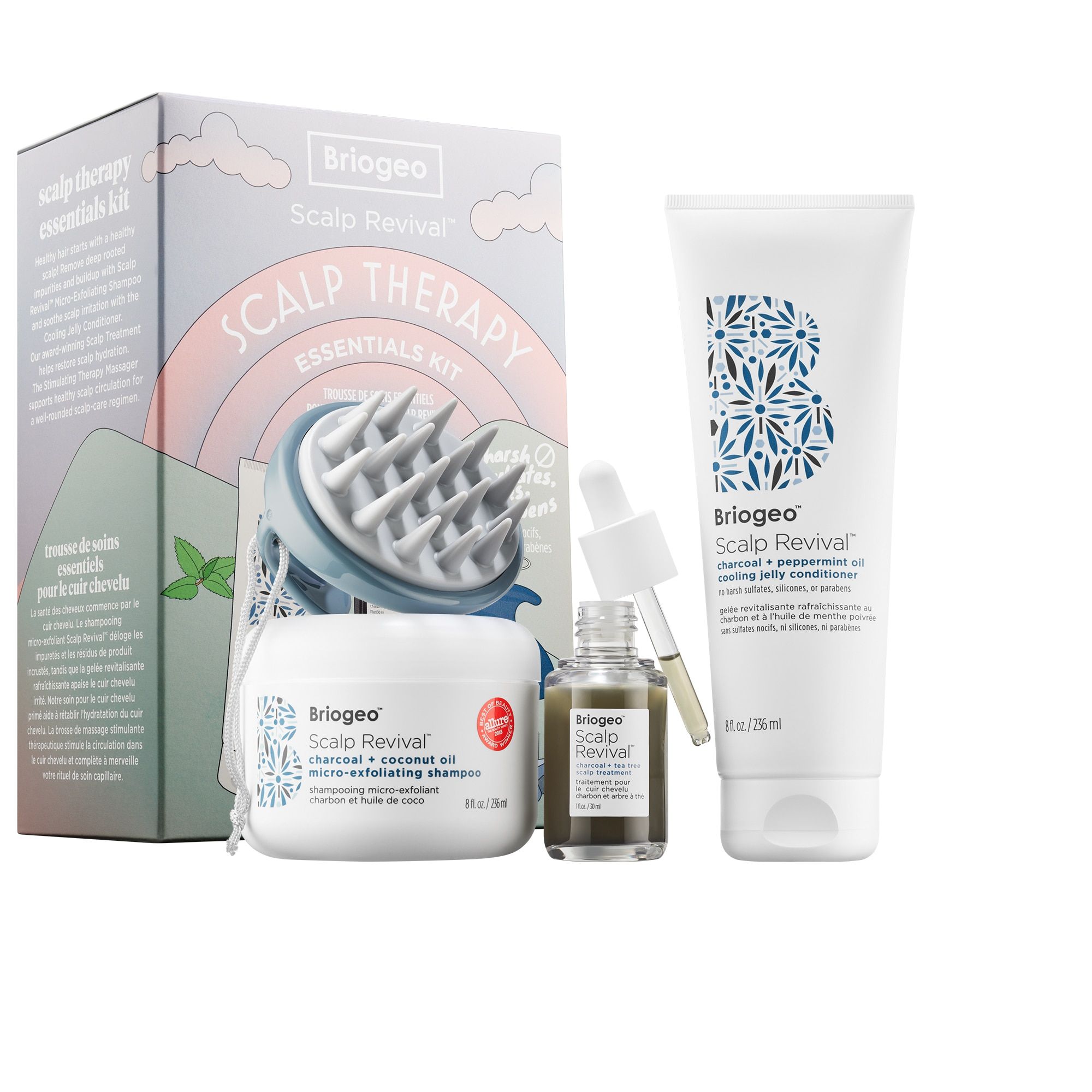 The clean ingredients are sensitive skin-friendly.
I have extremely irritable skin on my face, and like most people, my scalp is even more sensitive to harsh ingredients. A lot of hair products can use aggressive ingredients that cause dandruff and flakiness long-term, but being a cruelty-free brand, Briogeo leverages plant-based resources with product lines centered around ingredients like oat milk, banana, avocado, and even kale.
For example, the shampoo contains emulsified charcoal for micro-exfoliation that feels really great on the scalp, in addition to antibacterial coconut oil, which also helps treat dryness. And, while the cooling feel of some gimmicky products out there can come from harsh chemicals, Briogeo's Scalp Revival Conditioner does it with tea tree and peppermint oils that literally feel like they're giving your scalp a hug. But, the treatment doesn't end there.
After you wash those two out, massaging the cooling, nourishing treatment in to your totally cleansed scalp is the ultimate cherry on top. It doesn't just have refreshing peppermint oil in it—it also has smoothing panthenol, which has been a savior for my frizzy hair.
It's quick and easy to use.
While most intensive hair treatments ask you to sit in the shower with a treatment on for at least 10 minutes (does anyone actually do that?), this kit simply replaces my traditional shampoo routine two to three times a month when I feel I'm due for a deeper scalp treatment.
The massager tool really just substitutes my fingers in massaging shampoo and conditioner in to my hair, but since it's my favorite step, I'll usually use it for far longer than I really need to.
It doesn't weigh down my hair.
I have pretty limp, fine hair that gets easily weighed down. I'm sometimes wary of super clean or natural shampoos because the heavy oils can weigh my thin hair down. But, the carefully-curated ingredients in each of these formulas are ultra lightweight. Aloe leaf juice and antibacterial ginger leave my hair feeling soft and refreshed without any heaviness.
The in-shower massager turns my bathroom in to a spa.
I like this massager so much that I'll use it every time I shampoo, even if I'm not using the Briogeo scalp products. Though I mostly focus this along my hairline, where I personally experience the most itchiness, the tool feels particularly amazing along the base of my skull (tech neck, anyone?). To be honest, sometimes I'll even lose track of how long I'm using it because it just feels that good.
Not only do I use the gentle rubber spikes to massage shampoo or conditioner in to my hair in the shower, I'll sometimes shamelessly pull it out while I'm watching Netflix on the couch if I'm feeling particularly indulgent.
Source: Read Full Article