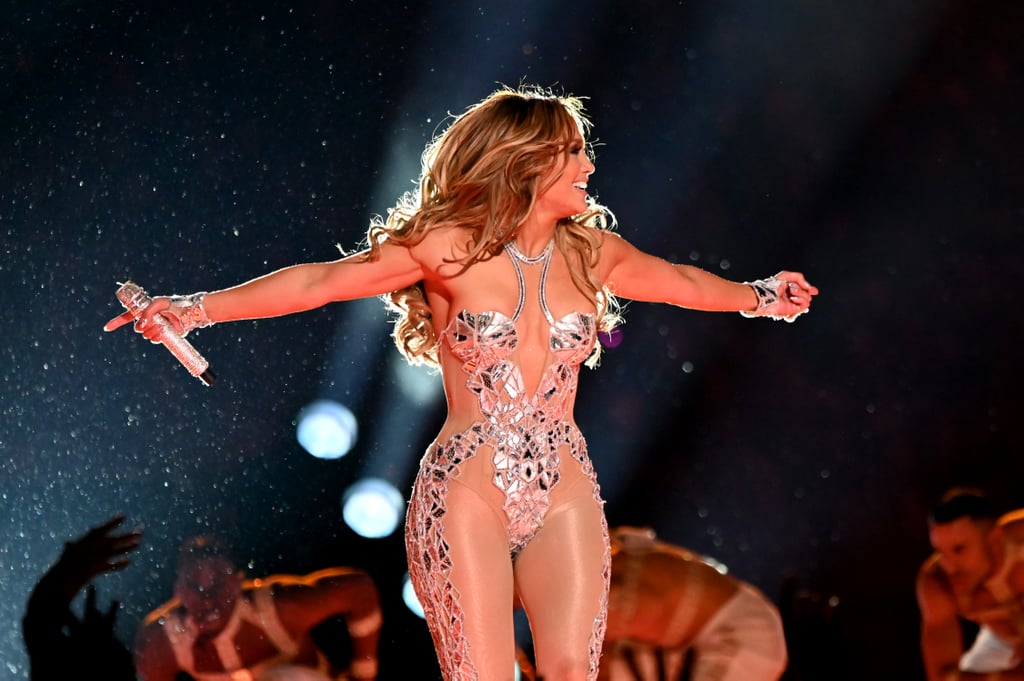 J Lo Practicing Her Hair Flip Before Going on Stage at the Super Bowl Is the Energy We Want in 2020

If you haven't taken the time to watch Shakira and Jennifer Lopez's instantly iconic Super Bowl halftime show yet, pause whatever you're doing and go watch it. Done? Good. Now, let's talk about J Lo's hair, because her voluminous, waist-length curls were basically the third headliner of the show — and we couldn't stop staring.
Speaking with Vogue, Lopez's hair stylist Chris Appleton explained how he achieved her perfect hair ahead of Sunday night's performance. "[First,] I curl the hair with a one-inch small iron to get a really strong foundation. Then, I brush it out and go back in with a larger two-inch curling iron," Appleton told Vogue. He also explained that the success of Lopez's hair for this particular performance was all in the "bounce," saying that "as she moves, the hair moves [too]." To finish the look, Appleton placed clips at the root, then set the hair in place with a hit of cool air from the hairdryer. Appleton also revealed the biggest challenge with this look was overcoming Miami's high humidity, telling Vogue he prepped Lopez's hair with ColorWow Dream Coat Hair Serum ($28) — although he did admit that no product is foolproof.
But before the show, of course, was the rehearsals — and if you think J Lo's perfect hair flips come without practice, well, you're wrong. Right before Lopez went up on stage to belt out her greatest hits with Shakira, someone on the ground snapped a quick video of Lopez practicing her signature hair flip, right as Appleton tried to give the 'do a last-minute touch-up. Of course, her hair looked flawless throughout, and honestly, this is the only energy we plan to carry through 2020.

Source: Read Full Article