Kelly Ripa's son, Michael, was dreaming of warmer weather on Thursday when he took to Instagram with a snapshot from a beachside vacation gone by.
The 25-year-old filmmaker was feeling the chill in New York, as he reminisced about a recent tropical getaway – only he left some fans confused.
The image shared by Michael showed a figure in the distance wearing an orange sarong and walking on the white sandy shoreline, alongside crystal blue waters.
WATCH: Kelly Ripa's three children's very different lifestyles revealed in telling video
He captioned it: "It's freezing in the city right now, so I'm only posting beach pictures until it warms up."
One fan asked: "Did someone forget to tell you it was time to leave?" as they thought he was still there and another got totally confused with who the person was in the image and wrote: "Did the topless lady give you photo approval?"
TRENDING NOW: NCIS: LA star Eric Christian Olsen's transformation shocked wife and fans
POPULAR: Kelly Ripa's surprising injury revealed during visit to son Joaquin
Rather than a woman, it was Michael shirtless and wearing the beach cover-up in the photo.
https://www.instagram.com/p/CoJJcDILUve/
A post shared by Michael Consuelos (@michael.consuelos)
Michael's fans were confused by his beach photo
His mom also weighed in on the post when a fan wrote: "Ok, according to your mom, that'll be April or May. Most likely May." Kelly then quipped: "June/July."
The Live! host been dealing with some cold weather too recently as she and husband Mark Consuelos jetted to Michigan to support son Joaquin during one of his wrestling tournaments.
SEE: GMA3 stars' wedding photos: Dr. Jennifer Ashton, Amy Robach, T.J. Holmes, more
MORE: Ryan Reynolds and Blake Lively's oldest daughter makes rare public appearance and she's so grown up
Unfortunately, while there she suffered an injury which she spoke about on return to Live with Kelly and Ryan.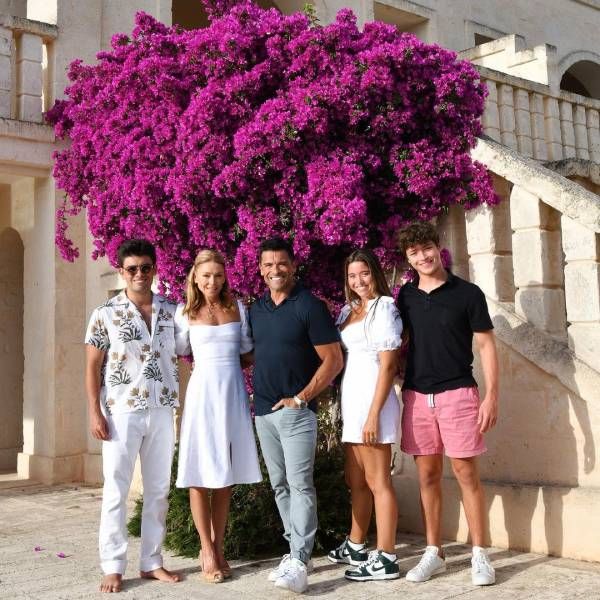 Kelly and Mark have raised three beautiful children
While a good time was had by all, Mark got over excited during the game at one point, and lifted Kelly up into the air, resulting in injury and a cracked rib.
"Something definitely happened to my rib", the former Hope and Faith actress said. Luckily, the injury didn't cause too much damage to Kelly, and she was her usual cheerful self in the first show of the week.
Read more HELLO! US stories here
Source: Read Full Article