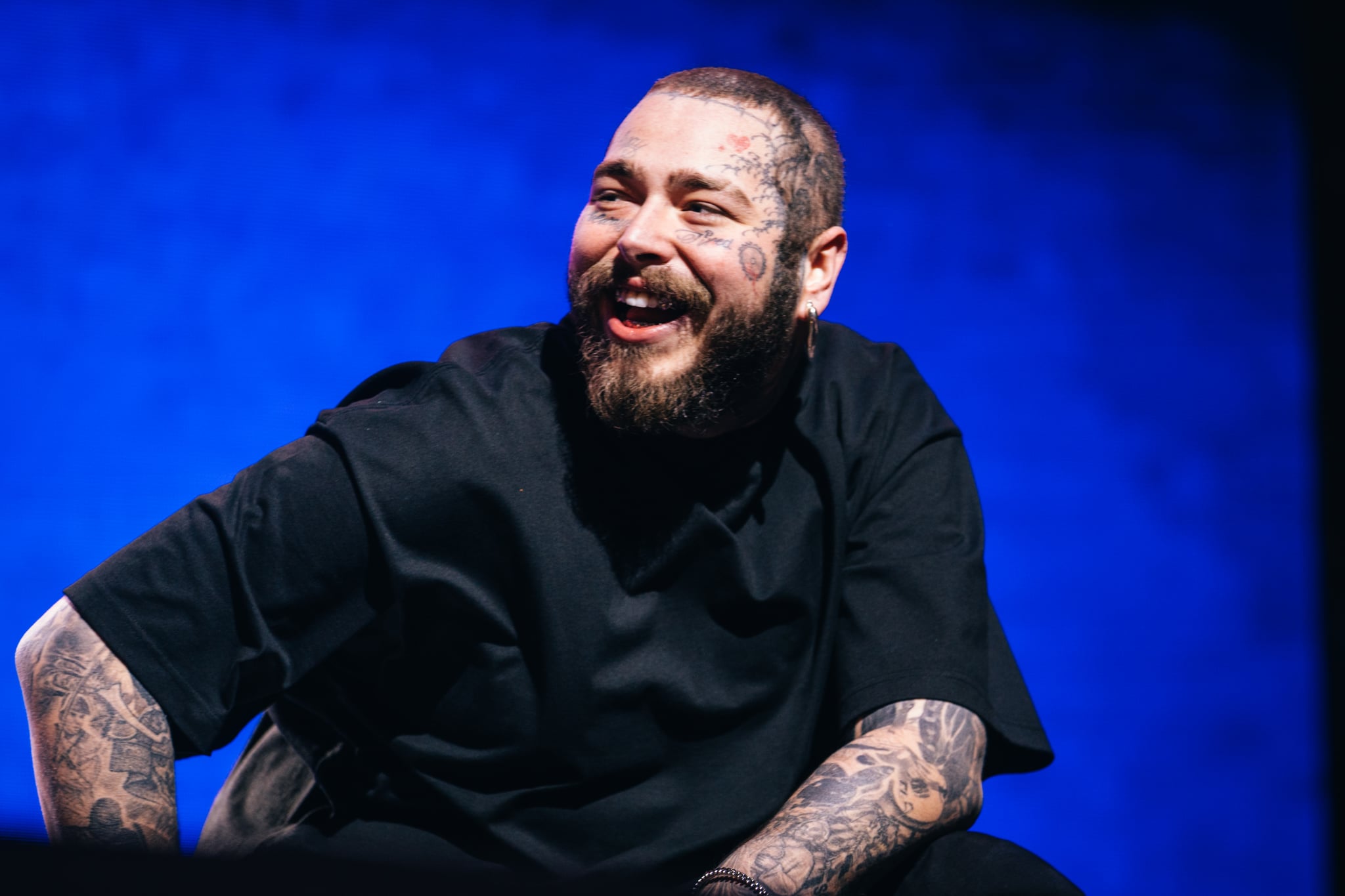 Image Source: Getty / Matt Winkelmeyer
Post Malone's latest face tattoo may be his most significant one yet. The "Circles" rapper just got the initials "DDP" inked on his forehead in a thick, old-English-style font, situated next to a tattoo of two overlapping playing cards and above the cursive phrase "Stay Away." Though Malone himself hasn't confirmed the design's meaning yet, many fans believe the letters stand for the name of his baby daughter, whom he welcomed with his mystery fiancée sometime this summer and whose name he's yet to reveal.
Malone got the tattoo following his "Twelve Carat Tour" stop in Indianapolis, visiting a shop called Garden of Eden just outside of the Indiana capital. Owner and tattoo artist Chad Rowe has worked with the singer in the past, executing his famous "Always Tired" cheek tattoos in 2018, and he was thrilled to have him back in his chair again.
While sharing the below Instagram shot of his "DDP" design, Rowe wrote, "It's been a few years since @postmalone and I have been able to link up.so when he was in town , we had to make it happen. It really doesn't ever feel real. And for the trust of such and important tattoo is a huge honor." He added a sweet shoutout to Malone, using his real first name: "Thanks for being such an amazing person, artist , and friend ,Austin . I'm so blessed to not just have a 'once in a lifetime ' opportunity , but to have a lifetime of opportunities."
https://www.instagram.com/p/CjQDVlXOUyP/
Malone's latest tattoo joins an ever-expanding collection that comprises more than 75 designs scattered all over his body. Earlier this year, the new father got the initials "DDP" inked on his right cheek next to a heart of the same size, though it's slightly faded and not nearly as noticeable as the newest presumed tribute to his daughter. Other standout tattoos include the barbed wire along his hairline, the giant skull on the side of his head, and the sword on his collarbone.
In 2020, he opened up to GQ about how his face tattoos are a defense mechanism of sorts. "I'm a ugly-ass motherf*cker," he said. "It does maybe come from a place of insecurity, to where I don't like how I look, so I'm going to put something cool on there so I can look at myself and say, 'You look cool, kid,' and have a modicum of self-confidence, when it comes to my appearance." If his "DDP" tattoos are, in fact, inspired by his daughter, that's certainly cool indeed.
Source: Read Full Article