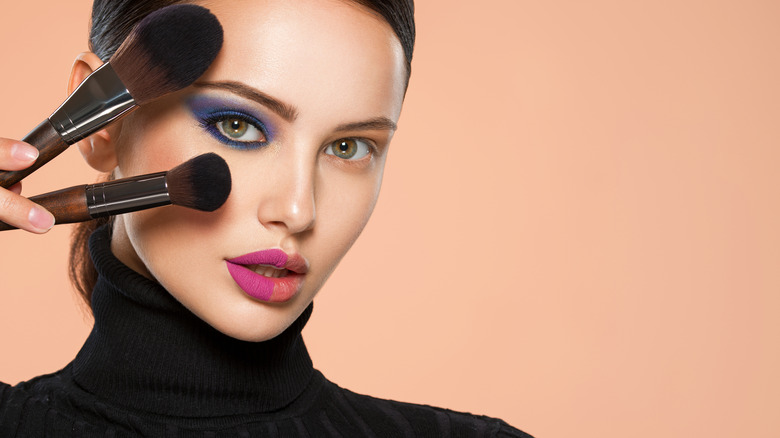 All prices are current as of time of publication. If you click a link and buy a product from a merchant, we may be paid an affiliate commission.
Of all the different collections a woman can have, her makeup collection can be the most precious. We spend a lot of time looking to find the best products that work for us. Whether makeup is a hobby of yours or you're a professional makeup artist, after a certain point you'll be looking at your collection and wondering where to put it all.
All those little bottles and tubes and palettes add up quickly. They can easily take over your dresser, bathroom counter, or vanity table. Good organization is key not only to keeping your collection neat, but to making sure you're making the most of your favorite products before their expiration date sneaks up on you. 
If you're looking for some help organizing your makeup, you're in luck. There are plenty of different makeup organizers out there to fit your needs whether you're primping up your home collection on display or looking to take your makeup on-the-go. Here are some of the most popular makeup organizers out there.
Best makeup organizer for teens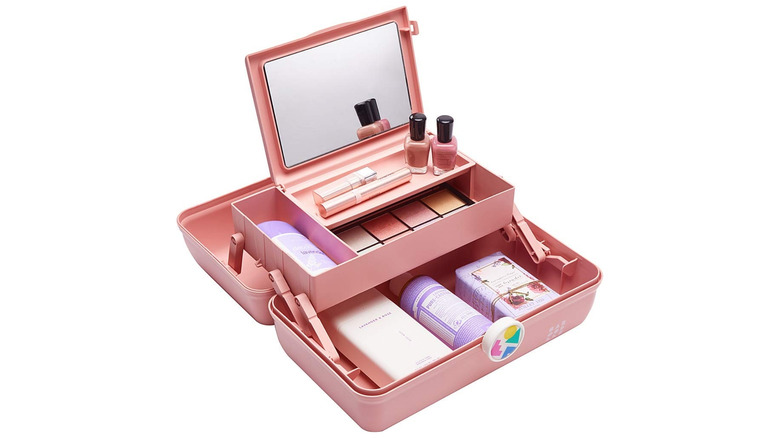 Caboodles has been helping teen girls organize their collection of makeup since the 1980s, so they know a thing or two about making something that goes the distance. The tray automatically opens as the cover of the Caboodle is opened, revealing a bottom section perfect for storing brushes and larger items. Three additional compartments of varying sizes help you find a home for all your different products.
Purchase the Caboodles On-The-Go Girl Retro Case, Millennial Pink on Amazon starting at $20.00.
Best transparent makeup organizer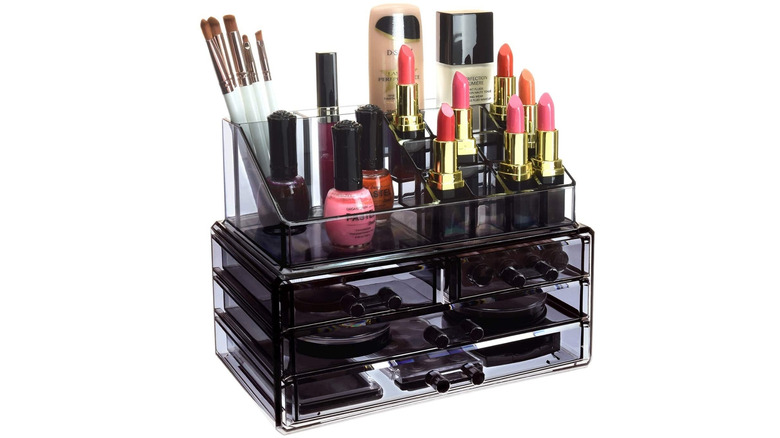 This transparent makeup organizer makes it easy to see what you have and where you have it. The two-piece set has four drawers that are great for compacts and palettes, as well as a top rack that includes compartments for different brushes, tubes, and more. It's simple design is available in different colors, so it can fit in with your decor anywhere.
Purchase the Ikee Design Translucent Gray Jewelry & Cosmetic Storage Display on Amazon for $16.99.
Best budget makeup organizer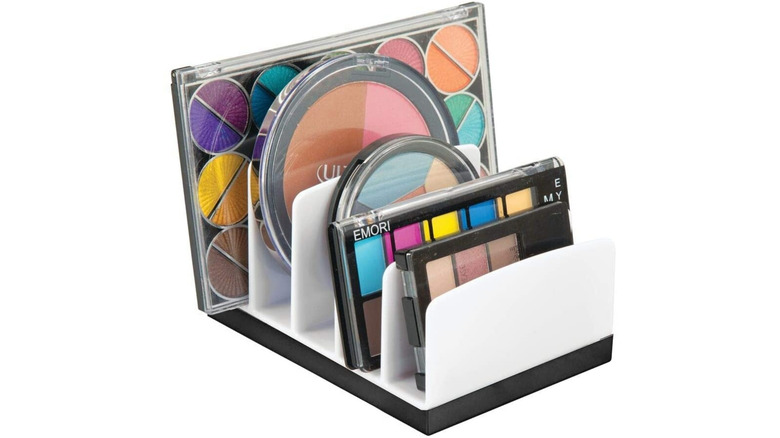 The mDesign Plastic Makeup Organizer comes with 5 storage compartments. The simple slots are perfect for palettes, single-pan shadows, compacts, and more. The different heights of the dividers accommodate products of different sizes. While it may seem small, it makes it versatile so that it can fit even the smallest bathroom sinks and countertops. The simple surface can be easily cleaned with soap and water, making it a mainstay on vanities and in bathrooms for years to come.
Purchase the mDesign Plastic Makeup Organizer on Amazon starting at $6.95.
Best throwback makeup organizer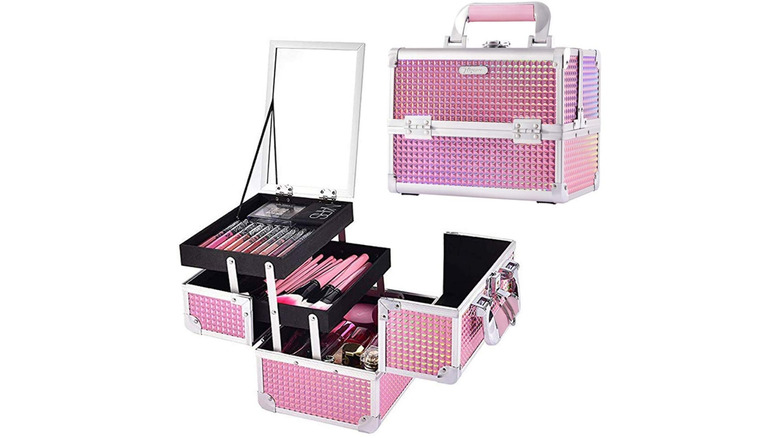 This pretty take on the vintage train case can hold a whole lot of product, making it perfect for those who like to experiment. It has a built-in mirror panel that pops out for on-the-go touch-ups. Differently-sized compartments allow for storing products of all shapes and sizes. There's also a lock, which makes it easy to travel with.
Purchase the Joligrace Makeup Train Case Portable Cosmetic Box on Amazon starting at $28.98.
Best hanging makeup organizer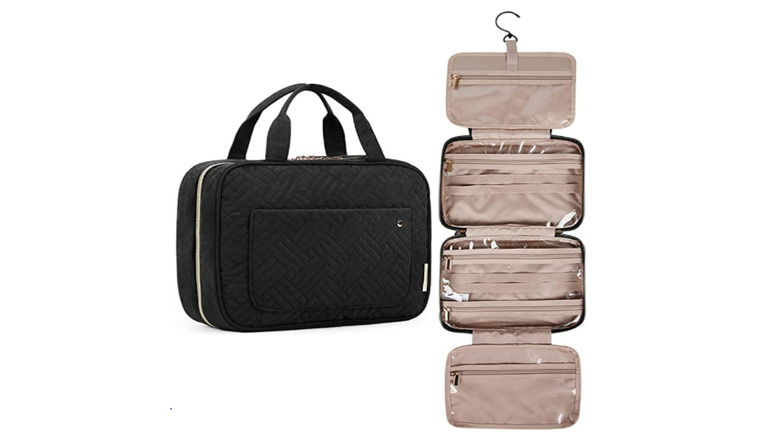 Hanging your makeup collection is secret brilliance, especially if you don't have a lot of space. The non-slip 360-degree swivel hook on the BAGSMART Travel Bag allows it to be hung on any surface easily. There are six separate zippered compartments of different sizes, combined with elastic straps to securely hold all of your products, big and small.  The padded exterior protects products inside from outside pressure, making it fairly easy to travel with as well.
Purchase the BAGSMART Travel Bag on Amazon starting at $22.99.
Best travel makeup organizer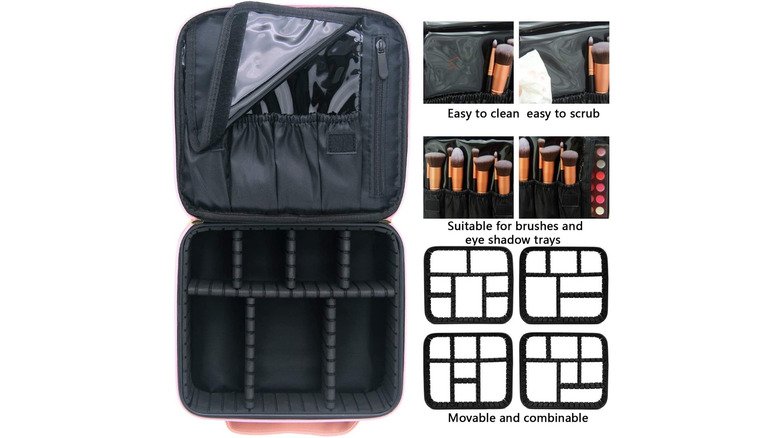 If you're looking for a combination of stylish and functional, the Chomeiu Travel Makeup Case fits the bill. It comes in four sizes and five colors, meaning there's a perfect case to transport anyone's makeup collection. This bag also allows you to customize compartments to your needs, using adjustable padded dividers. The easy-to-clean, waterproof material can withstand any accidental spills.
Purchase the Chomeiu Travel Makeup Case on Amazon starting at $25.99.
Best brush organizer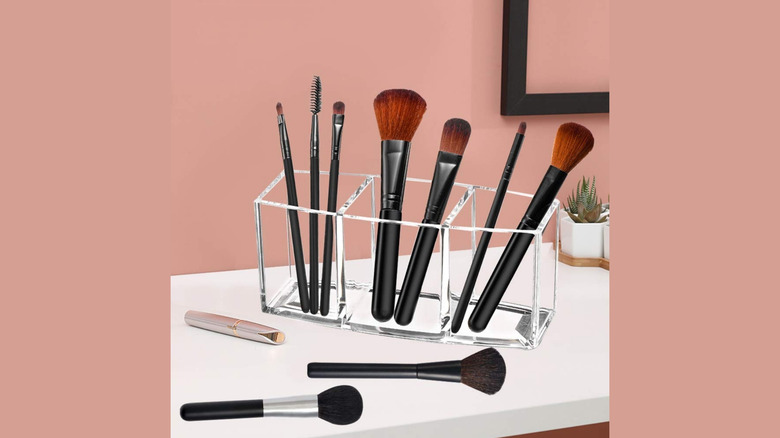 This simple organizer offers countless solutions. It's great to use for just brushes, but there are plenty of other products you can comfortably slot into these three compartments. It doesn't seem like much, but wrangling those stray items that take up your vanity or bathroom counter can make a major difference when it comes to the look and functionality of your glam station. 
Purchase the Tasybox Clear Makeup Brush Holder Organizer on Amazon for $5.99.
Best lipstick organizer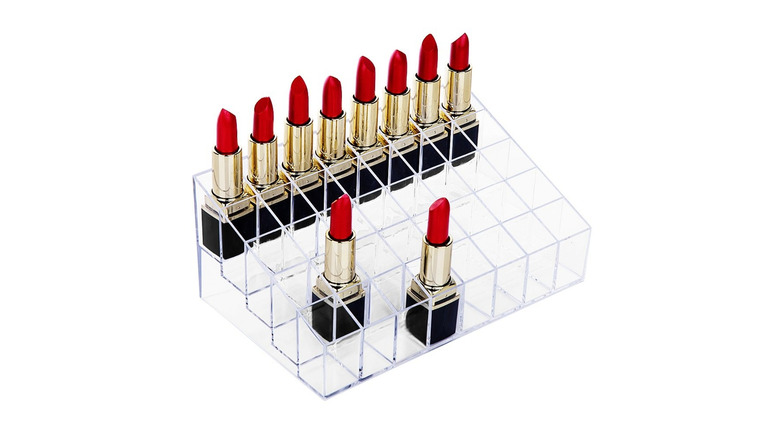 If you love a statement lip (and who doesn't?), chances are you need a pretty big organizer for your collection. Each 1-inch slot is perfect for holding a standard lipstick tube. This organizer holds 40, but there are also 24 and 36-piece sets available. The simple, transparent holder makes your collection look good, whether it's on display or tucked away.
Purchase the HBlife 40 Spaces Clear Acrylic Lipstick Organizer on Amazon starting at $6.99.
Best palette organizer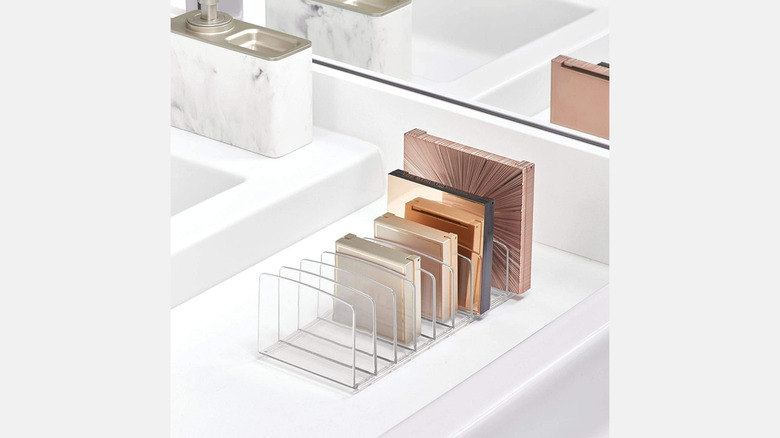 If you're a palette hoarder, have no shame. You can tastefully display your collection while keeping it tidy and contained. Raised dividers of varying sizes help keep all of your different-sized palettes easily accessible. The transparency lets you see all of what you have so you don't forget (and double buy, been there). 
Purchase iDesign Clarity BPA-Free Plastic Divided Makeup Palette Organizer on Amazon starting at $11.67.
Best makeup pencil organizer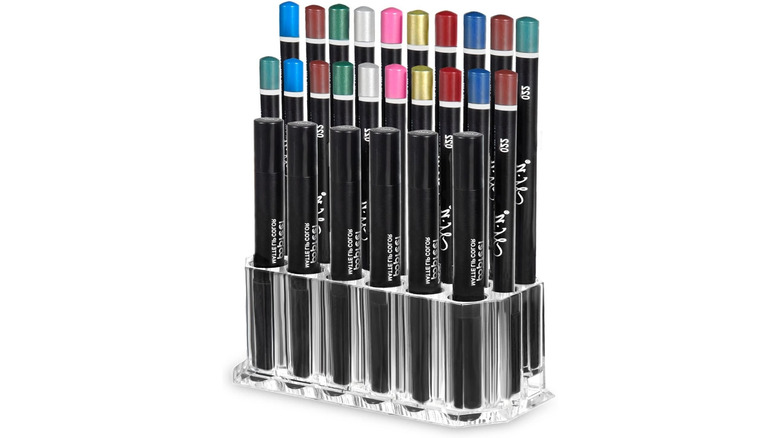 This 26-slot acrylic pencil organizer keeps your eyeliners, lip liners, and other cosmetic pencils perfectly tidy. There are 20 standard-sized slots and an additional six jumbo-pencil slots, so even lip crayons will fit. The strong construction keeps it from toppling over, and the transparent casing makes it not only easy to see, but stylishly uncluttered.
Purchase the HBlife Clear Acrylic Makeup Organizer on Amazon for $6.99.
Best nail polish organizer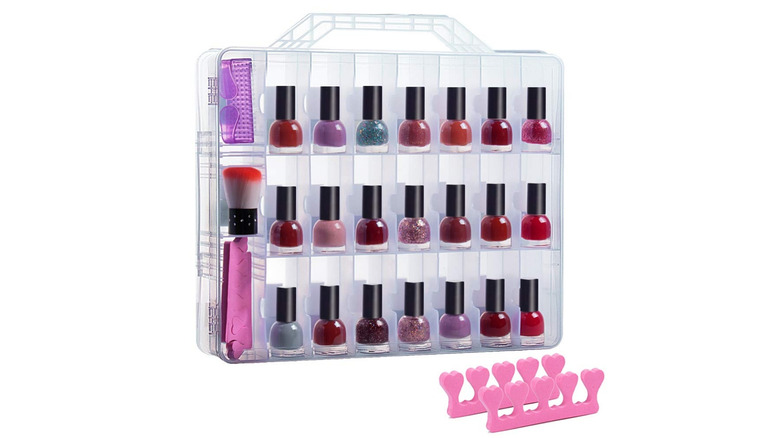 One of the best things about getting into nail art, or even just having a huge nail polish collection, is sharing it with friends and family. This organizer makes it easy to do just that with a briefcase-style body that holds 48 bottles of all your favorite nail colors. There are also some extra compartments to stash all your other nail-care accessories and essentials.
Purchase the JIASHENG 48-Bottle Universal Clear Nail Polish Organizer on Amazon for $18.99.
Best rotating organizer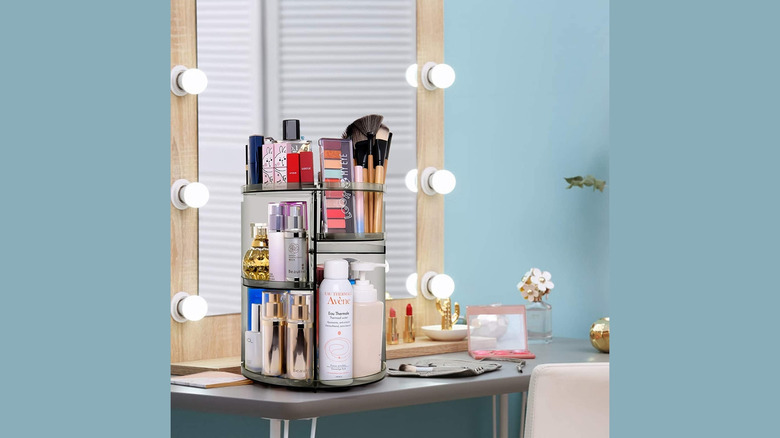 This acrylic rotating organizer has seven layers of adjustable trays, so you can customize it to store all your cosmetics and beauty products. It can easily hold over 50 pieces of cosmetics, all of varying shapes and sizes. It is easy to assemble and even comes apart for routine cleaning and assessing of your collection.
Purchase the sanipoe 360 Degree Rotation Makeup Organizer on Amazon starting at $19.99.
Best eco-friendly makeup organizer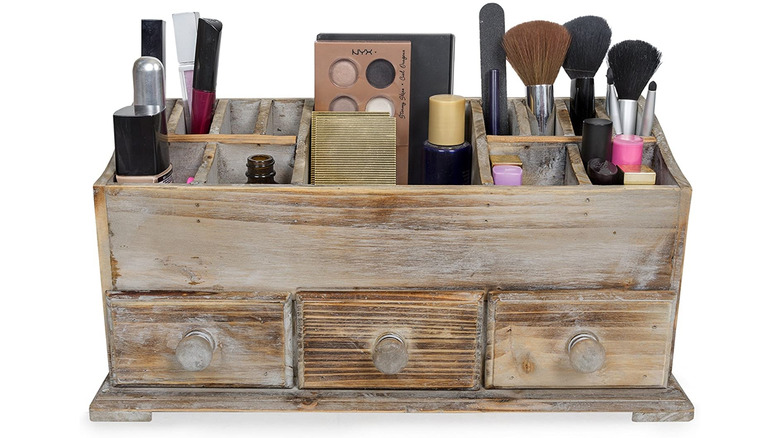 If you're looking to cut down on your plastics but still need a good, sturdy organizer for your makeup, wood is the way to go. The differently-sized compartments allow you to store all kinds of products while also displaying them. There are three drawers, a large center compartment, and cubby holes that discreetly store a lot of makeup, as well as small hair and jewelry accessories.
Purchase the Besti Vanity Drawer Wooden Beauty Organizer on Amazon starting at $29.95.
Best makeup organizer to splurge on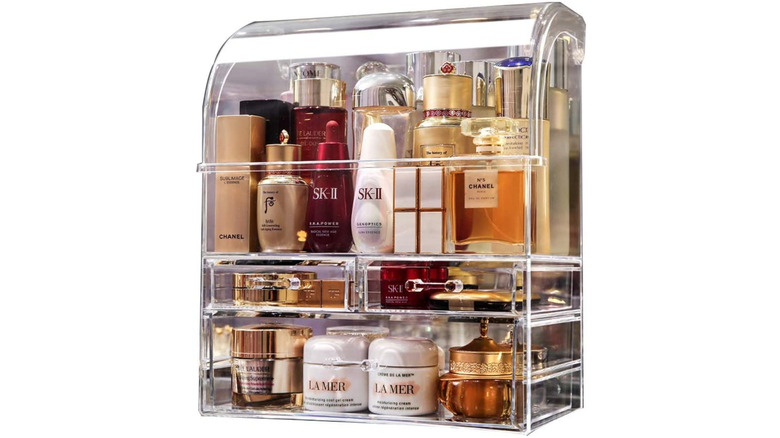 If you're looking to really display your collection in an artful way, this beautiful organizer lets you do just that. It comes in one piece and is super durable, able to hold countless bottles, vials, and more. There are three drawers which also let you store palettes, while the transparent body allows you to see exactly where all your favorites are stashed!
Purchase the MOOCHI Professional Large Cosmetic Makeup Organizer for $49.99.
Source: Read Full Article