The YouTube personality allegedly only wears 'two small pink towels draped around her' when she causes 'disturbance' at the luxury The Goodtime Hotel in Miami.
AceShowbiz -Details surrounding Nikita Dragun have been unveiled by an alleged eyewitness. The anonymous eyewitness offered Deux Moi a full story of the social media star's arrest at the luxury The Goodtime Hotel.
The source detailed the story via direct message that the celebrity gossip account posted on Tuesday, November 8 via Twitter. The message read, "Nikita Dragun was arrested at a hotel in Miami last night as I was having dinner there. It was a pretty formal restaurant, maybe 1/4 full and 6.30ish so right at dinner time." The tipster further noted that the YouTube personality only wore "two small pink towels draped around her."
"Male hotel security guard tells her she needs to put clothes on and leave. She says she has clothes on," the informant added. "He tries again and calmly asks her to leave, she throws an entire cocktail drink on him."
As one security guard wasn't enough, "another female security guard [came] up." The insider continued sharing, "And they have to physically grab her and escort her outside while she's screaming, 'I'm being nice I'm being nice!!!' "
About 30 minutes later, according to the alleged eyewitness, Nikita was "being taken back inside the hotel towards the elevator," this time wearing what appeared to be "the clothes she wore all day, and she's in handcuffs with a police officer, still refusing to go in the elevator and is screaming at everyone."
"When they finally got her inside the elevator, the Restaurant/hotel staff were really shaken up and apologized to everyone," so said the source. "When she was still wearing the towels she tried to go up to the restaurant bar and order another drink and was refused. For sure very intoxicated."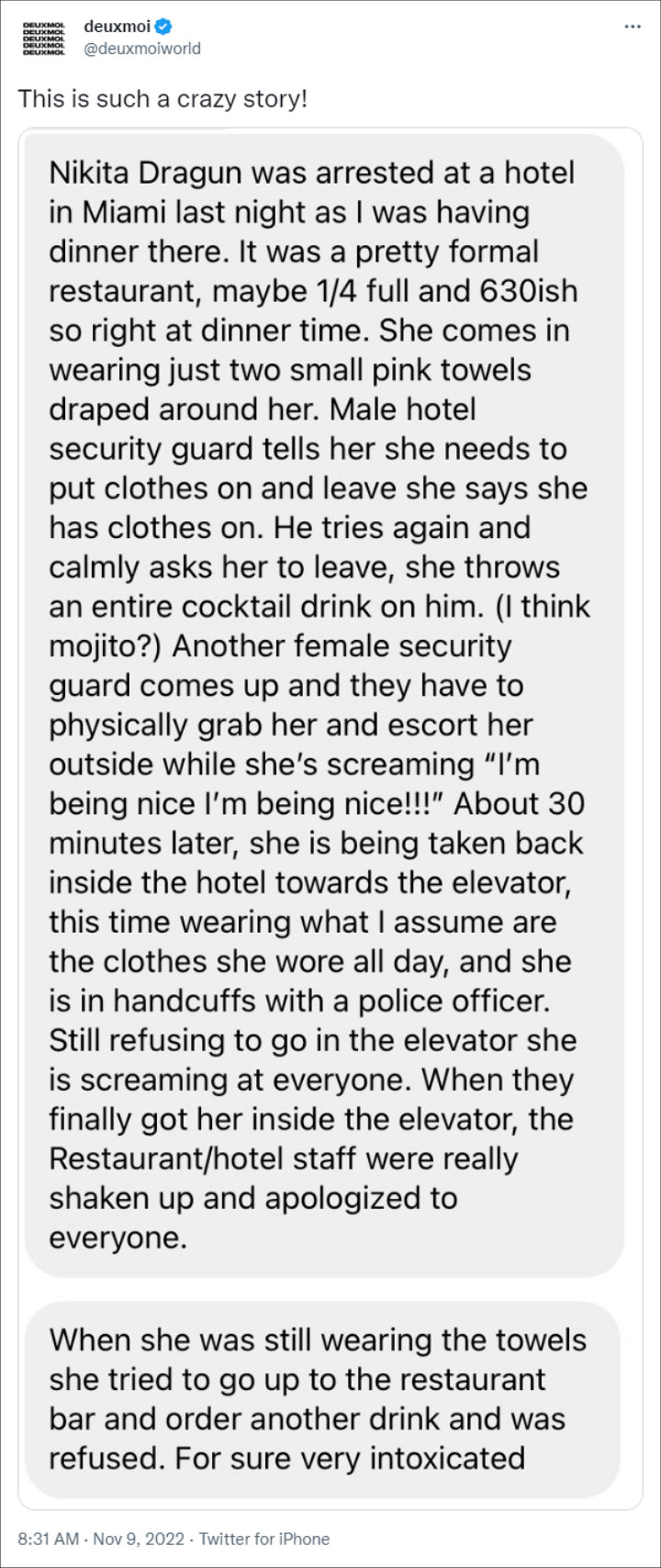 An alleged eyewitness detailed Nikita Dragun's arrest at a Miami Hotel.
Nikita was arrested on Monday, September 7 at luxury The Goodtime Hotel after "walking around naked by a swimming pool and dousing a police officer with water," TMZ reported. She's taken into custody after police responded to a report of a person being "extremely disorderly" and "causing a disturbance" at the hotel.
According to a TMZ source, Nikita threw some pool water onto the hotel staff and swung an open water bottle, causing water to splash onto the security guard and police officer, which saw her arrested.
Nikita, who looks disturbed in her mugshot, was arrested for felony battery on a police officer, misdemeanor disorderly conduct and misdemeanor battery. She was booked at Miami-Dade County's Turner Guilford Knight Correctional Center on a $5,000 bond.
One day before her arrest, Nikita posted a cryptic tweet that read, "bottom line. i see a man put hands on a woman. please 'call the cops.' cus need u forget." The transgender star continued, "i know i look like a Doll on the outside, but i still hit like a Dude."
Source: Read Full Article