The 40-year-old 'Selling Sunset' star makes use of her Twitter account to poke fun at herself as people allegedly find her personality annoying after watching the Netflix reality show.
AceShowbiz –Chrishell Stause is so used to haters that she can laugh them off now. On Saturday, January 8, the "Selling Sunset" star took to her Twitter account to poke fun at herself for being annoying.
"When people watch #sellingsunset & get annoyed by my personality. Honestly, same," the 40-year-old real estate agent jokingly tweeted. "I think years of auditioning clicks a weird part of my brain when speaking to camera to be 'ON' and I am working on it. Lol."
She went on to say, "But girl just relax. By the time we're cancelled I'll get it."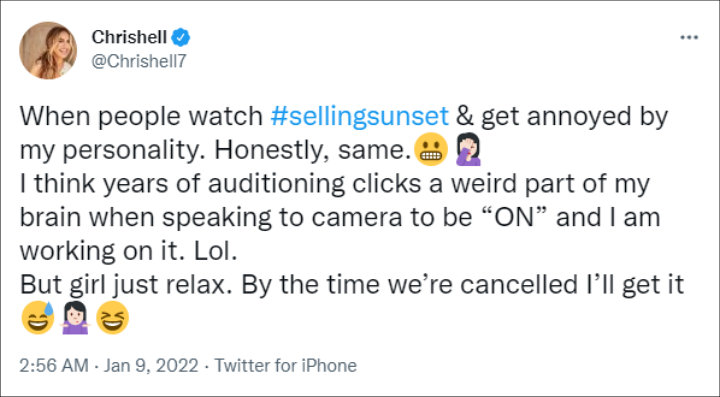 Chrishell Stause reacted to people finding her annoying.
Chrishell is no stranger in clapping back at online critics. Prior to this, the ex-wife of Justin Hartley hit back at someone who said she "can't accomplish anything without a man" and called her a "miserable b***h" in a DM she shared to her Instagram Story in December.
"It would seem I am not the miserable one here Genesis," she responded at the time. "But please take a breathe [sic] and have a great day! Thanks for watching!!!!"
Later in an interview with PEOPLE, the Netflix star shared about how she dealt with negative comments on her online. "Truly, I find these things entertaining at this point," she said. "Now, granted, I've been doing this for a while, so it takes a while to get to that point. But it's just funny when clearly someone is so upset with a stranger's life that it has ruined their day."
"If you can see it that way, you can have a little empathy, where it's like, 'Oh my goodness, you need to get your focus and your priorities in a different place.' Because if I woke up that upset about a stranger's life, I would definitely be doing something wrong," she continued. "So I think you just have to laugh at it. If you're not in on the joke, you are the joke."
Source: Read Full Article