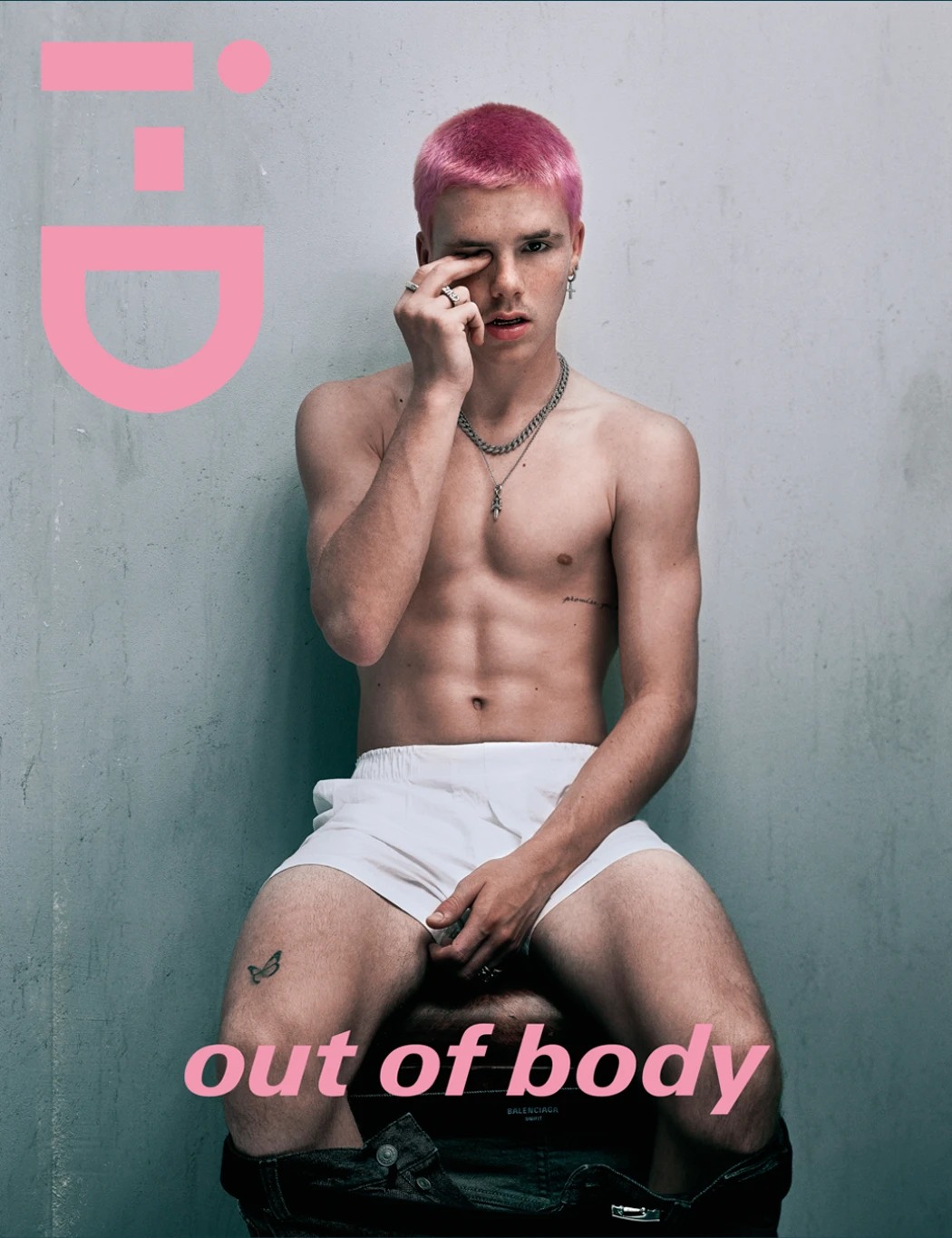 Cruz Beckham covers the latest issue of I-D Magazine. I realize I'm showing my age, but I've absolutely gotten to the point where teenagers all look like fetuses to me. Cruz is way too young to be on the cover of I-D in his underwear!! Not only is he too young, he LOOKS too young. Cruz was 16 years old when Steven Klein photographed him, although he was 17 when the photos were released. Nope. Still too young. That being said, I-D pointed out that this was supposed to be an homage to photos taken of his father David Beckham by Klein in 2003. Yeah… but David Beckham was already David Beckham, he was an adult and he was famous. This is just his underage son.
Anyway, why is Cruz Beckham getting hyped? Because of his music career. Or the dream of a music career. Most of the I-D piece is just a word salad of all of the music people Cruz knows and has worked with already or is planning to work with. The nepotism fairly reeks, although I'm not saying that to attack Cruz's character or anything. He actually seems like kind of a sweet kid. He's just a sweet kid who is being handed a musical career on a silver platter, and they're trying to brand him as "tough" and "street-wise" or something.
His musical influences: As a kid, eclectic sounds – from the Stone Roses ("I went to one of their reunion concerts in Manchester") and Oasis to Mariah Carey and R&B – battled it out on the speakers at home, the two sides exposing him to as many genres as possible. But it was only when his parents heard him singing Love on Top by Beyoncé in the car and hitting the high notes, that they and he realised he might be able to make it his career. "I was still really little! My voice hadn't really developed, so I could just sing that high!" He's tried again since, but his octaves have dropped with age.

He's already rejected a footballer's career: "I thought I would want to do football and I did that for a bit," he recalls, even going so far as winning a contract with Arsenal. But still, he came back to music, which felt like his first love. "At that point, I just decided: this is exactly what I want to do."

He's learning: He's learning how to play instruments, often self-taught: guitar, piano, drums; "I even learnt how to play the mandolin for a song that I wrote". He stresses, on nearly a dozen occasions, that he's learning; figuring this out before he dives in. "I don't think you ever stop learning, but I'm taking my time seeing what happens." Right now, the focus is on "just making the music I love."
[From I-D]
While I-D doesn't put any kind of emphasis on this, I get the feeling that Cruz is actually going to try to finish high school before he jumps into a full-throttle music career? And he sort of makes it sound like that's his decision, his call to wait a second and actually grow up a little bit more before he fully enters the music world. Which makes me wonder if David and Victoria have been pushing their kids into nepotism-careers forever, and the Beckham kids are starting to tell their parents "actually I need to finish school?" That's what Willow Smith had to do with her parents too – they kept pushing her and pushing her and she was the one to apply the brakes. Now I wonder if little Harper Beckham is going to end up with her bachelor's degree before she settles into her career, just to spite her parents.
https://www.instagram.com/p/CaP-P-RL4Tn/
Cover & IG courtesy of I-D Magazine.
Source: Read Full Article