The former contestant on the MTV reality show 'unexpectedly' passed away after he's involved in an altercation in a nightclub in the 22000 block of San Fernando Valley.
AceShowbiz –Chris Pearson has passed away. The reality star, known for being among the first contestants on the MTV show "Ex on the Beach", died after a tragic stabbing incident in a Los Angeles nightclub. He was 25 years old.
The TV personality reportedly got into an altercation on Sunday, October 10 at around 2 A.M. in the 22000 block of the San Fernando Valley, as per TMZ report. According to a spokesperson of the Los Angeles Police Department, the victim was stabbed during the altercation and subsequently taken to the hospital, where he was pronounced dead at approximately 3:30 A.M.
In the wake of Chris' passing, his friends have started a GoFundMe to help his family cover the funeral expenses. "Unfortunately, Chris passed away early Sunday morning unexpectedly after a tragic encounter," the page described the circumstances of his death.
"Chris was the one person that loved with his whole heart," his friends continued to praise the late reality star. "He had so much love and energy to give to every single person he crossed paths with. He wouldn't leave the room until he made sure every single person was happy. Chris was the most determined person there could ever be."
On the page, his friends stated that Chris "was taken from us way way too soon." The statement added, "Nobody was ready for this, there was so much more he had set to accomplish. We ask that you please donate or share this to help His mother and the family out with funeral expenses."
Following Chris' sudden death, his final Instagram post has become a space for tributes from his fans and followers. Taylor Selfridge, who was on "Teen Mom", also mourned his death in the comment section of his latest photo as saying, "This is heartbreaking."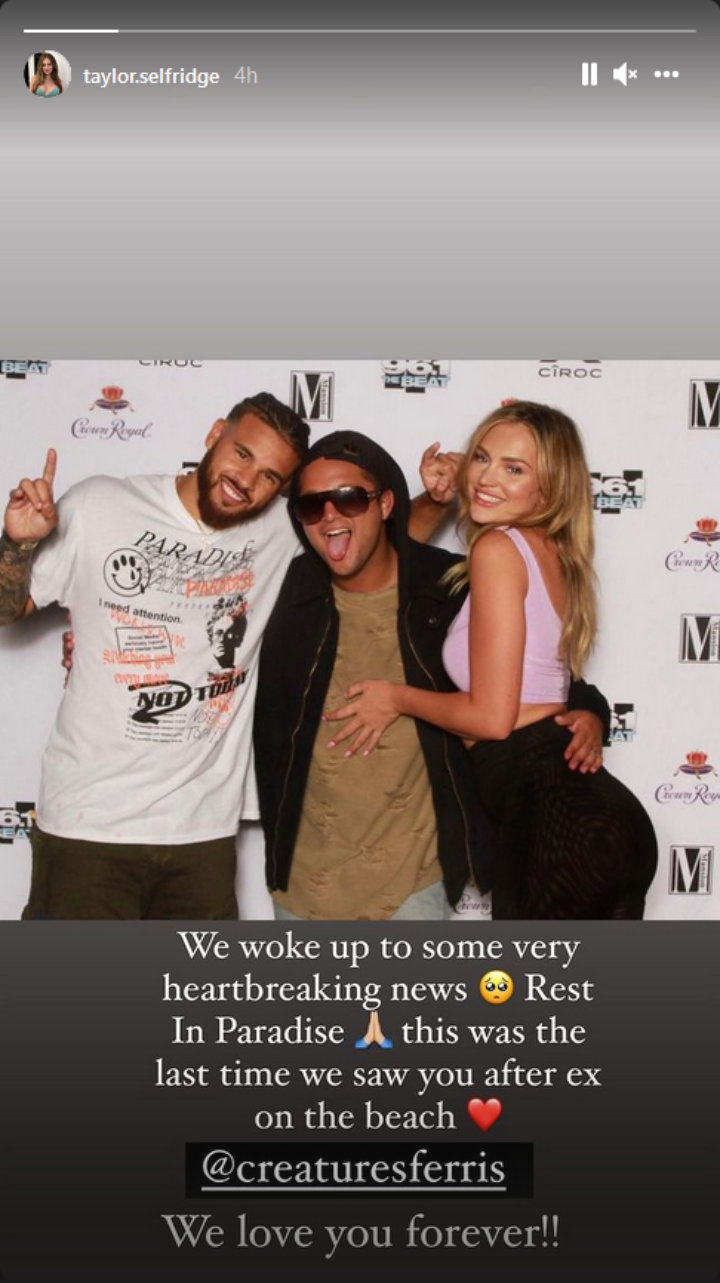 Taylor Selfridge shared tribute to Chris Pearson following his unexpected death.
Not stopping there, Taylor took to her Instagram Story to share a snap with Chris. Underneath the picture, the MTV star wrote, "We woke up to some very heartbreaking news. Rest In Paradise. This was the last time we saw you after ex on the beach [love]. @creaturesferris." She then concluded her post, "We love you forever!!"
Source: Read Full Article