Hi, hello, and good morning to Kacey Musgraves only. Why only her, you ask? Well, when you and I perform butt booty naked on one of thee most watched live variety shows in history, then you may have a morning salutation as well. But until then, sry bb, reserved for Kacey only.
In case you have zero idea what I'm talking about, allow me to get ya up to speed: Kacey was the guest performer for the season 47 premiere of Saturday Night Live over the weekend. When the songstress took the stage for her first number of the night to sing "justified" from her new album star-crossed, the only thing that accompanied her was her guitar and a pair of cowboy boots. Yee-freaking-haw!
See for yourself: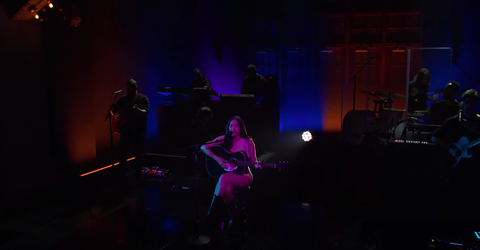 Just in case photo and video proof still leaves you a bit skeptical, Kacey's publicist confirmed the birthday suit performance to Variety: "She was nude. Precautions were taken, and this was the first time it's happened on the show." So Kacey also made history…while stark naked? Cool cool, just kind of legendary, NBD.
If the look felt a little familiar, it's because Kacey drew her inspo from the classic Tom Hanks movie Forrest Gump, particularly the scene where Forrest's love Jenny (played by Robin Wright) is performing in the buff at a dank night club. Kacey confirmed her intentions with a tweet of the scene on Saturday:
Source: Read Full Article