What's really going on here, Kim Kardashian West?
The beauty mogul is speaking out against online retailer Fashion Nova, for reportedly copying original fashion designs and seemingly promoting them as their own. The 37-year-old took to Instagram Stories to slam the brand (without exactly name dropping them) for making it seem like she approved of their take on one her recent looks when she says she did not.
But some are convinced that something about KKW's story doesn't quite add up!
First, it's worthy to note this isn't the first time the fast-fashion brand has knocked off one of Kim's looks. But the specific dress referenced here is the black, cut-out vintage Mugler dress that she rocked to the Hollywood Beauty Awards on Sunday night.
The day after she wore the dress, a knock-off version called "Winning Beauty Cut Out Gown" popped up on the Fashion Nova website with specific notes that the dress was available via waitlist only.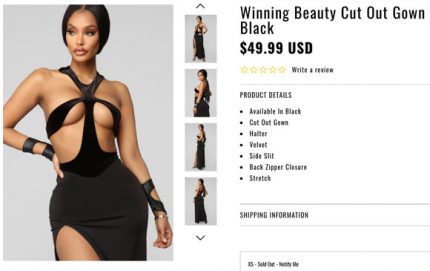 Mrs. West told her 127 million followers in a series of posts on Tuesday that she was devastated to see FN knock off her one-of-a-kind ensemble. The reality TV starlet says the dress was listed as waitlist only because it hasn't even been made to sell yet, and the brand is trying to trick consumers into believing they have a relationship established with her.
Read through her full statement (below):
"It's devastating to see these fashion companies rip off designs that have taken the blood, sweat and tears of true designers who have put their all into their original ideas. I've watched these companies profit off of my husband's work for years and now that it's also affecting designers who have been so generous to give me access to their beautiful works, I can no longer sit silent. Only two days ago, I was privileged enough to wear a one-of-a-kind Mugler dress and it less than 24 hours it was knocked off and thrown up on a site — but it's not for sale. You have to sign up for a waitlist because the dress hasn't even been made to sell yet. This is a way to get people to sign up for their mailing list and make people believe there is some kind of relationship between me and this fashion site. There is not. My relationships with designers are very important to me. It's taken me over a decade to build them and I have a huge amount of respect for the amount of work that they put into brining their ideas to life. I often plan for weeks, sometimes months in advance, and I'm grateful for every fashion moment those designers and their dresses have helped me create. So, as always, don't believe everything you read and see online. I don't have any relationships with these sites. I'm not leaking my looks to anyone, and I don't support what these companies are doing."
Just like her husband Kanye West, Kim was not one to mince words with that one…but here's where things get inneresting!
About 2.5 hours before FN dropped the dress on their site, the pictured model (above) Yodit Yemane shared photo options from her shoot featuring the Mugler replica on her IG story. The outtakes were even labeled as "Kim K" dress and are backdated to February 14, three days before Kim was seen in her original.
See the receipts captured by IG fan account Diet Prada (below):
View this post on Instagram
UPDATE: See stories for a screenshot of the date of the Capture One session (it's labeled 02-14-19). Fashion Nova Mugler knockoff shot 4 days before Kim wore it on 02/18/19. Kim, you'll never fess up to your sneaky lil collaborations, but we got all the receipts ?. • ⠀⠀⠀⠀⠀⠀⠀⠀⠀ At some point recently, a fast fashion photo shoot happened featuring a vintage Mugler dress that @kimkardashian just happened to wear on Sunday night to the Hollywood Beauty Awards…and yes, it appears to be a real dress, not photoshop. Ahead of Fashion Nova releasing the dress at 9pm EST tonight, house model Yodit Yemane may or may not have accidentally leaked a story 2.5 hours earlier of photo options from her shoot featuring the Mugler replica. The file names were even labeled "Kim dress" while it's now being called "Winning Beauty Cut Out Gown" lol. This begs the question: Did Fashion Nova whip up the dress overnight in their Los Angeles atelier after seeing Kim in it or is she peddling her vintage finds to mass retailers ahead of debuting them for a calculated, timely release? ⠀⠀⠀⠀⠀⠀⠀⠀⠀ • ? : Getty • #kimkardashian #mugler #thierrymugler #manfredthierrymugler #bodycon #cutout #barelythere #strappy #straps #black #vintage #dress #velvet #fashionnova #wiwt #ootd #kuwtk #hollywood #beauty #kkwbeauty #kardashian #ecommerce #shady #smh #photoshoot #model #fashionmodel #dietprada
A post shared by Diet Prada ™ (@diet_prada) on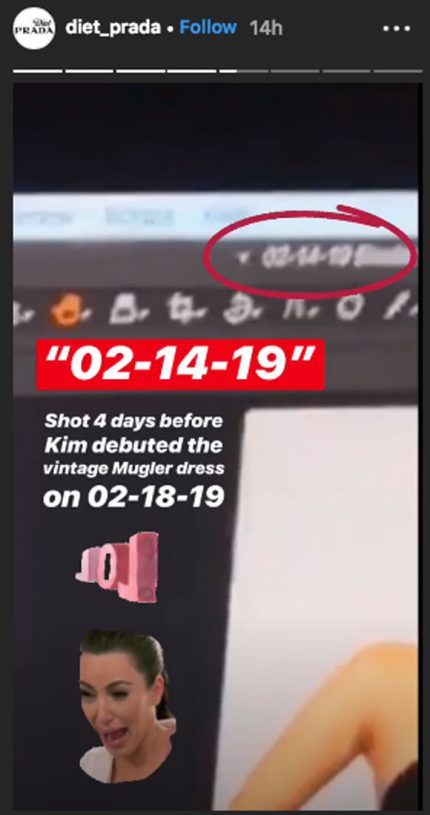 This led fans to question how quickly the knock-off was made, with many speculating whether or not the momma of three is lying about leaking her look to the company ahead of time to stir up more attention.
We've known the Kardashians to love the spotlight, but after previously condemning brands for knocking off her husband's designs — do you think Kim would do something like this to herself?
What do YOU guys think? Sound off in the comments below!
Source: Read Full Article