The World 10,000m bronze medallist is found at her home in Iten by police, laying in bed and surrounded by a pool of blood with a stab wound to her neck, according to the report.
AceShowbiz -Kenya is mourning the loss of one of its greatest talents. Olympic runner Agnes Tirop has tragically passed away after she was found stabbed to death at her home in the western town of Iten. She was only 25 years old.
Confirming the sad news, Athletics Kenya said in a statement released on Wednesday, October 13, "Athletics Kenya are this afternoon distraught to learn about the untimely death of World 10,000 bronze medalist Agnes Tirop."
The organization added, "Tirop was found dead at their hime in Iten after she was allegedly stabbed by her husband. We are still working to unearth more details surrounding her demise." They went on extending their sympathy to the late runner's family and friends, "We pray that God may grant strength to family and friends at his difficult time."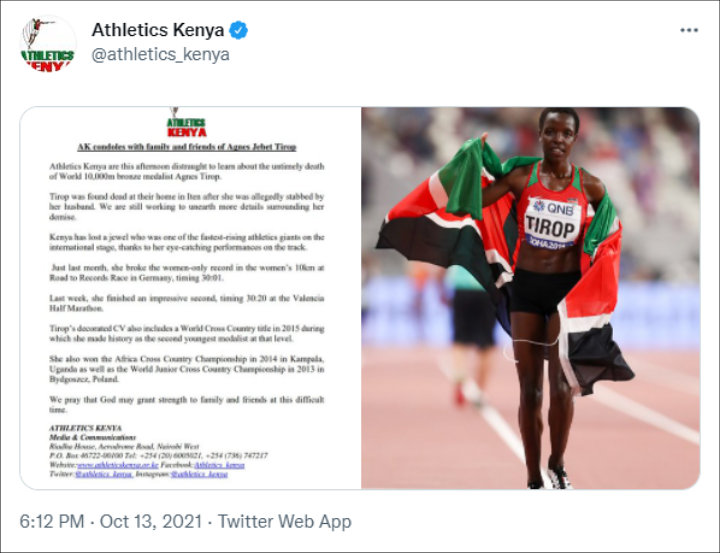 Athletics Kenya's Statement on Agnes Tirop's Death
Tirop was found dead at her house on Wednesday after her father called police on Tuesday night, worried because he could not reach his daughter. When police arrived, they found her laying in bed and surrounded by a pool of blood, according to BBC.
"When [police] got in the house, they found Tirop on the bed and there was a pool of blood on the floor," Tom Makori, head of police for the area, said. "They saw she had been stabbed in the neck, which led us to believe it was a knife wound, and we believe that is what caused her death."
Her husband was not at home when police arrived and is currently treated as a suspect. "Her husband is still at large, and preliminary investigations tell us her husband is a suspect because he cannot be found. Police are trying to find her husband so he can explain what happened to Tirop," Makori added.
Uhuru Kenyatta, Kenya's president, has expressed his condolences over Tirop's passing. "It is unsettling, utterly unfortunate and very sad that we've lost a young and promising athlete who, at a young age of 25 years, had brought our country so much glory," he said in a statement.
Meanwhile, Adidas said in a statement, "The Adidas family is deeply saddened by the tragic news about Agnes Jebet Tirop. Agnes was an incredible person, a record-breaking athlete and a beloved member of our family. She will be greatly missed by us all and her legacy will forever live on in our memory."
Tirop was an elite Kenyan long-distance runner. She was a two-time World Athletics Championships bronze medallist, who finished fourth in the Olympic 5,000m final two months ago. Last month, she also set the world record for a women's only 10km road race in Germany.
Source: Read Full Article