Rose McGowan comes to Constance Wu's defense.
As we reported, the Crazy Rich Asians actress raised eyebrows when she wrote on social media that she was "upset" by the news that her television show, Fresh Off The Boat, got renewed for a sixth season.
On Friday, the Citizen Rose star defended Wu's comments by detailing her experience on Charmed, where she played the character of "Paige Matthews" from 2001-2006.
McGowan wrote on Twitter:
"When I would get renewed on Charmed I would cry. I was made of in front by my co-star in front of the crew at lunch for crying. I was painted as ungrateful because I was making money. But what if the money isn't everything to us, wealth doesn't justify being trapped in a life you don't want. Everyone, including you, is entitled to change their perception of what equals wealth. I hope you feel no shame for sharing your true feelings. Do not let them shame you"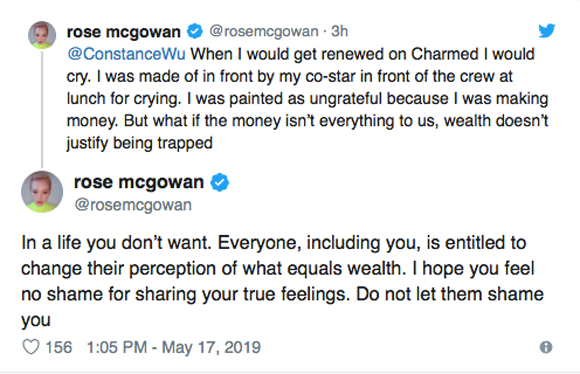 After FOTB got renewed, Wu commented on Instagram:
"Dislike."
She also wrote on Twitter:
"So upset right now that I'm literally crying. Ugh. F**k
F**king hell."
Additionally, when a fan wrote to her, "Congrats on you renewal! Great news :)," she replied, "No it's not."
Though she tried to cover up these comments, she later explained that she had to give up another project in order to work on her show's new season.
The 37-year-old penned on social media:
"I love FOTB. I was temporarily upset yesterday not bc I hate the show but bc its renewal meant I had to give up another project that I was really passionate about. So my dismayed social media replies were more about that other project and not about FOTB… FOTB is a great show that I'm proud of and that I enjoy. I've gotten to fully explore my character and I know her like the back of my hand. So playing Jessica fun and easy and pleasant. I get to work with a kind and pleasant cast/crew. Which makes it all quite enjoyable — so obviously I don't dislike doing a show that is fun and easy and pleasant… But in general, I've always sought artistic challenge over comfort and ease. I was disappointed in not being able to do that other project — because that other project would have challenged me as an artist — that other project would have been really hard and not easy or pleasant at all."
Despite all of the drama, ABC Entertainment President Karey Burke said the network has no plans on recasting Wu's character:
"No, there has been no thoughts on recasting Constance. We love what she does on the show and we love the show… I did actually know that Constance had another opportunity that, had Fresh Off the Boat not gone forward, she would have pursued. But we never really considered not bringing back Fresh Off the Boat. The show is just too strong and we love it… I'm going to choose to believe Constance's most recent communication about the show — that she is happy to return. The cast and crew is happy to have her back and we're thrilled to keep her with the show."
Thoughts?
Source: Read Full Article