The 'Gin and Juice' hitmaker shuts down his professional roller's claim that he can smoke up to 150 joints a day, clapping back, 'What am I a f**in' machine?'
AceShowbiz –Snoop Dogg's love for weed apparently knows boundaries. Despite being an avid fan of marijuana, the rapper has disputed his roller's claim of outrageous number of joints he smokes a day.
In a recent interview, Renegade Piranha claimed that the 51-year-old star can smoke up to 150 joints per day. "I calculate it at over 450,000," she said on the Australian radio show "The Kyle and Jackie O Show" when estimating the number of joints she has rolled for the hip-hop icon overall.
However, Snoop denied that he smokes that much. On Sunday, November 6, he took to his Instagram page to share the receipts, showing a pile of a mere nine blunt roaches that he apparently smoked that day.
"B***h said I smoke 450,000 [joints on her watch]… B***h, this is all in a day's work. Stop lyin'," he said in the video. "How the f**k am I gonna smoke all that weed in one day?" he added. "What am I a f**in' machine? B***h this is the roaches. See? Roaches."
Snoop followed it up with a video of him cruising in his car while staring into the camera and puffing on a fat blunt. Rocking a Death Row Records jacket, he was listening to Curtis Mayfield's "Superfly".
Renegade quickly set things straight after Snoop refuted her claim. In the comments of the "Gin and Juice" emcee's post, she denied ever saying that Snoop smokes 150 joints per-day, insinuating that her statements were taken out of context.
"ALL LIES, I NEVER SAID THAT! I've actually also said that's cap every time I've seen it . I said I roll that many for everybody I roll blunts for professionally on the @kyleandjackieo show," she explained, before blaming the media for the exaggerating number. "The sensationalizing for click bait is lame af."
"The interview is available for anyone on @iheartradio blogs actually did research. I hand rolled every blunt in the @snoopspremium boxes by myself. Nothing I SAID is Cap. You're name being used for click bait," she claimed.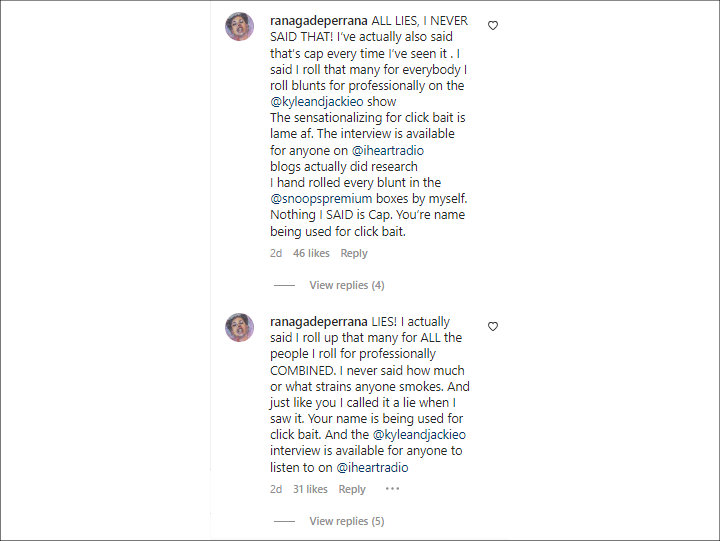 Snoop Dogg's roller clarified her statements on the number of joints he smokes a day.
Renegade reiterated in a separate comment, "LIES! I actually said I roll up that many for ALL the people I roll for professionally COMBINED. I never said how much or what strains anyone smokes. And just like you I called it a lie when I saw it. Your name is being used for click bait."
Source: Read Full Article