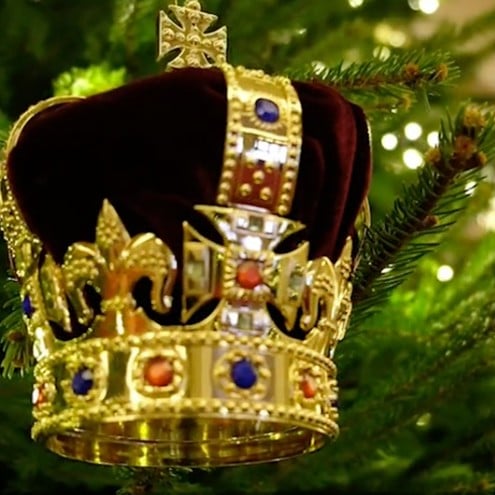 The Buckingham Palace Christmas Trees Have Arrived, and They're Decorated With Crowns and Carriages

The Royal Family has released its latest behind-the-scenes video of the Christmas trees being installed at Buckingham Palace, and it'll come as no surprise to you that Queen Elizabeth II goes big when it comes to festive decor, even though she won't actually be in London on Christmas Day but celebrating with the family at Sandringham.
The palace plays host to three trees, sourced from Windsor Great Park, and you'll be happy to know that just like the rest of us, the royal family stores festive ornaments away after Christmas so they can be used again the following year. Back in 2017, we discovered that the palace trees are all festooned with lights and hung with dozens of bejeweled gold and velvet crowns that pay perfect homage to their royal owners. This year, those very regal ornaments are back, along with embroidered carriages and other royal motifs. The videos also reveal that the palace balustrade is decorated with giant garlands hung with jewel-colored baubles.
Christmas trees and the British royal family are intrinsically linked, as it's the royals who are responsible for bringing the Northern European tradition to the UK. Queen Charlotte, consort of King George III, installed the first British Christmas tree at the Queen's Lodge, Windsor, in December 1800. However, it's Queen Victoria and Prince Albert who are credited with popularizing the trend, which endures to this day.

Source: Read Full Article