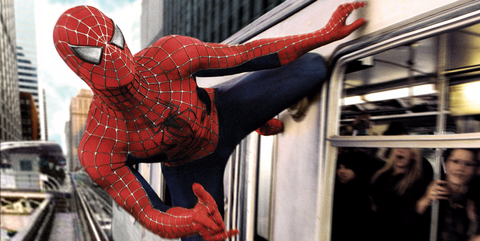 Superman hogged the spotlight in the late '70s and early '80s, and the Avengers have dominated the box office in recent years, but there's arguably no superhero cooler than Spider-Man. He's funny, less moody than Batman, and he slings from skyscraper to skyscraper with arachnid-like webs! (And he did well with Mary Jane.) But he hasn't always seemed so appealing at the movies. While the Marvel Cinematic Universe reboot continues with next year's Spider-Man: Far from Home, Spidey gets a fresh take in the acclaimed animated feature Spider-Man: Into the Spider-Verse (out December 14), which as of this writing has a 100% fresh rating on Rotten Tomatoes (!).
While we await the latest promising entry in the franchise, here are all six Spider-Man movies so far (only including those with U.S. theatrical releases) ranked. Enjoy or ignore them as you choose.
It was evident enough that very few people cared about the first 2010s Andrew Garfield-led reboot of Spidey (though nothing against Garfield, who can be excellent in the right part but is perhaps too sensitive even for Peter Parker). But even with ho-hum box-office receipts for The Amazing Spider-Man, Sony shot out a sequel in short order. It's not only derivative of the Tobey Maguire movies (Green Goblin is back!), it's also messy and overstuffed with characters and unnecessary plot points. Nothing remotely amazing to see here.
RENT OR BUY IT HERE
Even in our all-franchises-all-the-time era, the 2012 Spider-Man reboot felt gratuitous. The first Tobey Maguire Spider-Man came out in 2002 and spawned two sequels (speaking of spawning, where the hell is our much-deserved Spawn reboot?). Worse, Amazing is less an overhaul than a carbon copy of the Maguire trilogy, setting up a character everyone knows nearly beat for beat in parallel with the original. Yes, there's still pleasure to find here, but it's harder not to shake your head.
RENT OR BUY IT HERE
Marvel Studios did as fine of a job as could be expected in its partnership with Sony, which owns movie rights to Spider-Man, in reviving the character. The nimble, slim Tom Holland has not only the athleticism but also the charm to pull off the part, and the plot finds its own path. It still feels eerily similar to other assembly line-driven Marvel movies, but it's fun and does right by Parker.
BUY IT HERE
Okay, okay, hear me out. Director Sam Raimi's misunderstood final entry in the massively successful big-screen Spider-Man series has its share of flaws, but it's different and kind of ballsy for a tentpole film on this level. Raimi (of the original Evil Dead movies) was clearly bored of hitting the same notes after helming the other two entries, and brought out his sly trickster humor. He digs into romantic melodrama with a hilarious montage of emo-Spidey with a side hair swoop. And while three villains is at least one too many, the climactic battle on a construction site is still one of the most impressive feats of CGI ever.
RENT OR BUY IT HERE
Sony did well by bringing on Raimi of Evil Dead to bring the much-anticipated first major Spider-Man movie to life. The director wasn't the most obvious fit, but in addition to his natural skill at effects and action choreography, he provided just a touch of wisecrack comedy and a wallop of genuinely earned gravitas. Maguire and Kirsten Dunst are at this point inseparable from Peter Parker and Mary Jane. And while they look slightly less impressive now, those shots of Parker treating Manhattan as his personal jungle gym were stunning for the time. It doesn't even need to be said that Willem Dafoe as the Green Goblin is out of this and several other worlds.
BUY IT HERE
Raimi improved upon his first Spider-Man movie by doing the same thing but making the sequel bigger, more expensive, and way more intense. There's an almost Jesus-like significance given to Peter Parker, who in one stunning and emotional scene saves a train of commuters while unmasked and is then carried by them. Alfred Molina's tentacled Dr. Ock is as fabulous an invention in a superhero film as has ever existed. And if it all gets a little serious, it's balanced by Maguire's pitch-perfect acting that carries both the weight and the punchlines. Other mega-blockbuster filmmakers would do well to emulate this movie more.
RENT OR BUY IT HERE
Source: Read Full Article