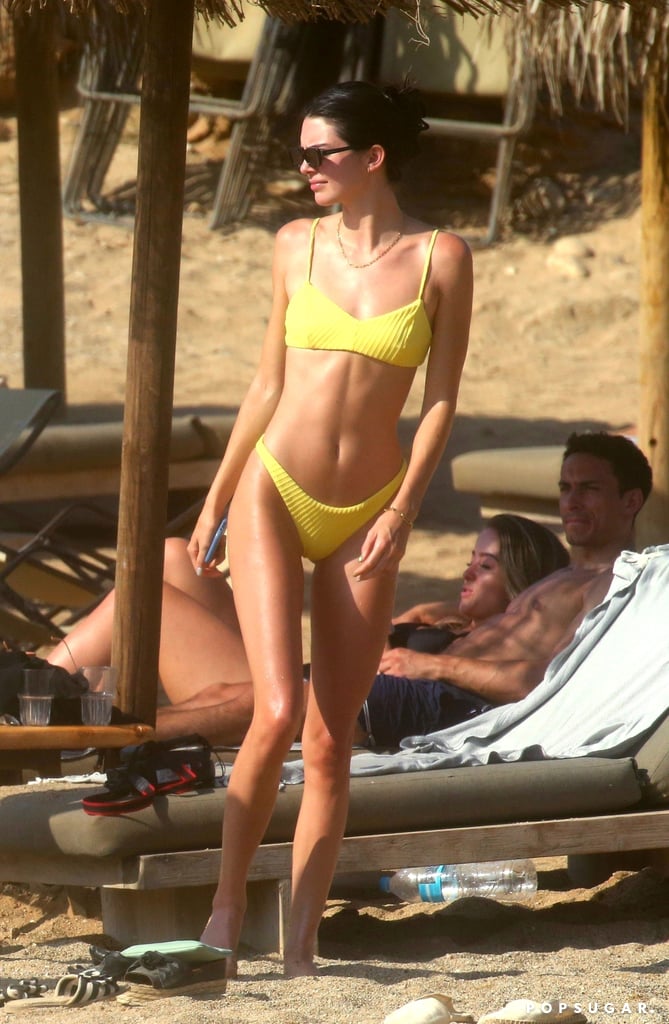 Kendall Jenner's Cheeky Yellow Bikini Is Actually a Supermodel Favorite

If there was ever a time where I wished I was hanging out in Mykonos with my best friends, it would be now, thanks to Kendall Jenner. The supermodel is living her best damn life in Greece while vacationing with some of her closest pals. It also seems like Kendall packed all of her most eye-catching swimsuits for her trip. After being spotted in a sultry silver bikini by New York-based designer Danielle Guizio, Kendall slipped into a brighter color: yellow.
On Monday, July 8, the 23-year-old model was seen jumping off of a yacht with her friends in a cheeky yellow bikini. Kendall's sunny swimsuit is from the Australian brand Fella Swim, and supermodel Rosie Huntington-Whiteley wore a similar version of the lemon-hued swimsuit back in January of this year. Kendall's top features a crop-top silhouette that has adjustable thin straps and comes in a breathable Italian textured Lycra material. The swimsuit comes with a couple of different bikini bottom options, and Kendall opted for a pair of cheeky high-leg bottoms with thin sides. She accessorized her bikini with a thin chain, a matching bracelet, and black sunglasses.
Keep reading to shop Kendall's $208 swimsuit as well as similar styles.
Source: Read Full Article