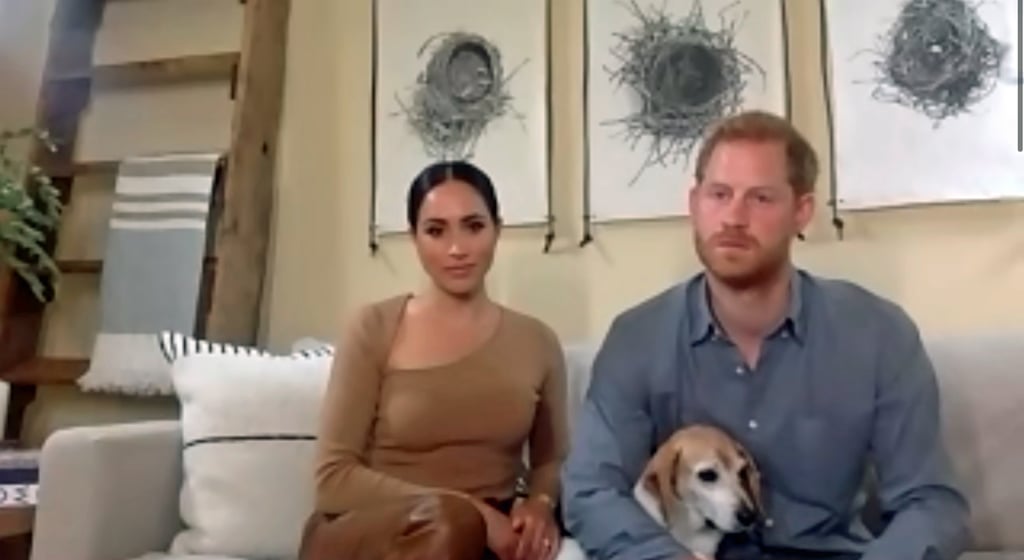 Why Yes, Meghan Markle, You Caught Our Eye With Your Asymmetric Top

After Meghan Markle made a surprise appearance on America's Got Talent wearing leather pants, and followed up with an important conversation in her blue striped button-down at Fortune's MPW summit, we already got a grasp on her work from home wardrobe. Meghan's sticking to relaxed basics, but also mixing in edgier, modern pieces that she might not have worn while attending to royal duties in the UK. We love how she's freshening up her look for her California lifestyle — and the fact that we're getting a peek at it virtually. After all, this is pure outfit inspiration to be enjoyed.
When Meghan debuted her fitted, camel-colored Glemaud top, a design that retails for $375 and comes with an asymmetrical neckline, she was sitting down with Prince Harry for a chat with the Evening Standard about the campaign they're launching to end structural racism in Britain. But the conversation was lighthearted too, as the couple discussed their life as parents to baby Archie.
Meghan and Harry seem to be completely cool with their transition, and their outfits continue to reflect that. We love that Meghan's experimenting with smaller brands and even more leather — it appears she owns these skinnies (presumably faux) in both black and brown. Meghan completed this outfit with gold jewelry and her Cartier watch, keeping things classic.
Scroll down for another peek, and pick up her exact Glemaud shirt, or shop similar silhouettes in a range of neutral colorways at varying price points.
Source: Read Full Article