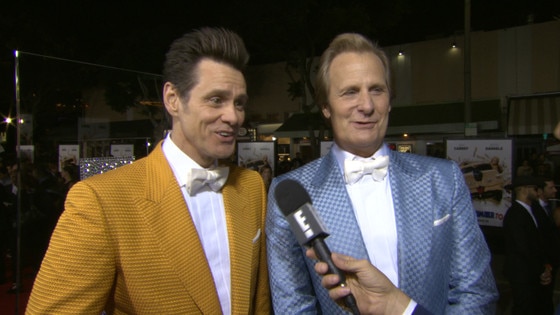 It's been 25 years since the Farrelly brothers foisted Harry and Lloyd's dumbness upon us.
And for that, the people—if not people who are also film critics—owe them a debt of gratitude.
Dumb and Dumber was hardly the first ribald comedy to be a huge hit, and it wasn't the first full-length feature film to traffic entirely in nonsense, start to finish. It wasn't even the first Jim Carrey comedy to do that.
But whatever it was, be it the time—toward the end of the exciting movie year that was 1994—or perhaps the commitment that Carrey and Jeff Daniels brought to their roles and the surfeit of quotable lines, this ridiculous and completely hilarious movie remains a gem of the unapologetically un-PC, gross-out comedy genre.
"All this stuff we do that's so dumb, you can't believe we're so dumb," Daniels, theretofore known for more dramatic fare, said at the time while sharing how much fun he was having throwing intelligence to the wind. "We're a threat to national security, these two guys. We're trouble. As Jim says so often, we're out of control, and we don't even know it!"
Lest we forget, 1994—in addition to being the year of Forrest Gump, Pulp Fiction and The Shawkshank Redemption—was the year of the Jim Carrey movie trifecta that vaulted Fire Marshall Bill from In Living Color to super-star status, starting with Ace Ventura: Pet Detective in February, segueing to The Mask in July and concluding with Dumb and Dumber in December.
Though there could've been Carrey fatigue by then, moviegoers couldn't get enough, and Dumb and Dumber ended up making $127 million to end up the sixth-highest-grossing release of the year.
"Just two dumb guys driving cross country with a loose plot and a lot of gags, big-time laughs," director Peter Farrelly summed up the premise from the set.
So without further adieu, here are 25 things to know about what it took to bring all that lowbrow humor to the masses—and why the masses couldn't stop laughing: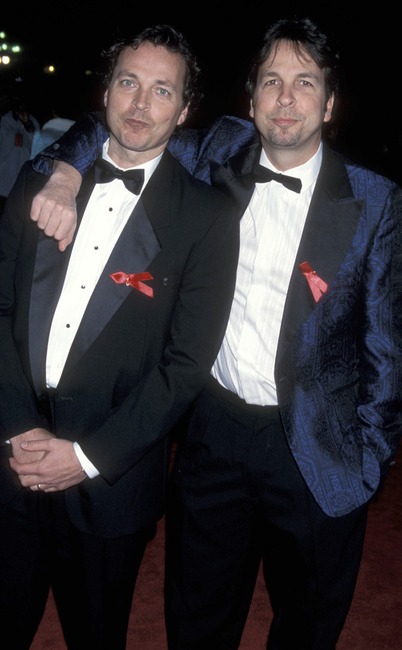 Ron Galella Collection via Getty Images
1. Dumb and Dumber was Peter and Bobby Farrelly's first movie—and it was a true labor of love. Years beforehand they had written a screenplay about two not-very-bright funeral home employees that was eventually bought by Eddie Murphy's production company. There it languished. Back at the drawing board, Peter and Bobby wrote another story about dim-witted buddies Harry and Lloyd, who set off for Aspen to return a lost briefcase to its wealthy owner. They called it Go West, then A Power Tool Is Not a Toy. "We changed the titles because we couldn't get agents to deliver a script called Dumb and Dumber to their clients, Peter Farrelly told an audience at Loyola Marymount's School of Film and Television in 2014.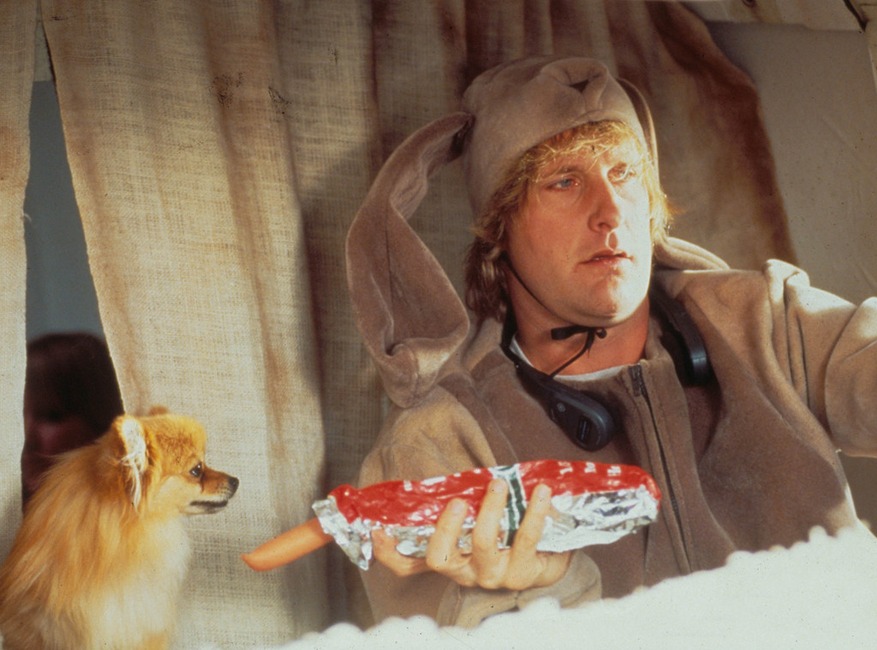 Moviestore/Shutterstock
2. New Line Cinema, which felt it was already taking a chance by letting first-timers the Farrellys direct their own script, didn't want Jeff Daniels to play Harry.
"Jeff Daniels was not the obvious choice because he hadn't done any, you know, out and out comedies before that," Bobby Farrelly recalled in 2014. "He was always comedic in his roles. But we were huge fans of his," and Peter especially liked him in the 1986 comedy Something Wild.
But the Farrellys and, once they'd read together, Jim Carrey fought to get Daniels hired. "Jeff gets up there and he does not know what he's going to do until he sees what you're doing and then he plays off that," Bobby said. "He's a genius at doing that. And Jim understood. He was elevating him so he fought for him."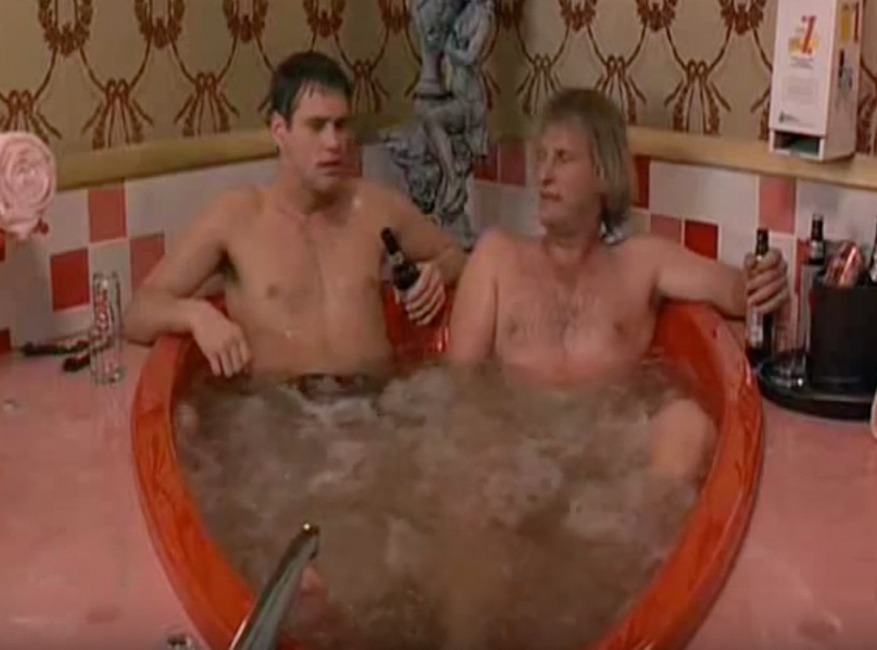 NEW LINE CINEMA
3. One of their auditions included the hot tub scene, and "Jim just, before we'd even said a word, he just went into Lloyd," Daniels recalled on The Tonight Show Starring Jimmy Fallon in 2014. "He just did that thing"—"I motor-boated him," Carrey announced proudly.
"And then I just kinda sloshed my brain around, and then I was there," Daniels said, putting on Harry's perpetual look of incredulity.
"You won't see that on Newsroom!" Carrey barked.
Article continues below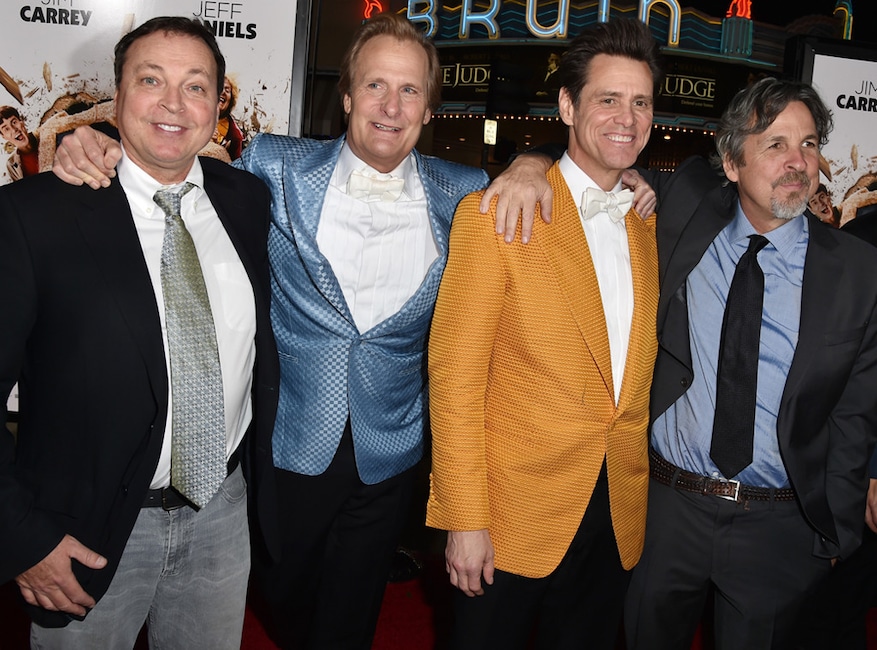 Kevin Winter/Getty Images
4. Daniels, meanwhile, "really wanted to work with Jim," he explained in a 1994 interview shared by New Line.
He wanted the part so much, in fact, he agreed to be paid $50,000 to do the film. No one thought Daniels would accept the studio's purposely low-ball offer (they were really skeptical), but he did—while Carrey was paid $7 million. His price tag would have only been about $350,000 if the deal had been made earlier, the Farrellys later revealed, but negotiations were ongoing when Ace Ventura came out and was a huge hit, sending Carrey's stock soaring.
"It's pretty crazy," Carrey acknowledged to the New York Times. "It is ridiculous. I'm trying to take it day by day."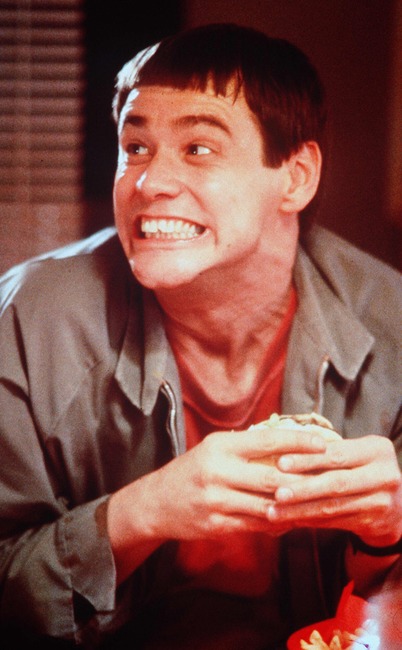 New Line/Kobal/Shutterstock
5. In 1990, Carrey wrote himself a check for $10 million, "for acting services rendered by Thanksgiving 1995," and flashed it to multiple reporters in 1994 after news of his $7 million payday was out there.
"When I wrote that check, it wasn't about the money," he told the Baltimore Sun. "It was a message to myself that if I was making that kind of money, I knew I had to be one of the top guys. The only worry I have now, with everybody talking about my salary all the time, is that people will start thinking of me as a check and not as a character. I don't want people to be unable to lose themselves in my movies because all they're thinking about is the money I'm being paid.
"I don't want to get to the point where audiences are evaluating whether that last joke was worth what I'm making."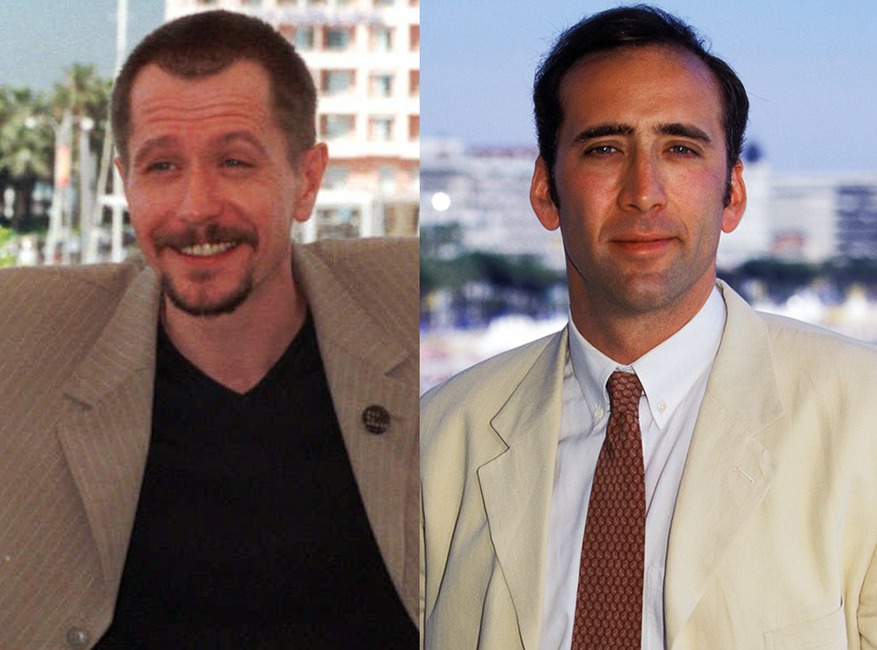 Shutterstock/Getty Images
6. Well, this would have had a different vibe! According to Vulture, Nicolas Cage and Gary Oldman were the Farrellys' original choices for Harry and Lloyd.
Article continues below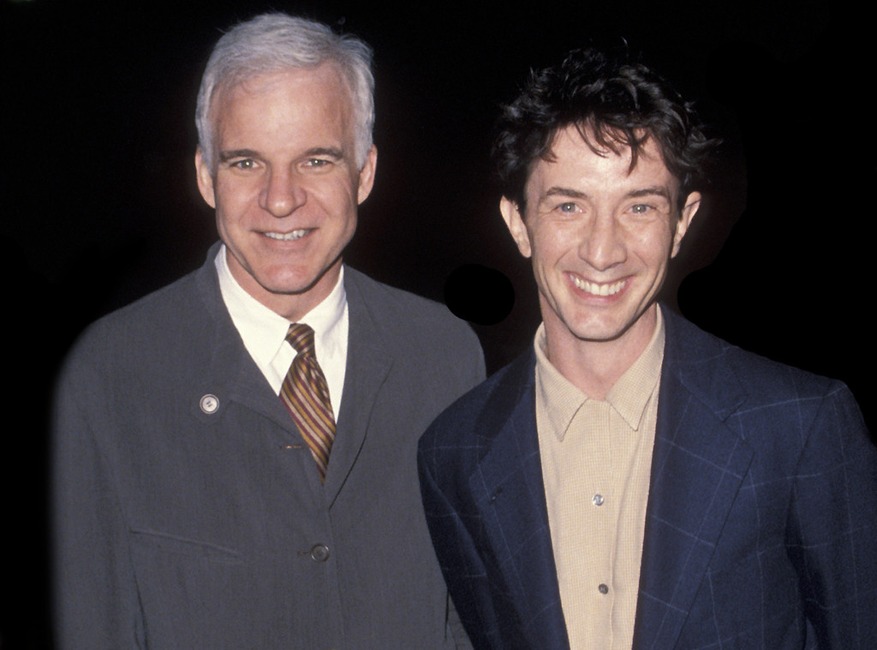 Ron Galella Collection via Getty Images
7. Both Martin Short and Steve Martin turned down the role of Lloyd, while Chris Elliott and Rob Lowe were considered for Harry.
So the Farrellys didn't have a type as far as Harry was concerned…
Elliott's the only one of the bunch to later work with the brothers, in 1997's There's Something About Mary.
New Line/Kobal/Shutterstock
8. Jeff Daniels' agents didn't want him to do Dumb and Dumber any more than the studio did.
"'We're begging you, not to do this,'" he recalled them saying during a Close Up With The Hollywood Reporter actors roundtable in 2018. "There were three agents on the phone the night before I was to fly the next morning to do wardrobe for Dumb and Dumber. Three agents, one in New York, two in L.A. The two in L.A. were going, 'We're gonna stop you. You're not going to do this. You're a serious, important actor, we're trying to get you to the Oscars, you keep defeating us, so stop doing that—and this will be the end of your career. Frankly, Jim Carrey is a comedic genius. With all due respect, he's going to wipe you off the screen. Say no, and we'll take care of it.'"
But Daniels told them, "if this is a mistake, it's mine," and off he went to do wardrobe.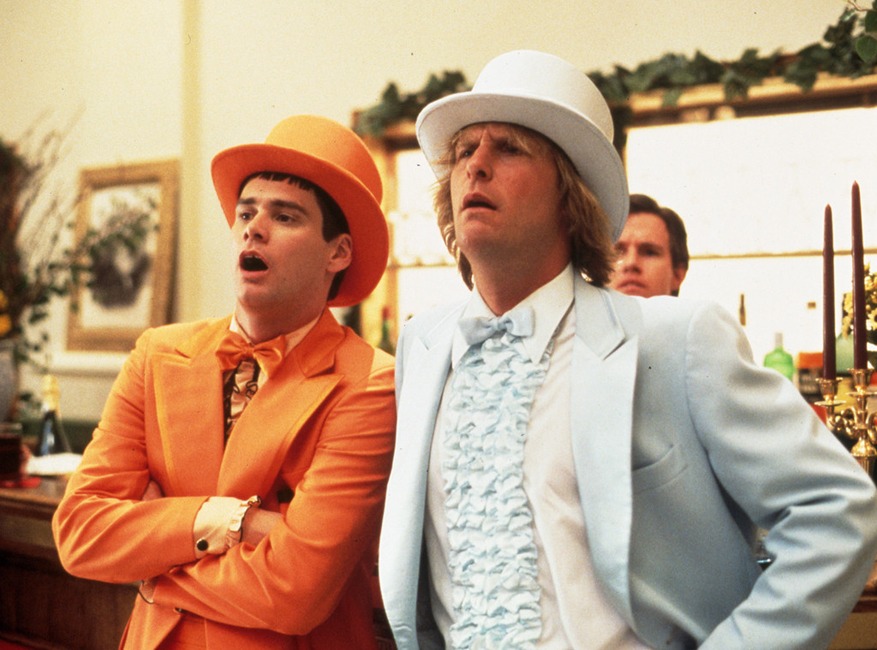 Snap/Shutterstock
9. And what a wardrobe it was. Harry and Lloyd's blue and orange tuxedos have remained instantly recognizable Halloween costumes all these years.
Article continues below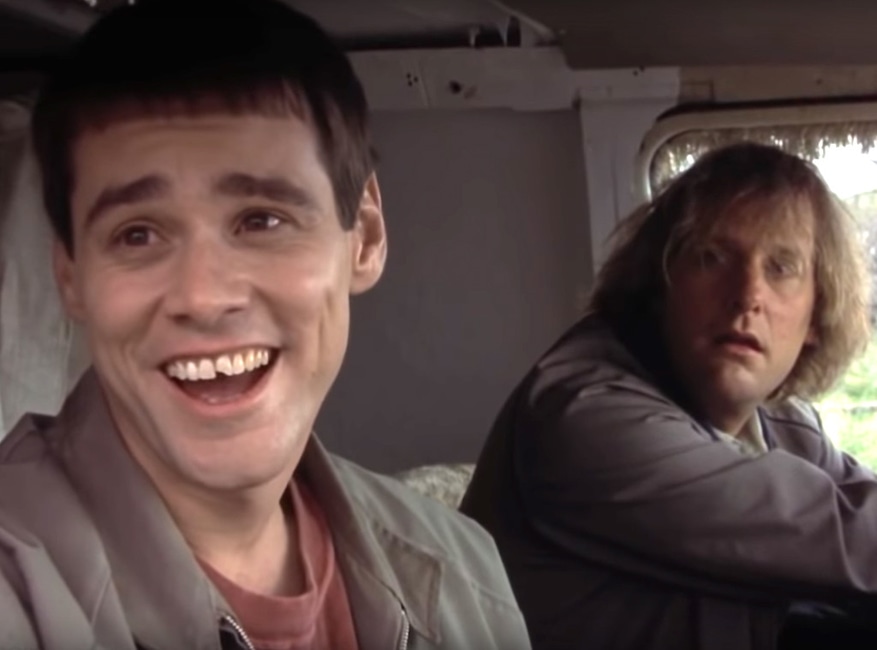 NEW LINE CINEMA
10. Carrey already had Lloyd's spot-on chipped front tooth from an old school-days injury. "The night before [they started filming], Jim took a beer bottle…hooked the cap over the cap on his tooth, and pulled the cap off of his tooth," J.B. Rogers, first assistant director on the film, told The Ringer this summer. "Because he thought his character should have the split tooth. He didn't think of it until that night. He's like, 'Shit, I gotta get this thing off.'"
New Line/Kobal/Shutterstock
11. As for that bowl cut, "I was trying to figure out what would make me look dumbest, and the short bangs seem to do it nicely," Carrey said in 1994.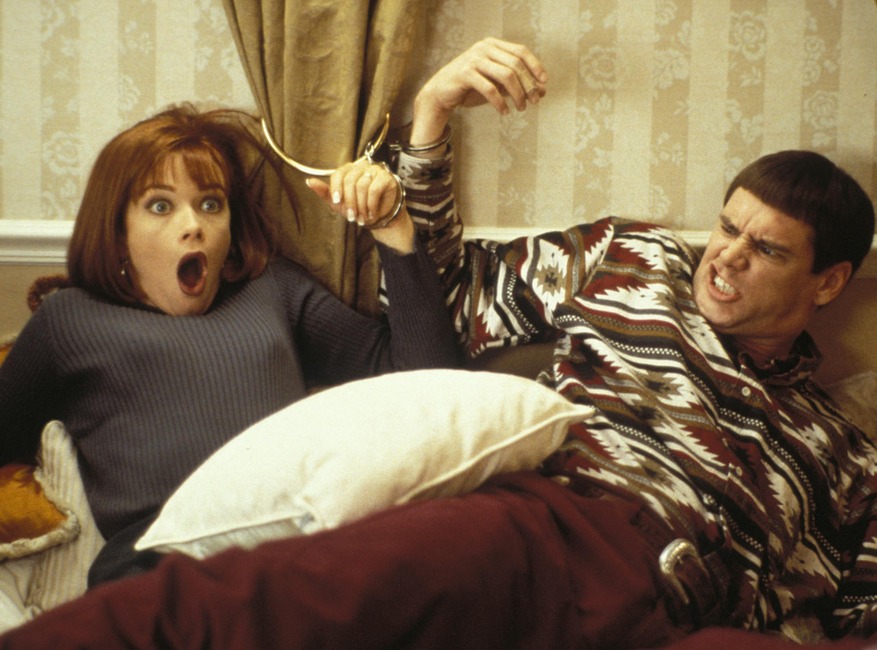 New Line/Kobal/Shutterstock
12. Picket Fences star Lauren Holly turned down the role that went to Courteney Cox in Ace Ventura, but she said yes to playing Mary Swanson, whose husband has been kidnapped and whose ransom handover is ruined by a smitten Lloyd, who thinks she left her briefcase full of cash behind by accident and sets off with Harry to deliver it to her in Aspen, "where the beer flows like wine."
"I think fun is kind of an understatement on this movie," Holly said on the set. "It's a lot of laughs and I'm having too much fun, maybe… I think my hardest job is just to keep a straight face and not ruin any of the takes—believe me, that's tough." She had loved the script and "the minute I heard it was Jim and Jeff, I definitely wanted to be a part of it."
Article continues below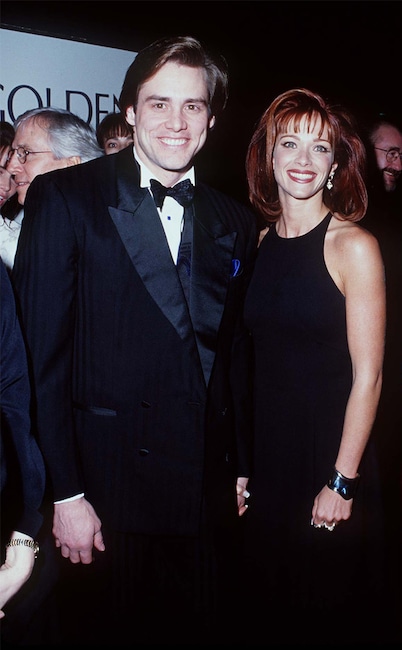 SGranitz/WireImage
13. Fun was an understatement. She and Carrey fell in love—though that was not the plan. Determined to not be a cliché and hook up with her still married (but separated) co-star, Holly stayed in a different hotel when they were shooting in Salt Lake City. But when the production got to Estes Park, Colo., one morning, Daniels told Rolling Stone in 1995, "I was up at 7 a.m., packed and ready, and Lauren was in the suite next to me—I could see her door. And it opens, and Jim comes out. That's when I first realized that perhaps they were together."
"Lauren Holly is absolutely the most beautiful woman on the face of the earth to me right now," Carrey told RS, "and she is brilliant, talented, selfless, caring, loving, the best combination of everything you could ever think of."
He and Holly got married in September 1996, but divorced the following July.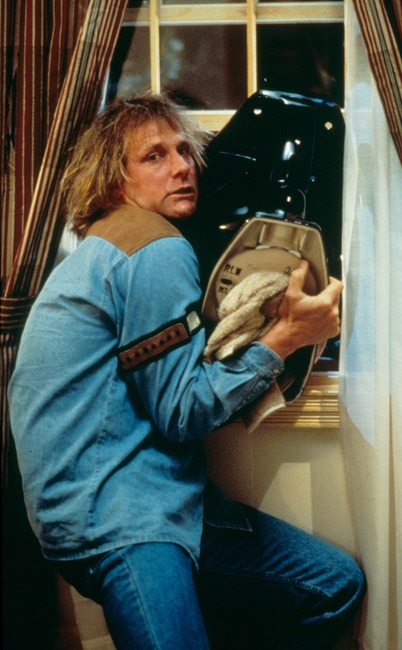 Moviestore/Shutterstock
14. The infamous scene in which Harry uses the broken toilet in Mary's bathroom and frantically tries to get rid of what was the result of a jealous Lloyd dosing him with Turbo Lax was originally going to be even more gross. "We did trim it a little," Bobby acknowledged at Loyola Marymount. But not because the studio made them.
"That was our decision, yeah," Peter concurred. "But yeah, we were pushing it, but they didn't get it and I remember at the premiere, Bob Shay, who was the head of the studio, gave a toast or a speech up front and he said, 'By the way, this isn't why I got into the movie business.'"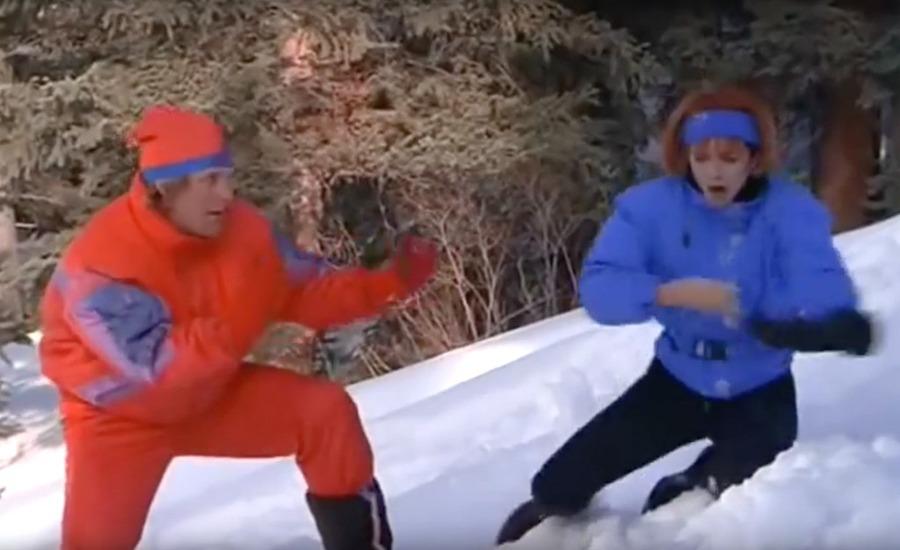 NEW LINE CINEMA
15. Harry's overzealous snowball fight with Mary didn't really register when they were shooting, because obviously Daniels wasn't really beaning Holly in the face with snow and she was just putting snow on her own face and looking stunned. Later, it was the dramatic splat sound that sold it.
"You think you know what you're doing, but it's not funny as you're doing it," Bobby explained in 2014. "And it wasn't until we put the sound effect in for that movie and we tried many sound effects for the snowball and they weren't getting laughs and then we found one that killed people. Just a specific sound effect."
Article continues below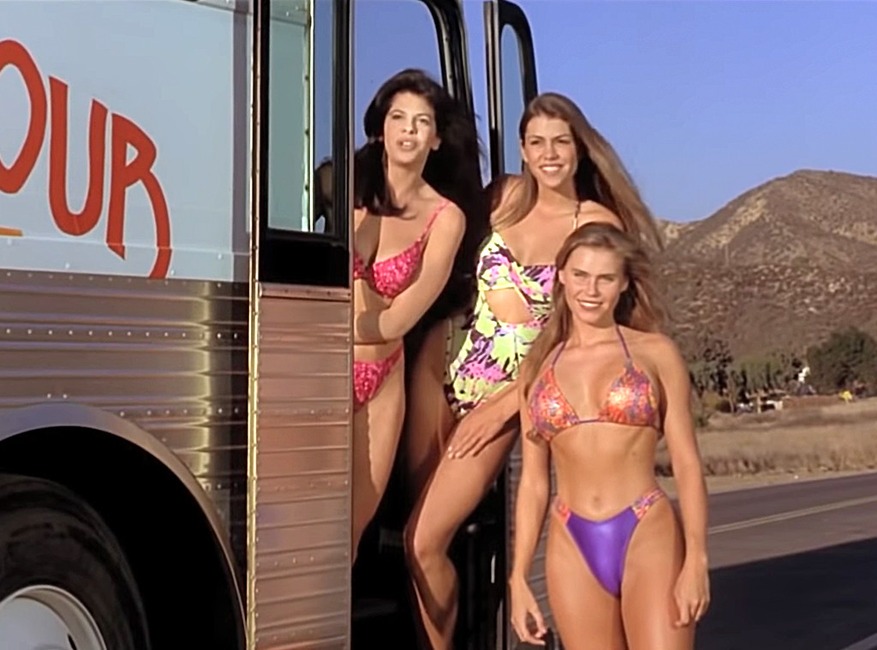 NEW LINE CINEMA
16. The ending of the film, with Lloyd and Harry strolling down the road together after idiotically passing on an opportunity to be oil boys for the Swedish Bikini Team, wasn't the first ending they shot. First the Farrellys had Harry and Lloyd turn down a sweet gig at a fancy hotel, telling the concierge who had offered them free lodging in exchange for a few hours of work a week that they'd "try [their] luck down the road." But they simply didn't think that was good enough, and they came up with the bikini team twist.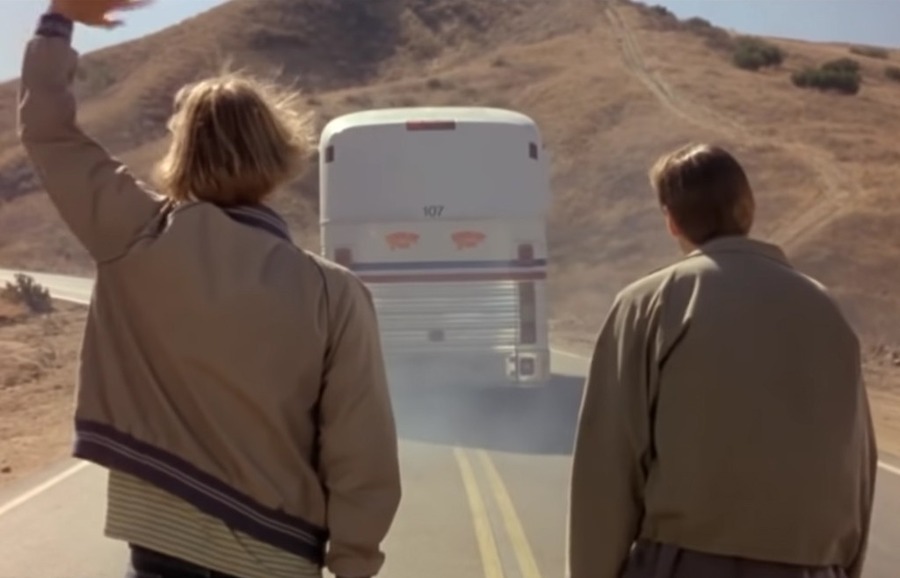 NEW LINE CINEMA
17. The studio naturally wanted Harry and Lloyd to get on the Swedish Bikini Team's bus to give the movie a Hollywood ending, but the Farrellys didn't think that would be authentic to the story either. It was suggested that they shoot both so they could see which worked best, but Carrey—being on the Farrellys' wave length—refused to step foot on the bus.
"So we never did shoot it, the other one," Peter said in 2014. "We went back and told the studio we ran out of daylight and we couldn't do it." Bobby added, laughing, "Oh, I think we said Jim wouldn't do it."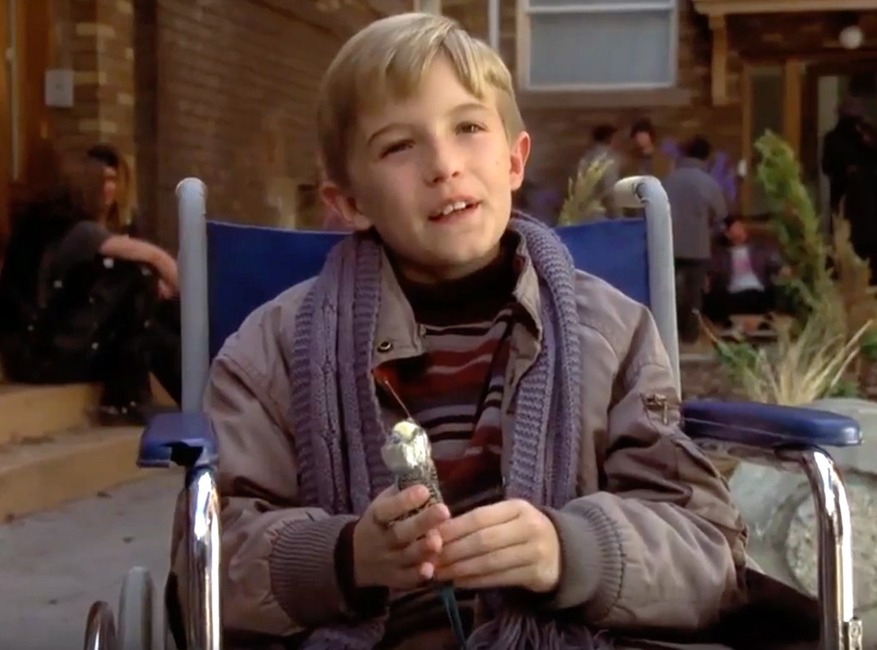 NEW LINE CINEMA
18. Brady Bluhm was a veteran child actor by the time he landed the role of Billy in 4C, the blind kid who unwittingly buys Harry's dead bird, Petey, from Lloyd. (Petey was made of wire and feathers.)
"They only brought back me and one other kid for the callback," Bluhm, who was brought back for the sequel, told Flickering Myth in 2014. "I remember walking into the room with the Farrelly brothers and the producers and sitting down in the chair with eyes on me. As soon as I got into character and started saying the lines 'Pretty bird, pretty bird,' everyone in the room began cracking up laughing. If I remember right, they had me say the lines three times through and each time was the same hilarious reaction. I was just a kid, so I didn't really get why it was so funny, but I knew it was a good sign."
Article continues below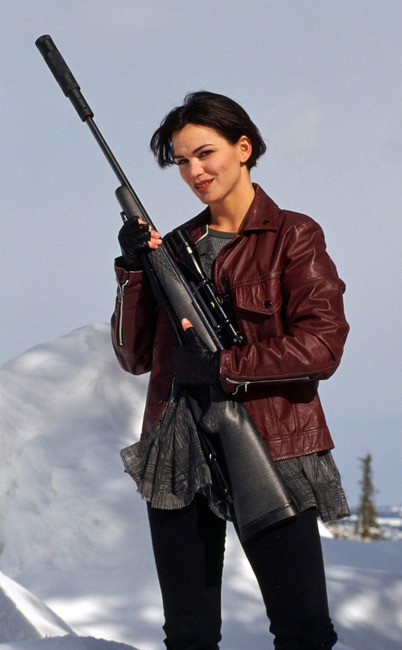 NEW LINE CINEMA/ZUMA PRESS
19. You hear horror stories about working with insanely talented people, but it sounds like everyone had a blast on this one.
"I think this is the best experience I've ever had on a film set. It's so much fun," Karen "Duff" Duffy, who played henchwoman J.P. Shay, said in 1994. "The vibe is really easy going and… I feel that Peter as a director is really setting a tone for the whole movie… Peter will give the time of day to anyone and that's beautiful, how that carries on to everybody in the movie…
"I think that a good way to describe it is," she joked, "what the cast and crew lack for in intelligence, we've been making up for with stupidity."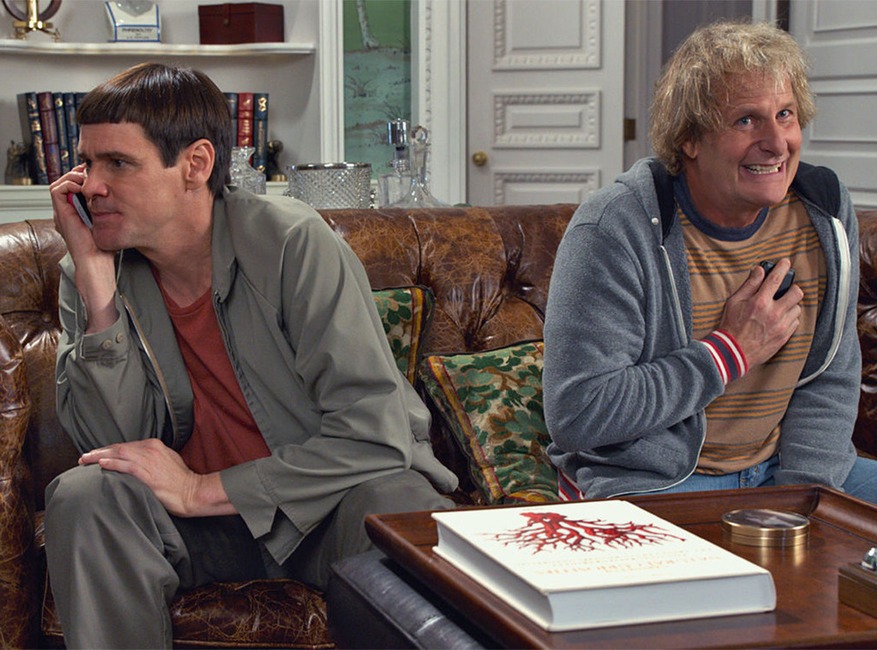 Shutterstock
20. The Farrellys screen their films three or four times for test audiences, a process they describe as "painful," but "it's worth it because you'll know that's funny or not funny," Peter said. And if it's not funny, you can try to recut it to make it funny or you can just give up on it after awhile."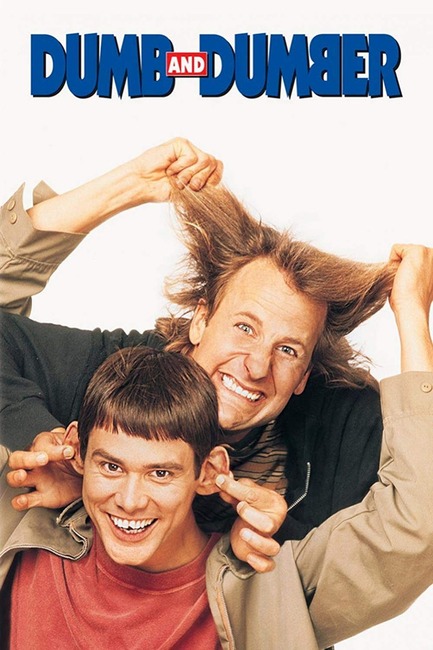 New Line Cinema
21. An alternate ending included in the bonus materials on the 2006 DVD release of an unrated version of the film shows Harry and Lloyd pondering their future job prospects.
"We have no talents and we don't really fit into society," Harry says, to which Lloyd replies, "Maybe we'll be film critics."
Article continues below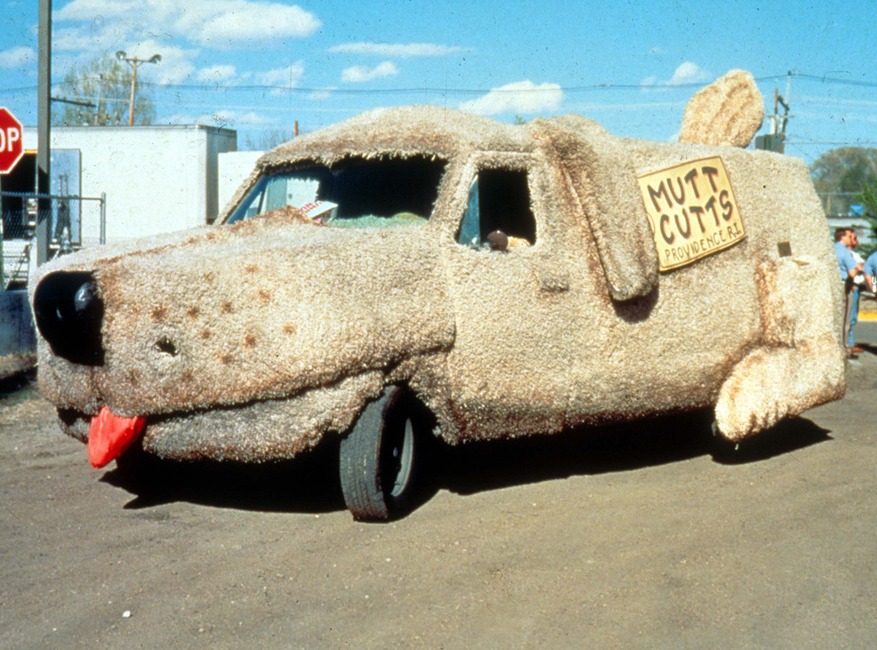 Moviestore/Shutterstock
22. Dumb and Dumber cost $17 million to make, custom shaggin' wagon included, and made $247 million worldwide.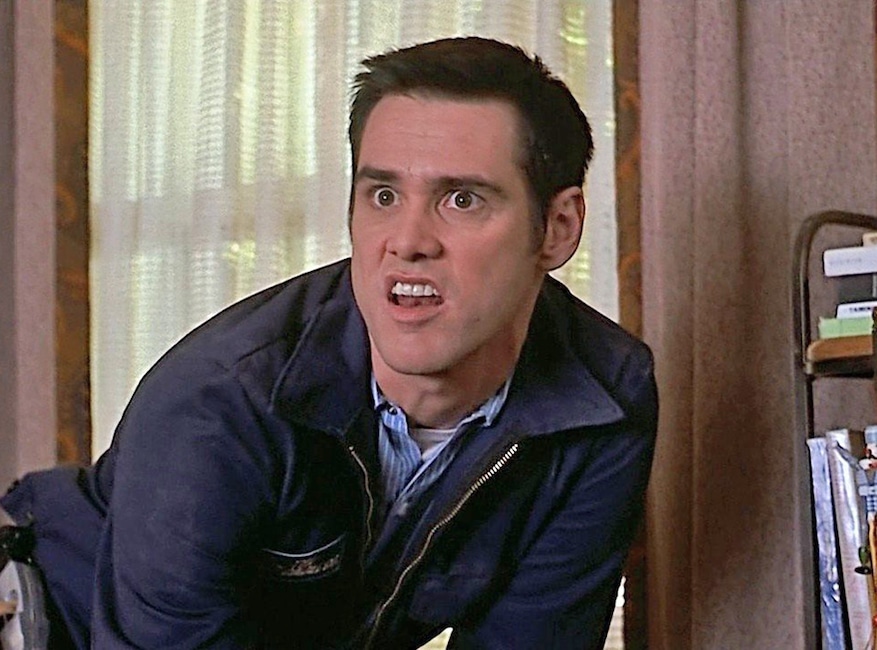 Columbia Pictures
23. Jim Carrey's boffo box office in 1994 propelled him to the top tier of the Hollywood food chain in rapid fashion. When Dumb and Dumber premiered he was already signed up to play The Riddler in Batman Forever and of course they were doing an Ace Ventura sequel. Then he scored that much talked-about $20 million paycheck (plus 15 percent gross participation) for The Cable Guy—which, memorably, flopped financially and confused more than amused at the time. But the Ben Stiller-directed satire remains a favorite among the comedy cognoscenti and in recent years has been viewed in a more appreciative light.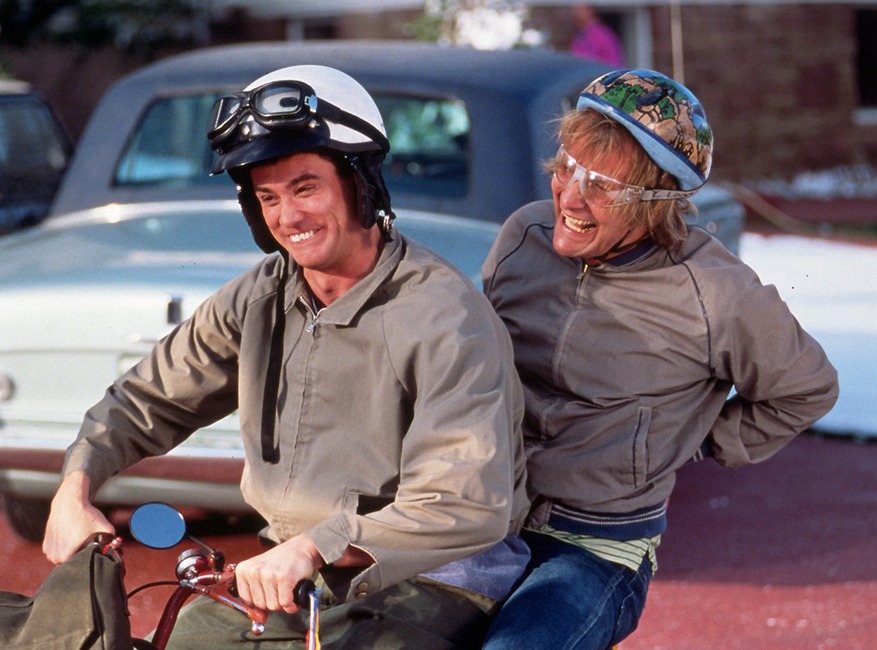 Snap/Shutterstock
24. Dumb and Dumber didn't not set Daniels' dramatic career back a few years, though.
"I think easily for 10 years—and because of the success of Dumb and Dumber—I was no longer taken seriously," he told Reuters in 2014. "As soon as you do comedy, then you're not serious anymore, which has always bothered me because the last time you looked, the Greeks are holding up two masks—and to be able to do both seems to be the point of being an actor."
He zoomed back into the highbrow-acting conversation in 2005 with his Golden Globe-nominated performance in The Squid and the Whale, but it was once he starred as the gravitas-radiating, common sense-spouting cable news anchor Will McEvoy on Aaron Sorkin's The Newsroom (and won an Emmy) that he became the go-to guy when you need The Guy, and by 2014 his decision to do Dumb and Dumber To was met with great excitement.
Article continues below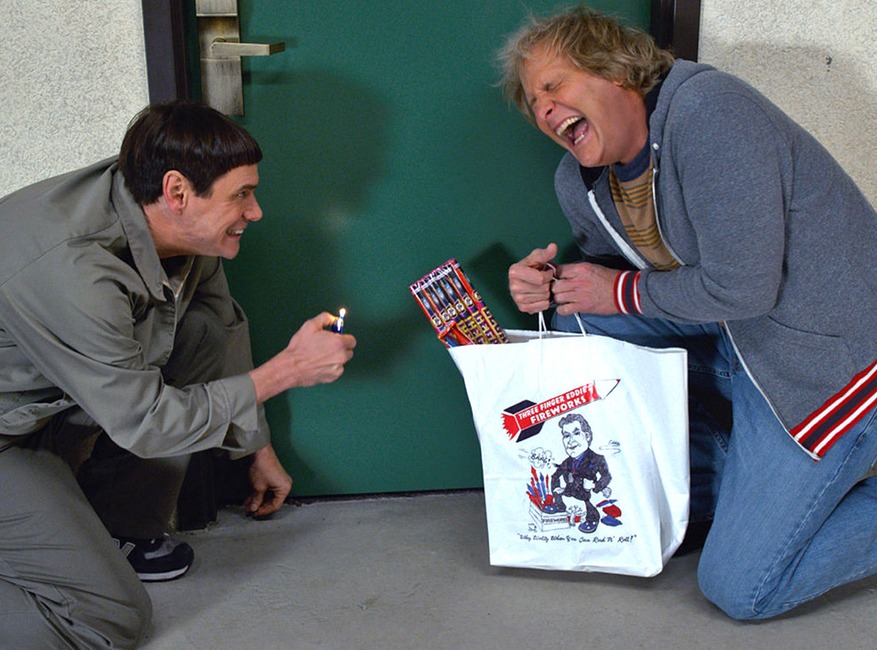 Shutterstock
25. Jeff Daniels won his Emmy for Best Actor in a Drama Series on a Sunday night in September 2013 and was off the next morning to the Dumb and Dumber To set.
"Fresh from Newsroom, just won the Emmy, and we went 'More butt crack, Jeff! We need to see the butt crack!'" Carrey teased on The Tonight Show.
"The thing that I like about it so much," Jeff Daniels said about the original film in 1994, "these are the jokes that everyone laughs at, but half the country refuses to admit that they do."
Harry and Lloyd, bringing people together from opposite sides of the joke divide for 25 years.
Source: Read Full Article