Germany's all-time literary giant, Johann Wolfgang von Goethe, once suggested to Caspar David Friedrich he should paint landscapes that systematically depicted each type of cloud identified in a famous treatise. Friedrich, by all accounts, was horrified at the suggestion. Being attracted by the freedom and mutability of clouds, he resisted the idea of placing them in neat categories. To reduce nature to a mere mechanism was to diminish the power and glory of the Creator.
I thought of Goethe when looking at Robert Wilson's Moving Portraits at the Art Gallery of South Australia. In his unutterably boring novel, Elective Affinities (1809), a group of friends amuse themselves by organising tableaux vivants– staged versions of famous paintings. A lot of organisation results in a brief moment in the spotlight, when the amateur actors stand as still as wax dummies.
Wilson's video portraits are a new type of tableau vivant for an era of globalised culture and digital media. They are as highly structured as anything Goethe conceived, but with more variety and oblique humour. Neither are they completely still. Taking hours to shoot, each piece has been condensed into a few minutes that repeat on a loop. Although the subjects adopt fixed poses, there are slight movements, such as the blink of an eye, which remind us these are videos, not photographs.
Robert Wilson's Princess Caroline, Princess of Monaco; Lady Gaga: Mademoiselle Caroline Riviere; and Jeanne Moreau, Actress.Credit:Courtesy of RW Work Ltd
One of the world's most celebrated directors of large-scale theatrical projects, Wilson has been making these portraits for more than 50 years, initially for public TV. During the past two decades, taking advantage of advances in HD technology, he has produced a succession of works, squeezing photo sessions into those rare times he is not preoccupied with the theatre and opera. His commitments are prodigious. At the age of 80, Wilson currently has more than 20 productions being staged in different parts of the world.
Born in Texas, and based in New York, Wilson is in constant demand in Europe, where he spends a large part of every year. He never made it to Adelaide last week, being holed up in Berlin where he is recovering from a back operation.
A feature of Wilson's theatre is his ability to work across different platforms. A trained architect and designer, his productions regularly include elements of music, choreography and the fine arts. He is known for his attention to lighting and language, not to mention the extreme precision of his sets.
Robert Wilson's Robert Downey Jr, Actor (2004). Credit:Courtesy of RW Work Ltd
The video portraits may seem like much simpler propositions, but each one requires an enormous amount of preparation. Wilson and his chief collaborator, Noah Khoshbin, research the subject thoroughly and take infinite pains with costume, make-up and sets. As many as 60 people can be involved in a single shoot, and the editing process can stretch out over weeks.
Many of Wilson's subjects are what we'd call "celebrities", mainly actors and singers, but he also includes images of writers and artists and people in more common walks of life. One of his sitters in this selection of 23 portraits is Norman Paul Fleming, Auto Mechanic (2006), who sits stiffly at a plain wooden table, wearing a flannelette shirt and denim dungarees, staring out at us suspiciously.
No wonder he looks uncomfortable. Fleming is the outsider at this party – a strange magnet for viewers who imagine he is some famous person they don't know. Most of Wilson's subjects are more recognisable, even if it takes a few moments to pierce their disguises. A blue-tinged Brad Pitt, in white socks and boxer shorts, stands under a shower, holding a water pistol. Jeanne Moreau impersonates Mary, Queen of Scots, in full regalia. Robert Downey Jr. plays the corpse in a greenish reprise of Rembrandt's Anatomy Lesson of Dr. Tulp. Mikhail Baryshnikov is Saint Sebastian, Isabella Rossellini, the anime character, Sailor Moon.
Robert Wilson's Winona Ryder, Actress (2004).Credit:Courtesy of RW Work Ltd
Lady Gaga makes dual appearances, as the dead Marat in David's Death of Marat, and as Mademoiselle Caroline Riviere, in Ingres' famous portrait. Dita Von Teese is Dita Von Teese, in a skimpy burlesque outfit. Each of these portraits is accompanied by a discreet soundtrack that one only perceives on closer approach. The works are framed conceptually by various items drawn from the AGSA's permanent holdings, although the connections – the elective affinities, if you like – can be somewhat obscure. Two chairs by Charles Rennie Mackintosh refer to Brad Pitt's chair collection. A balsarium – a Roman glass vessel used to collect tears – sits next to Gaga's Ingres image.
Does it work? Not if you're looking for clear, rational associations. The accompanying items have been selected by AGSA director Rhana Devenport who acts as curator for this exhibition, and her team. They've allowed themselves a degree of poetic licence in their choices, asking the viewer to do a little work. Experience tells me that part of the audience will take up the challenge, others will simply glaze over.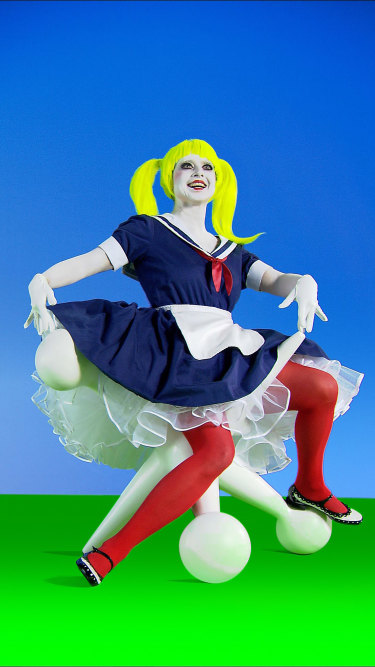 Robert Wilson's Isabella Rossellini, Actor (2005). Credit:Courtesy of RW Work Ltd
A number of Wilson's most striking portraits are not of humans at all, but of animals – an elk, an owl, a black panther, a porcupine named Boris – each of them glamorous in their own way. Wilson is a believer in what the philosopher, Martha Nussbaum calls "the profound kinship that human animals have with other animals." We habitually see ourselves as superior to animals, but by connecting with them so intimately we learn what it is to overcome prejudice and be more fully human.
Along with this eye-catching assembly of video portraits the AGSA is hosting Archie 100, the historical overview of a century of the Archibald Prize assembled by Natalie Wilson of the Art Gallery of NSW (no relation to Robert, apparently). When shown at its home venue, this exhibition ran for only a short period before falling victim to the COVID-19 lockdowns. Anybody who missed this fascinating collection in Sydney might consider a visit to Adelaide, where it has been given more generous space than its inaugural incarnation.
The mythical power the Archibald Prize exerts over Australian minds should ensure that Archie 100 is the gallery's big drawcard over winter, while Robert Wilson, who is probably the world's most famous living theatre director, plays second fiddle. It can't have happened to Wilson when he was showing his portraits at the Louvre, or in New York's Times Square. For the time being, he can lie back in his Berlin hospital bed and sample this novel experience.
Robert Wilson: Moving Portraits is at the Art Gallery of South Australia, Adelaide until October 3.
A cultural guide to going out and loving your city. Sign up to our Culture Fix newsletter here.
To read more from Spectrum, visit our page here.
Most Viewed in Culture
From our partners
Source: Read Full Article