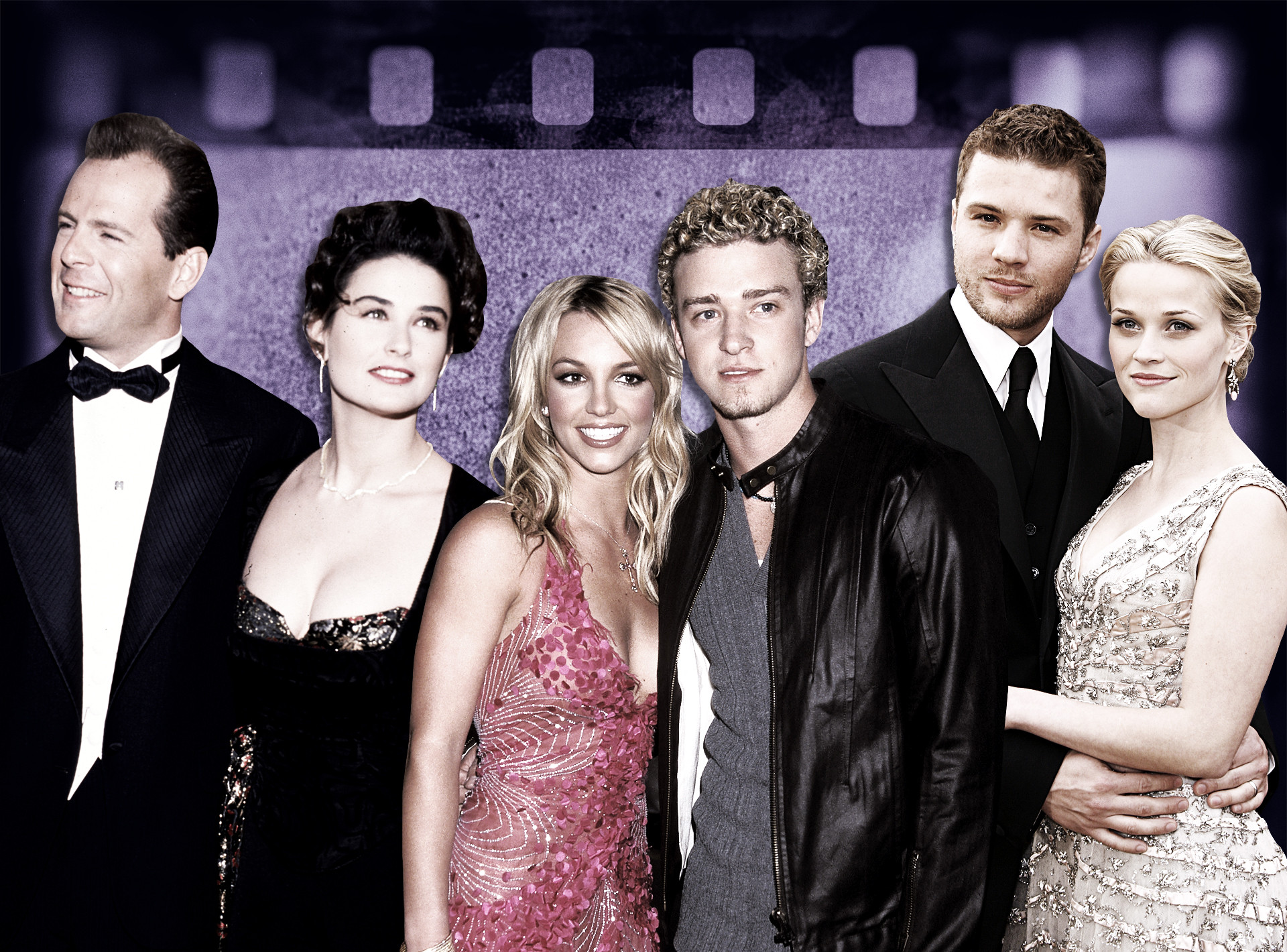 E! Illustration/Getty Images
You never forget your first love.
In this case, however, we mean the first celebrity couple you fell for, the twosome that defined togetherness for you, the pair that was just a given in Hollywood, part of the foundation.
Until they weren't, that is.
"PS I know we had one of the world's biggest breakups 20 years ago….. but hey the man is a genius!!!!" Britney Spears acknowledged last week in an Instagram post that featured her busting multiple moves to Justin Timberlake's "Filthy."
"Great song JT!!!! Pssss if you KNOW WHAT'S GOOD!!!!!!"
Well! Cue a quarantined fandom's endless appreciation!
Some matches simply weren't meant to last forever, no matter how serious they were at one point. Vows may have been said, children born, thousands of pictures taken, and yet none of that guarantees a happily ever after, any more than actually being each other's first love does. That's how it goes.
But even though one day you may wake up and two people who were married for 10 years have been divorced for 20, and that epic romance of yore is no longer the defining relationship of their lives, that doesn't mean it didn't leave a mark on our collective psyche, or otherwise shadow our view of that celeb's future love life.
Now, we don't usually advocate living in the past.
But in honor of the culturally iconic Britney and Justin (as well as another pair of exes who are actually physically-distancing together, with their kids), we're taking it back—not necessarily to a star's first-first love (though some do fit that bill), but to the first time their coupled life thoroughly registered in our collective consciousness.
Other loves may have come before, and have come and gone since, but here's where it all started, for us: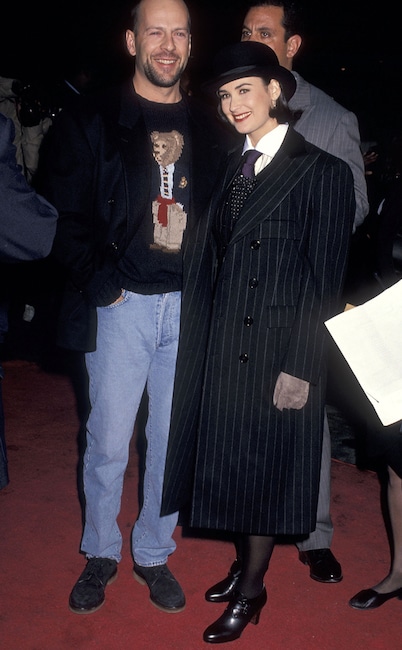 Ron Galella, Ltd./WireImage
Bruce Willis & Demi Moore
They were married for 13 years, through the Die Hard, Ghost, Die Hard With a Vengeance and Striptease era, and had daughters Rumer, Scout and Tallulah before splitting up in 2000. And now, 20 years later, they're riding out the social-distancing recommendations of the COVID-19 pandemic together! Who could blame us for getting attached—and then re-attached?
Steve Granitz Archive 1/WireImage
Alec Baldwin & Kim Basinger
The nine-year union that birthed a thousand Comedy Central roast jokes in 2019. The co-stars of The Marrying Man and The Getaway welcomed daughter Ireland in 1995 and Baldwin was infamously accused of punching a photographer who was trying to capture the moment when they brought their newborn back to their L.A.-area home.
"Anyone with a shred of human decency would understand that there are times in your life when you want your privacy respected, whether you are a public figure or not," Baldwin said at the time. (He and Basinger may have divorced seven years later, but some sentiments stay exactly the same.)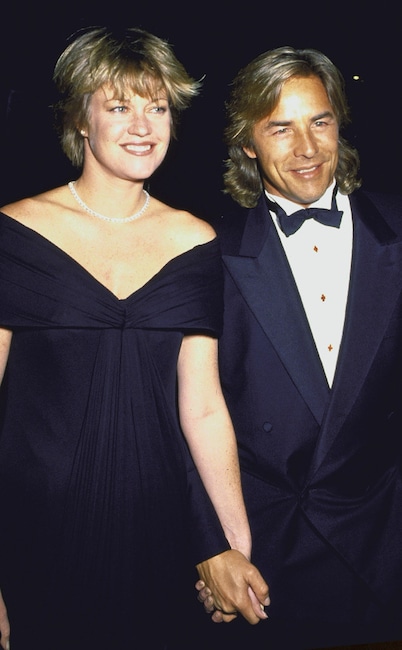 Kevin Winter/DMI/The LIFE Picture Collection via Getty Images
Melanie Griffith & Don Johnson
Dakota Johnson's parents were only married for seven years, not including the six months they were married in 1976, having eloped as soon as Griffith turned 18 after already living together for a few years, before divorcing and remarrying in 1986.
But it felt like longer.
"I thought he was the most beautiful person I'd ever seen," Griffith recalled her 14-year-old self falling for a 22-year-old Johnson on the set of The Harrad Experiment.
So he really was her first great love.
Article continues below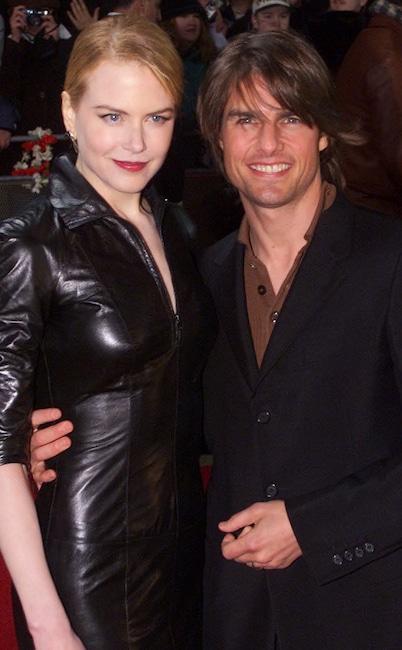 Matt Turner/Liaison
Nicole Kidman & Tom Cruise
These two spent the entirety of the '90s together before their Days of Thunder-fueled love affair collapsed not long after the making of Eyes Wide Shut, a battle to shoot and a slog to watch, almost as if you knew the marriage portrayed onscreen wasn't worth saving.
"She knows why, and I know why," a cryptic Cruise told Vanity Fair about the split in 2001. "She's the mother of my children, and I wish her well. And I think that you just move on. And I don't say that lightly. I don't say that with anything. Things happen in life, and you do everything you can, and in every possible way, and there's a point at which you just sometimes have to face the brutal reality."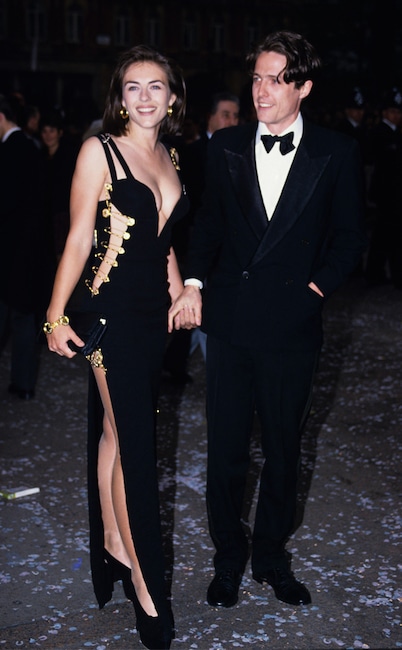 Tim Rooke/REX/Shutterstock
Elizabeth Hurley & Hugh Grant
The model and the charming actor had already been dating for years when they made a splash on these shores with the release of his Four Weddings and a Funeral and her Versace safety-pin dress in 1994—and stuck together for five more years after Grant was arrested for soliciting a prostitute in 1995.
And they're still friends to this day.
Ron Galella/Ron Galella Collection via Getty Images
Tim Robbins & Susan Sarandon
The actors never married but were partners in everything for 23 years before splitting up in 2009. They have two sons together and Robbins directed Sarandon to her Best Actress Oscar win for 1995's Dead Man Walking.
Article continues below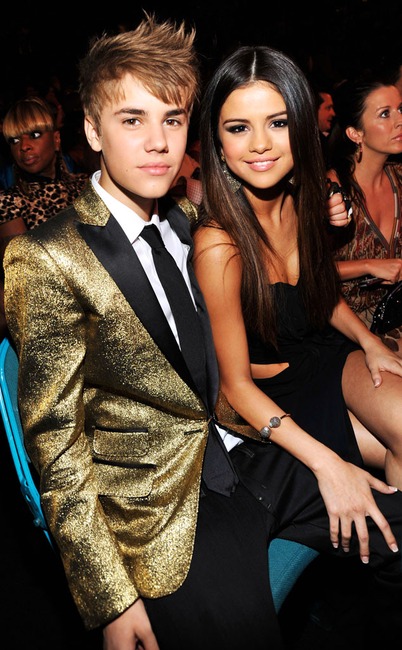 Kevin Mazur/WireImage.com
Justin Bieber & Selena Gomez
Hey, you're not alone. Neither of them wanted to give it up, either—and for years past their initial breakup in 2012, it seemed as if no one was going to give it up for good.
Bieber married Hailey Baldwin in 2018, but in response to an online troll who accused him of getting hitched to get back at his ex, he wrote, "I absolutely loved and love Selena she will always hold a place in my heart, but I am head over heels in love with my wife and she is absolutely the BEST THING that has ever happened to me period."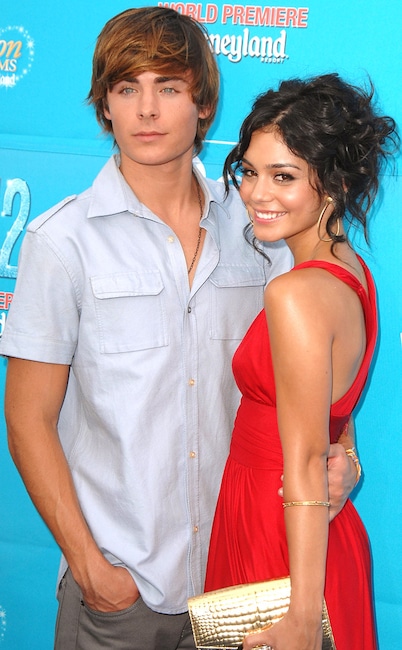 Steve Granitz/WireImage.com
Zac Efron & Vanessa Hudgens
For High School Musical fans, this was it.
"It started off really organically," Hudgens said on THR's Awards Chatter podcast in 2019. "I couldn't have been more grateful for that relationship at the time."
They fought occasionally on set, but always managed to stay pretty professional when it mattered. "I think because I was so young, I think that relationship stabilized me," she added.
And in turn it became the foundation on which their respective future personal lives were built.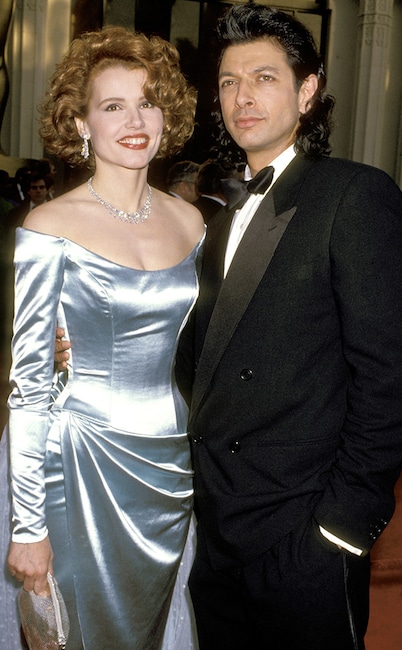 Ron Galella/Ron Galella Collection via Getty Images
Geena Davis & Jeff Goldblum
Before he embarked on his storied bachelorhood and decades before he settled down with a wife and kids, Goldblum met Davis on the set of the vampire comedy Transylvania 6-5000 and married her in Las Vegas in 1987 after they made The Fly.
It was his second marriage after being with his first wife for 12 years and the second of her four marriages, but they're the couple that lodged in our young memories, even though they divorced in 1990 and Goldblum got engaged to Jurassic Park co-star Laura Dern just a few years later.
"We certainly had high hopes, every good intention. It's upsetting," Davis told People in 1991.
"You know, people think romance and passion has got something to do with ownership and possession, but it doesn't," Goldblum told London's Independent in 2008. "It can be but it doesn't have to be…I like something more transcendental."
Article continues below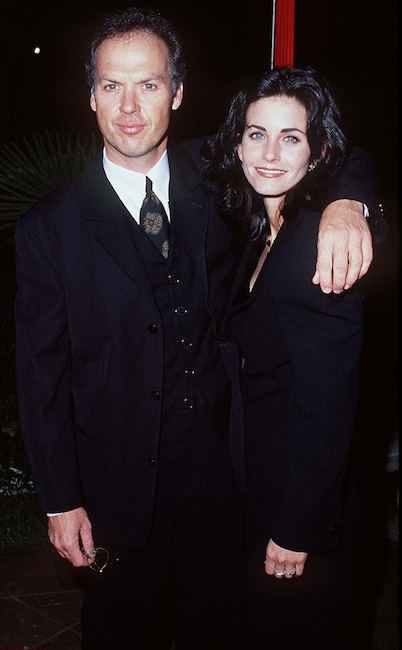 Steve Granitz/WireImage
Michael Keaton & Courteney Cox
When Friends premiered in 1994, the actress from Ace Ventura who you also knew from Family Ties was dating Batman. And had been dating him for more than four years.
They broke up in early 1995, having never officially lived together, though Cox told People after the split that Keaton had bought her a commercial-grade six-burner stove as a housewarming gift in 1992 because cooking together was one of their favorite things to do.
"It's the most important relationship I've ever had, and I think he's the most wonderful person I've ever met," the actress said. "We still love each other."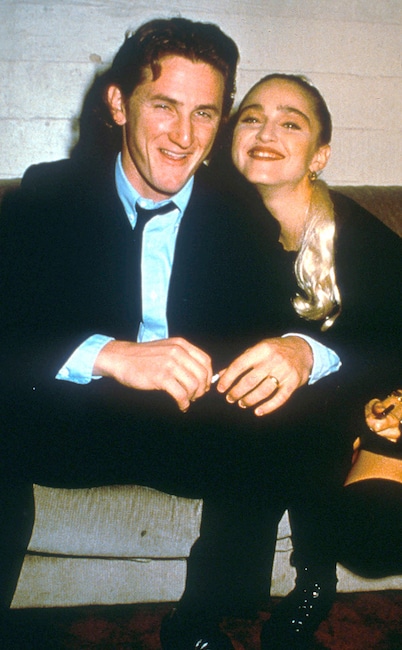 Laura Luongo/Liaison
Sean Penn & Madonna
Their marriage didn't end well, and it may not have been all that great for a lot of the four years it lasted (though it was better than legend would have it).
But in the 1991 documentary Truth or Dare, when asked who the love of her life, for her whole life, had been to date, Madonna (who was dating Warren Beatty at the time) quietly replied, "Sean."
And in 2016, she told him as much at a charity gala she was hosting at Art Basel in Miami. "I'm still in love with you," Madonna said during the auction portion of the evening, offering to remarry him for $150,000.
"Ah, I love my first wife very much," Penn said on The Late Show With Stephen Colbert in 2018 when asked the age-old question, "Madonna or Britney?" "You don't compare those things," the actor said. "I'm a Madonna guy."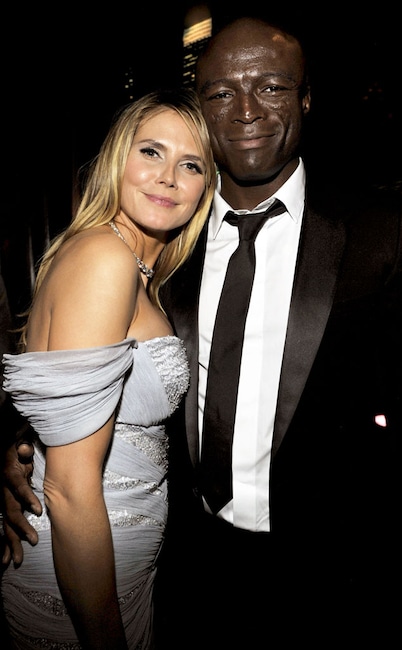 Kevin Mazur/ Getty Images
Heidi Klum & Seal
Now we know that the couple that renews their vows annually is sure to break your heart one day.
Article continues below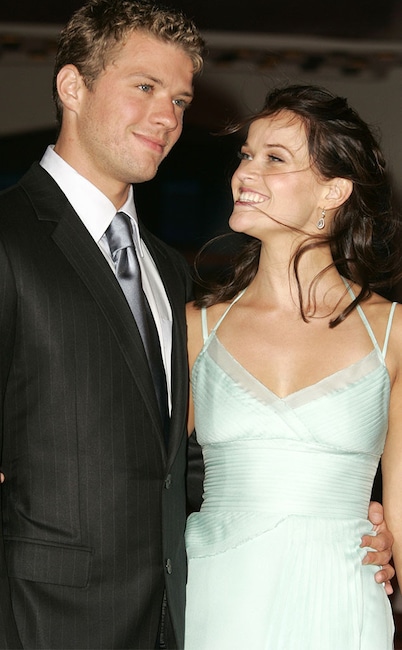 J. Vespa/WireImage
Ryan Phillippe & Reese Witherspoon
They met at her 21st birthday party and she was pregnant with their first child when Cruel Intentions hit theaters in March 1999. They got married in June and Ava Phillippe was born that September, followed by brother Deacon in October, 2003. They announced their separation in October 2006, just months after Reese won her Best Actress Oscar for Walk the Line.
She and Phillippe have both since acknowledged they were probably too young to get married when they did, when they didn't fully know themselves, but they collected some nuggets of wisdom along the way.
"I definitely still have a capacity to love," Witherspoon told Parade in 2008. "Someone said to me once, 'No matter what breakup you went through or what new love you find—the love you remember, like the love you now value, is yours. Whatever love you once gave to somebody else, it doesn't go away. Even if it is only remembered love, it belongs to you."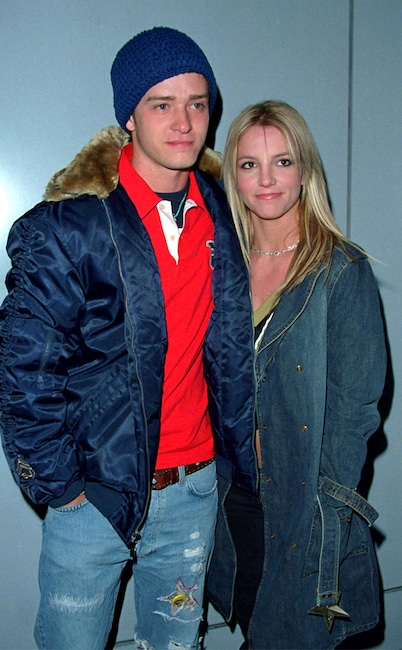 James Devaney/WireImage
Justin Timberlake & Britney Spears
Be the tears happy or sad, still worth crying a river over occasionally.
Just remember, we're not crying because they're over—we're smiling because they happened.
(Originally published Sept. 18, 2019, at 3 a.m. PT)
Source: Read Full Article