With the Disney+ release of Hamilton, fans all over the world are getting a chance to enjoy the brilliant Broadway musical. Along with highlighting the contributions of the Founding Fathers, the show depicts a comical version of Prince Harry's six-times great-grandfather, King George III. Harry saw the show with his wife Meghan, Duchess of Sussex back in 2018, but how did he feel about the comical portrayal of his ancestor?
King George III's role in 'Hamilton'
Hamilton is centered around Founding Father Alexander Hamilton (Lin-Manuel Miranda) and follows his journey during the American Revolution. While Hamilton, George Washington (Christopher Jackson), Marquis de Lafayette (Daveed Diggs), and John Laurens (Anthony Ramos) fight on the side of the colonies, England's King George III (Jonathan Groff) expresses his discontent.
In the song, "You'll Be Back," the monarch teases the colonists like a controlling lover who's just been scorned. While professing love for his subjects, the King also threatens them with war and death.
RELATED: 'Hamilton': Why the Cast of the Disney+ Film Looks So Familiar
"You say, the price of my love's not a price that you're willing to pay," he sings. "You cry, in your tea which you hurl in the sea when you see me go by
Why so sad? Remember we made an arrangement when you went away
Now you're making me mad."
Prince Harry and Meghan saw Hamilton twice in 2018
After seeing the show once in February 2018, Harry and Meghan attended a charity performance of Hamilton in London's Alexandra Palace Theatre in August 2018. By all indications, the royals enjoyed the production, and Harry even took a jab at his ancestor King George's lyrics when he got on stage.
"You say," he started, as the audience and Hamilton writer/actor/producer Lin-Manuel Miranda burst into applause. But Harry shied away from singing the rest, telling the audience, "That's definitely not going to happen."
After the show, Miranda retweeted a video of Harry's speech, with the caption, "King George III's great-great-great-great-great-great grandson The Duke Of Sussex sang a few bars tonight."
Lin-Manuel Miranda says Prince Harry is a fan of the show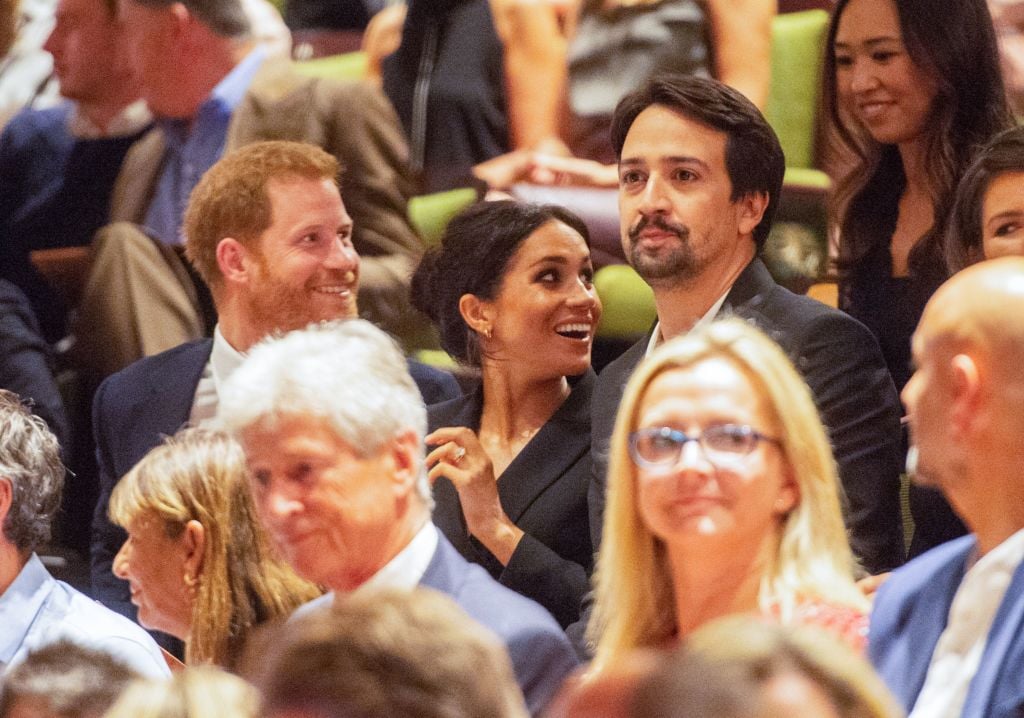 In a 2018 appearance on The Graham Norton Show, Miranda revealed that Harry and Meghan had seen the show secretly once before, and noted that the royals are big fans of the production. When asked how Harry felt about the portrayal of his six-times great grandfather King George III, Miranda suggested that the Prince took the whole thing in stride.
"We do take the p*iss a bit out of King George III," said Miranda. "I'm so glad he (Prince Harry) didn't take it personally."
So, from all indications, the young prince is a fan of Hamilton. And he doesn't seem to have any issues with its comical portrayal of his royal ancestor.
Source: Read Full Article