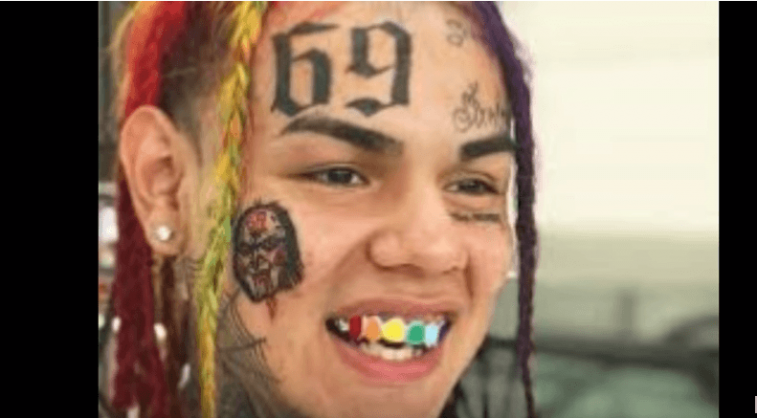 Tekashi 6ix9ine | Screenshot via YouTube
Fashion Nova is one of today's trendiest clothing brands. Cardi B, Kylie Jenner, Teyana Taylor, Amber Rose, and Blac Chyna are only a few of the celebrities that wear the curve-hugging attire. Fashion Nova has positioned these celebrity endorsements to quickly climb the ranks and build a fast-fashion empire.
Fashion Nova was surely expecting similar results when they made an endorsement deal with New York rapper Tekashi 6ix9ine. Plagued by gun violence, a celebrity feud, and even federal charges, the deal was anything but successful.
What did Fashion Nova's six-figure deal with Tekashi 6ix9ine include?
Fashion Nova paid Tekashi six figures to promote their brand with his song "MAMA," which features Kanye West and Nicki Minaj. It appears that Tekashi entered into the deal with Fashion Nova with honorable intentions.
In the deal, Tekashi would include a lyric in "MAMA" that stated, "splish splash Fashion Nova make that ass phat." A photo teasing the music video was posted by Tekashi on Instagram and shows five models in thongs, facing away from the camera and posing behind Fashion Nova's logo.
The feud between Nicki Minaj and Cardi B
Minaj was reportedly upset with the lyric in question because her rival Cardi B has an endorsement deal with Fashion Nova. The feud between Nicki Minaj and Cardi B is well documented, with Cardi famously throwing a shoe at Minaj during New York Fashion Week and emerging from the squabble with a lump on her forehead.
According to TMZ, Minaj requested that the Fashion Nova shoutout be removed from the song. Tekashi obliged Minaj's request in order to ensure her continued collaboration on the song. When Dummy Boy was released on November 27, the official lyric had been changed to "splish splash Apple Bottoms make that ass phat" instead.
Drive-by shooting interrupts filming of 'MAMA' music video
Production for the "MAMA" music video was halted by a drive-by shooting. On November 9, 2018, two armed men fired shots over the wall surrounding the $80 million mansion where Tekashi and Kanye West were filming the music video at the time. Five shell casings were recovered at the scene and police discovered that a bullet entered the window of what was designated to be Nicki Minaj's dressing room. Fortunately, Minaj had not yet arrived at the location when the shooting occurred.
The music video has since been shelved and there are no plans to reshoot it.
Tekashi 6ix9ine's arrest
Adding to the deal's complications, Tekashi was arrested just two days before Thanksgiving on racketeering and firearms charges. The rapper is allegedly a member of the Nine Trey Gangsta Bloods and carried out a slew of violent and serious crimes.
A press release from the United States Attorney's Office alleges that Tekashi and five other men committed "numerous acts of violence, including shootings, robberies, and assaults in and around Manhattan and Brooklyn" and sold drugs, "such as heroin, fentanyl, furanyl fentanyl, MDMA, dibutylone, and marijuana," the press release said. A seventh man has since been indicted on the same charges.
Tekashi is awaiting trial from a prison in Queens. If convicted, he faces a minimum of 32 years to a maximum of life in prison.
What will Fashion Nova do?
Fashion Nova is hopeful that they can reach a resolution with the rapper if or when his legal matters are resolved. TMZ reports that the fashion company has not demanded a refund from the rapper; they are waiting to see how Tekashi's trial goes and will attempt a resolution from there.
Fashion Nova wasn't the only company to lose money on the "MAMA" music video; Universal Music Group invested more than $480,000 in the music video.
Source: Read Full Article