Nintendo Switch Sports finally launches this Friday, April 29, giving Wii Sports fans a long-awaited new installment in the party game series. Thankfully, there's still time to pre-order the Nintendo title to ensure fans have access by the end of the week. Some retailers are even offering free bonus items with pre-orders, so it's best to shop around before making the purchase. Here's everything to know about Nintendo Switch Sports pre-orders, including bonuses, costs, and where to buy.
'Wii Sports' gets an update with 'Nintendo Switch Sports'
Nintendo first unveiled Nintendo Switch Sports during a Nintendo Direct livestream back in February. The game will bring back classic sports games from 2006's Wii Sports, including bowling and tennis. Additionally, players can try their luck at volleyball, badminton, chambara, and soccer. Later this year, an update will add golf to the game — another callback to Wii Sports.
Of course, the next installment in the Sports series comes with some modern twists and a new look. For starters, the classic Mii characters will appear in Nintendo Switch Sports, but the spotlight is mostly on new, more realistic-looking avatars called Sportsmates. Players have more customization options with these characters.
As far as gameplay goes, Nintendo Switch Sports also adds new modes like "Survival Bowling" and matches with players around the globe. Players can use motion controls with their Nintendo Switch Joy-Cons, including leg strap support for soccer.
Where to pre-order the game physically and digitally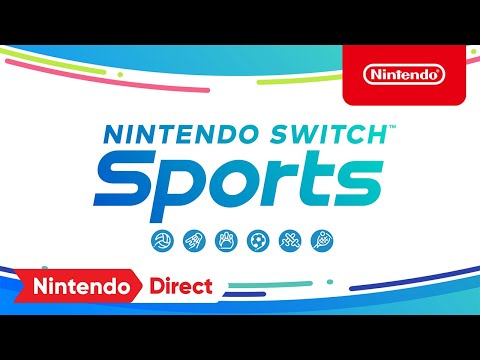 Nintendo Switch Sports is available for pre-order both physically and digitally, but only physical purchases will include a leg strap. Those who already have motion control games like Ring Fit Adventure can use that same leg strap with Nintendo Switch Sports. The physical edition costs $49.99, while the digital edition costs $39.99.
As for where to purchase the game, fans can buy it digitally directly from the Nintendo Switch eShop. Physical editions are also available on Amazon and at Target, GameStop, and Walmart.
Are there any pre-order bonuses for 'Nintendo Switch Sports'?
A few stores in the U.S. are offering Nintendo Switch Sports pre-order bonuses. Walmart, for example, announced a complimentary stainless steel water bottle to go along with the game. It even has the Nintendo Switch Sports logo on it, making it the perfect item to keep players hydrated during gameplay.
Target is also offering a drawstring bag to those who purchase the game in-store. In addition to the Nintendo Switch Sports logo, the bag features a colorful image of Sportsmates in action.
Nintendo Switch Sports launches on Nintendo Switch on April 29. Stay tuned to Showbiz Cheat Sheet for more updates.
Source: Read Full Article