Prince Harry's celebrity memoir, has proven what publishers have long known: there is a seemingly inexhaustible appetite for celebrity memoirs.
From sports stars to actors to musicians, here is our list of our favourite, dirty (secret) dozen in no particular order.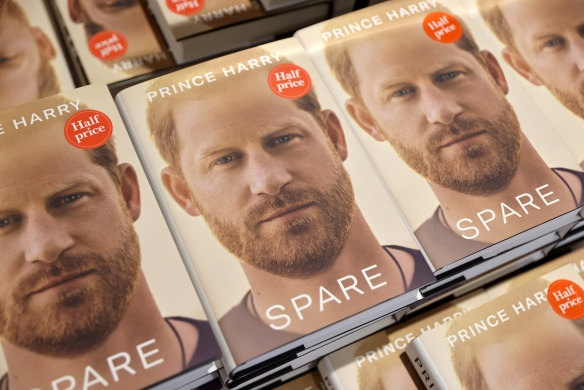 Copies of Prince Harry's new book Spare.
1. Open, Andre Agassi
Prince Harry's Spare is not the first celebrity memoir ghost-written by Pulitzer Prize-winning journalist J.R. Moehringer. For the tennis star's 2010 memoir the writer moved to Las Vegas, to spend time with former world number one, eight times grand slam winner Andre Agassi.
Moehringer, whose own memoir was turned into a film starring Ben Affleck, reveals everything from Agassi's travails on the tennis court (turns out he hated tennis, who knew?) through to his marriage with Brooke Shields and later fellow tennis star Steffi Graff described as "his hardest fought win."
Andre Agassi and Steffi Graf in Melbourne.Credit:Domain
2. No Spin, Shane Warne
One of the best lines in this book, explains the art of spin, not just on the cricket pitch but in the art of the celebrity memoir itself. "Part of the art of bowling spin is to make the batsman think something special is happening when it isn't." Warne's intimate storytelling is similar. It makes the reader feel like you are as close to him as Mike Gatting receiving the "ball of the century." His delightfully candid 2018 autobiography recounts in vivid detail everything from his relationships with Liz Hurley and James Packer, through to his struggles with weight and smoking. No wonder we still love him. RIP Warney.
Cricketer Shane Warne.Credit:Getty
3. Surrender: 40 Songs, One Story, Bono
At 577 pages this is long but worth the read or listen – for not just his wonderful Irish lilt and marvellous mimicry, but the addition of U2 songs making it an immersive listening experience. Reviewers call it the best book written about being a rock star. It charts his life from the death of his mother Iris when he was 14, to the week as a teen at Mt Temple School in Dublin when he met his wife Ali and two of his three U2 bandmates, through to his sleepovers at the Obama White House.As a songwriter, the narrative is skilfully woven, laden with humour, heart, and loads of name-dropping: including details of his friendships with Beatle Paul McCartney and country singer Johnny Cash. A particularly favourite anecdote is at lunch at Cash's Tennessee home, when his wife June Carter recites an elaborate Baptist grace, Cash whispers under his breath to Bono "Still miss the drugs though." My favourite 2022 memoir.
Bono tells the story of the rise of U2 in Surrrender.Credit:AP
4. Greenlights, Matthew McConaughey
A surprising bestseller from this Texan star of Hollywood romcoms. When McConaughey turned 50 he took himself away to read 35 years' worth of his diaries. The result is a hard-to-put-down memoir – again worth a listen for his skills at imitating the Australian accent, from his time as an exchange student on the NSW Central Coast. He was expecting to be in Sydney but ended up in Gorokan, and his detailed diary entries from this era are hilarious. He reveals the green light moments when at a career crossroad. Like the difficulty of saying no to a $14 million romcom deal, in favour of playing Ron Woodroof in the more serious Dallas Buyers Club which lead to him winning the 2014 Oscar for best actor.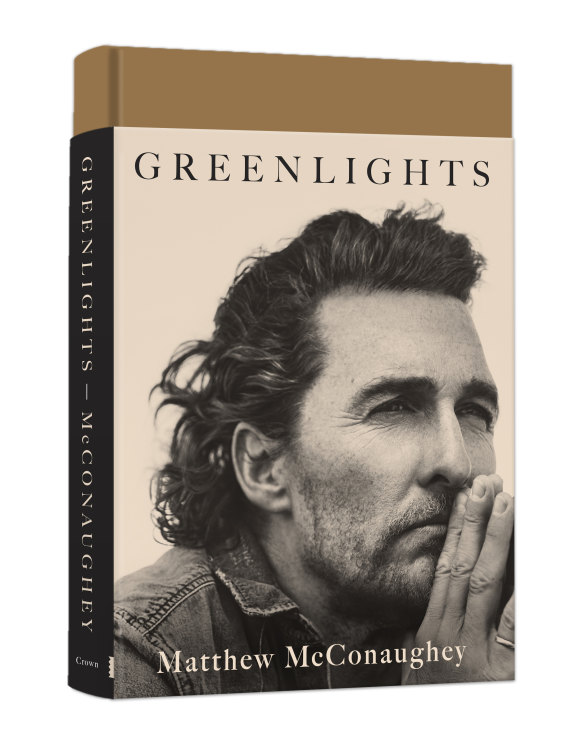 Matthew McConaughey's memoir, Greenlights.
5. Faith Hope and Carnage, Nick Cave and Sean O'Hagan
Probably the best celebrity memoir ever written about grief. These remarkably candid conversations between the Wangaratta-born Australian rock star Cave and his friend, Irish music writer O'Hagan, occur in the wake of the death of his son Arthur. Cave began the Red Hand Files website where fans can ask him anything. This book, voted by multiple newspapers as 2022 book of the year, is a continuation of those deep and meaningful exchanges and covers everything from the mystery of the creative process, to his drug habit, multiple stints in rehab and belief (or not) in God.
Nick Cave performing at the Concert Hall, Sydney Opera House last month.Credit:James Brickwood
6. Open Book, Jessica Simpson
The tales of her childhood sexual abuse which led to her alcoholism and perfectionism, are harrowing. Simpson auditioned for the 1990s Mickey Mouse Club, but unlike Britney Spears, Justin Timberlake, Ryan Gosling, and Christina Aguilera was not chosen. But her writing voice in this 2020 tell all tale, is clear and strong, especially the tumultuous times in her on again, off again relationship with singer-songwriter John Mayer.
Singer-turned-fashion entrepreneur Jessica Simpson.Credit:Shutterstock
7. Bossypants, Tina Fey
Although a decade old, in this book Fey like David Sedaris (who made his family celebrities thanks to his many memoirs) makes readers laugh out loud. This is part memoir, advice column, personal reflection, and cultural essay, rolled into one long Saturday Night Live skit on the page. With lots of backstage drama from this Golden Globe winner.
8. Just Kids, Patti Smith
An oldie (2010) but a goldie. From her relationship with photographer Robert Mapplethorpe who she met on her first day in New York City in 1967, through to her lyrical 1975 album Horses, this is page-turner is part memoir, part poetry.
9. Working Class Man, Jimmy Barnes
Who doesn't love Cold Chisel front man Barnesy? You get the impression his seven children, four wives and perhaps himself have struggled to, at times. And that his two books, searingly honest accounts of his violent Glaswegian childhood and his struggle with addiction were not just written as therapy, but as a way of explaining himself to his fans and family. It's easy to see why he's a best-selling musician and now author.
Jimmy Barnes performs ahead of the 2022 NRL Grand Final.Credit:Mark Kolbe/Getty Images
10. Becoming, Michelle Obama
It is the private and public triumphs of the first black woman to become the first lady of the United States that make this a compelling read. An intimate portrait of her childhood through to the world leaders, a blanket named Blankie and a stuffed toy called Tiger owned by her daughters while they populated the White House. And the sexism and racism a smart black woman encounters. Watch for her new book The Light We Carry.
The Light We Carry follows Michelle Obama's bestselling 2018 memoir Becoming.
11. Dreams from My Father, Barack Obama
While Obama's post-presidency book, A Promised Land, got all the press, for my money this one, written in 1995 is better, because it is before his move to Washington. It written when the Hawaiian born son of an African man, and white woman, Harvard graduate was running for the Illinois Senate. Praised for its literary merit, well paced from his love of jazz music, even Nobel laureate Toni Morrison, called him "a writer in my high esteem." Not only was he US president, he also won a Grammy for his reading of this book.
Tina Brown.Credit:Fred R. Conrad
12. Vanity Fair Diaries, Tina Brown
The most delicious diaries kept for more than a decade in New York by then Vanity Fair editor, British-born Tina Brown when she moved to the US in 1983 with husband former newspaperman Harold Evans. The magazine editor, columnist, talk-show host, and author of The Diana Chronicles a biography of Diana, Princess of Wales, and The Palace Papers, has an anecdote about not only every member of the royal family, but virtually every celebrity who ever graced Hollywood. Her 2017 book is a rollicking romp through the glory days of mag publishing at Conde Nast, from Demi Moore's pregnant cover picture to dishing dirt on Donald Trump and Jackie Kennedy.
The Booklist is a weekly newsletter for book lovers from books editor Jason Steger. Get it delivered every Friday.
Most Viewed in Culture
From our partners
Source: Read Full Article