It's no secret that the Kardashian family goes all out for birthdays, and this weekend's shindig was no different. On Saturday, Saint West and Reign Disick had a Tarzan themed birthday party, and the event was beyond adorable. According to E! News, the joint celebration took place at Kim Kardashian's house, with Kourtney Kardashian and other family members in attendance. The two cousins have birthdays that are close together, which makes a joint celebration ideal — Reign turns 4 on Dec. 14, while Saint will turn 3 on Dec. 5. As the photos and videos shared on social media prove, the kids' parents went all in to make the party theme believable, right down to the special jungle decorations with full-grown trees and specialty cakes for both children.
On Instagram, Kim showed off the decorations and explained the theme. "So the boy's are obsessed with Tarzan," she said on her Instagram Story. "And we have a Tarzan-themed birthday party and a jungle in my house." The kids even wore special looks for the big day, with Penelope Disick wearing a full leopard-print dress, and North West rocking a shiny green ensemble. The birthday-boy, Reign, opted for a plainer outfit, but it's still clear that the whole family was getting into the theme. The snacks for the event were even jungle-inspired, with frosted cakes that showed both kids hanging out with the characters from the Disney movie.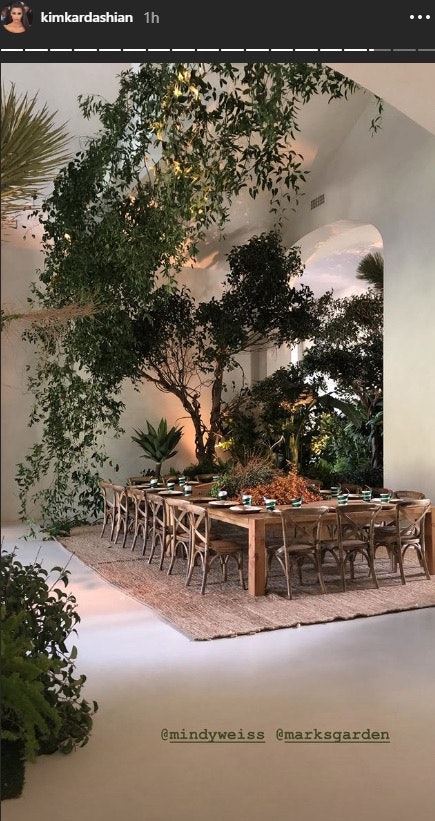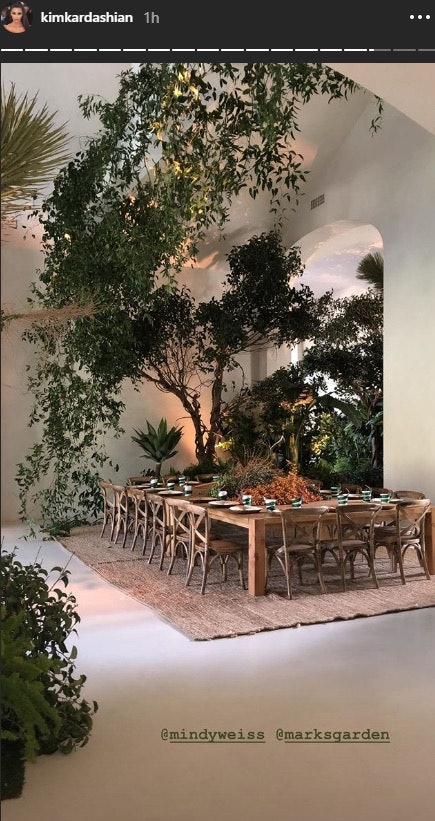 The whole house was decorated as a jungle, including an epic table setting. In her story, Kim tagged Mindy Weiss, the party planner behind many Kardashian-West bashes. Kourtney also shared a few snaps of the decorative place setting, writing: "Welcome to Tarzan's jungle."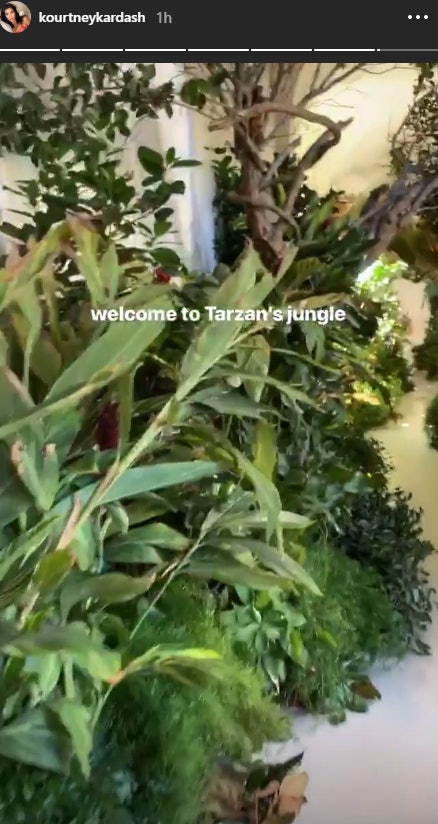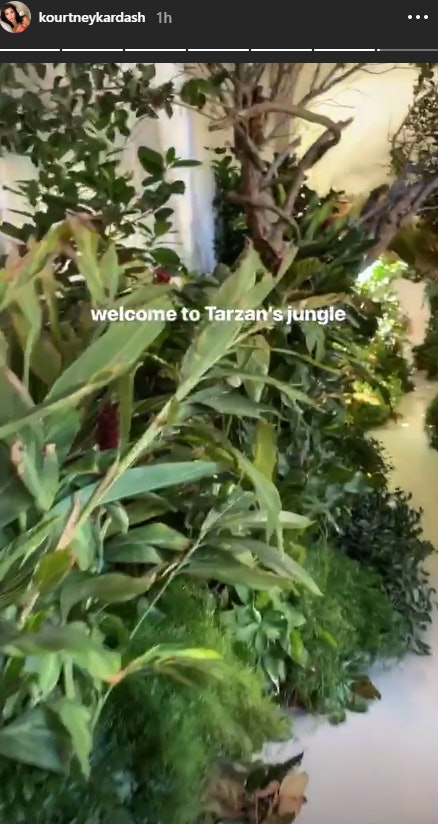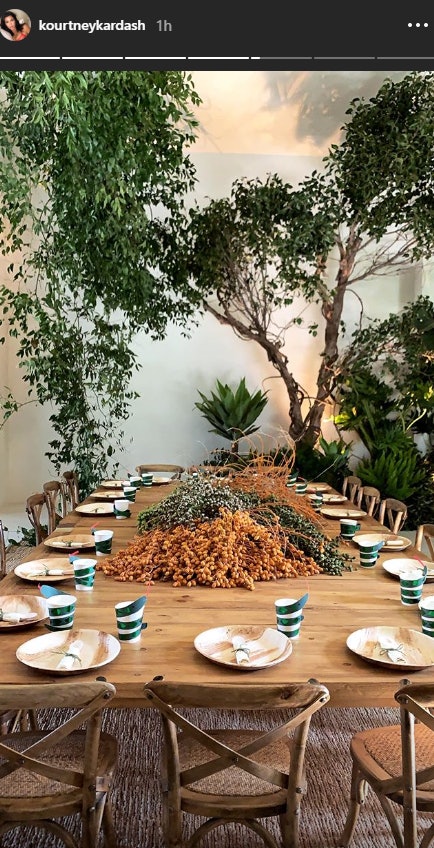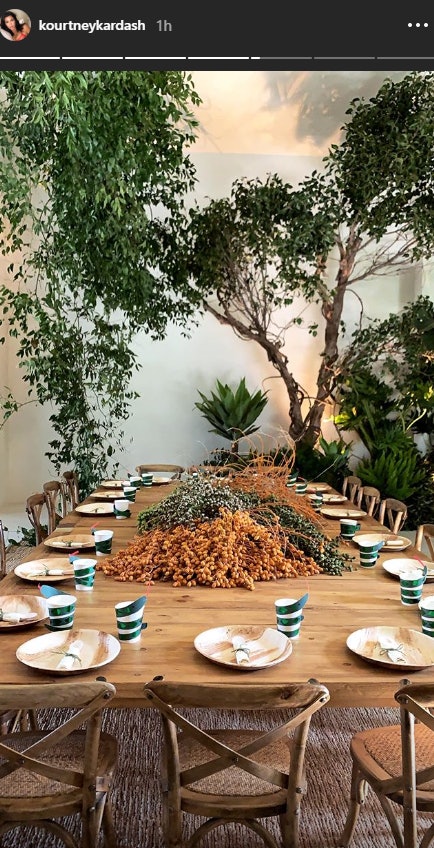 Kourtney and Kim also posted several photos of the festive snacks. Kim shared a picture of a table full of special desserts with adorable animal faces, as well as animal-print frosted donuts.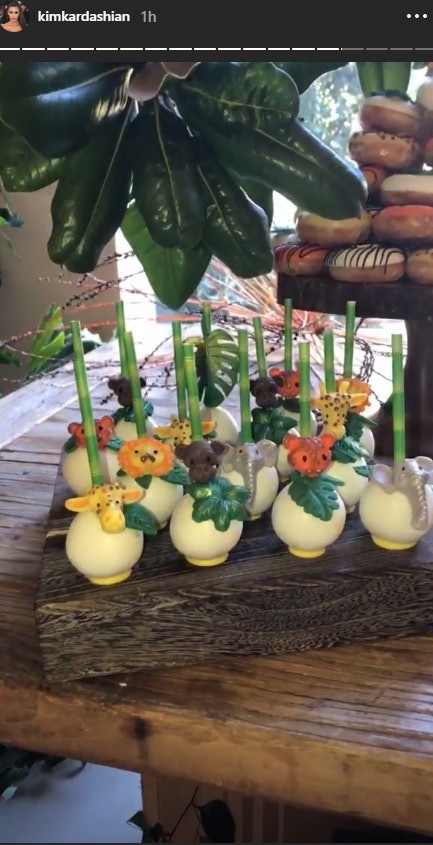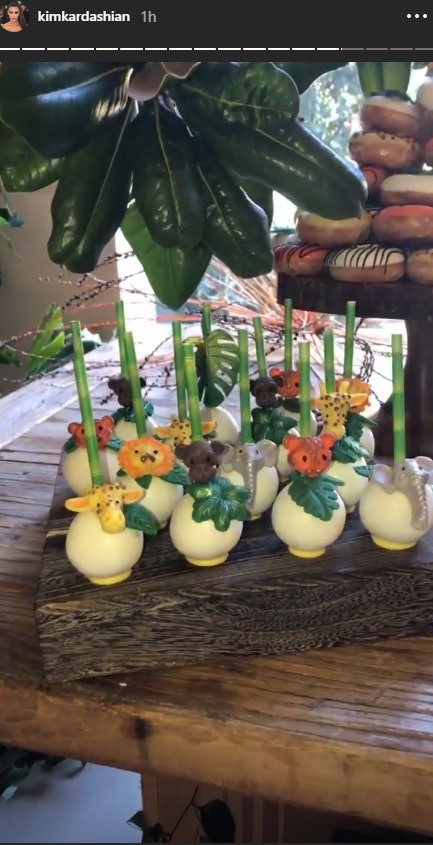 Meanwhile, Kourtney could not get over the two cakes prepared for the party, which had Saint and Reign's names on them. The cakes also showed a unique jungle scene, as well as the birthday boys swinging from the vines made out of frosting.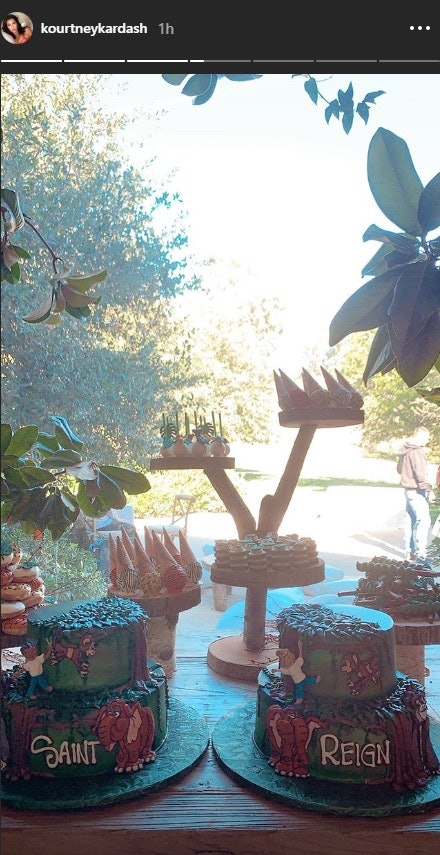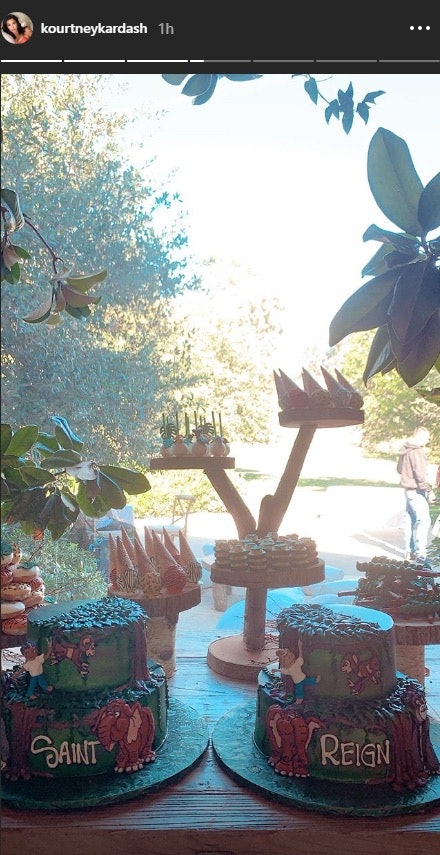 The reality stars also shared several pictures of their kids at the party, including a few snaps of their outfits.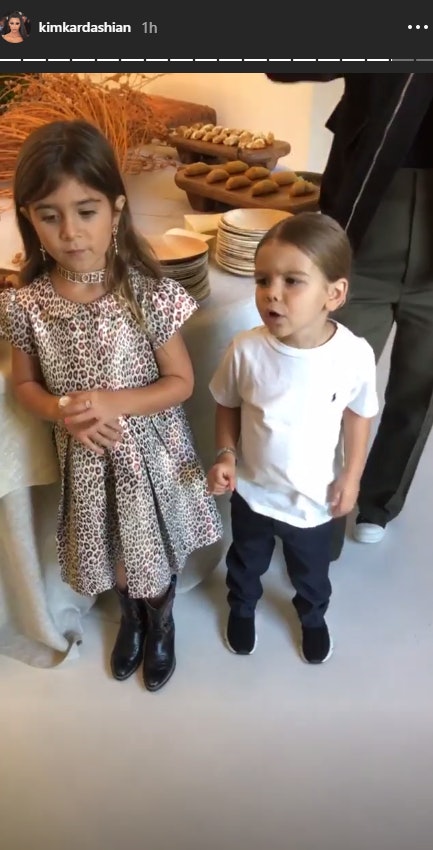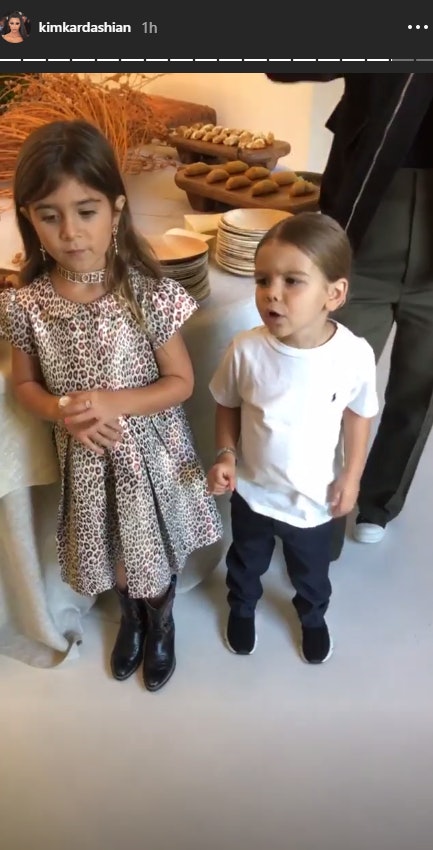 Kim shared a picture of Penelope and Reign, showing off her niece's festive look for the party. It's clear that Penelope and North took advantage of the event to wear some glamorous looks, and Kim also shared a picture of her daughter posing in her shiny green jumpsuit.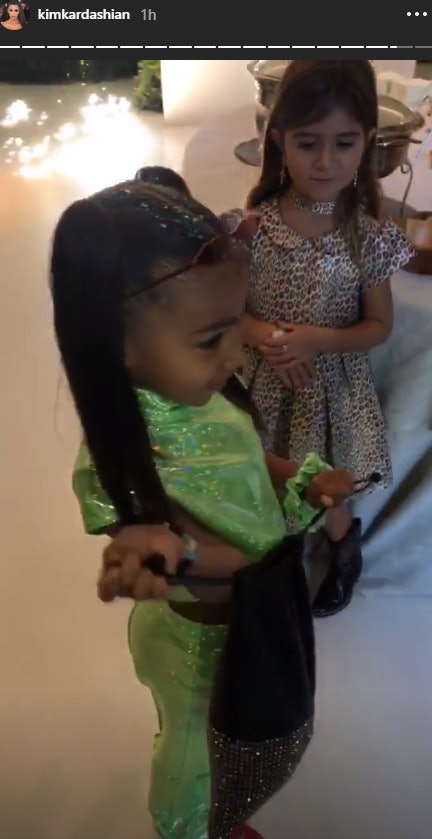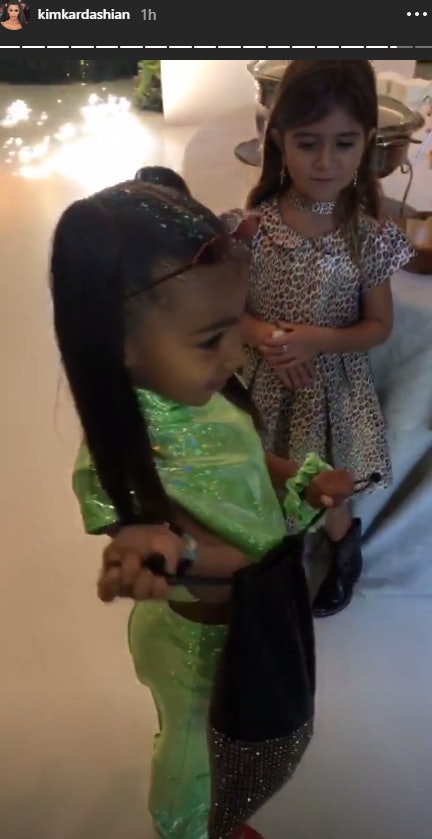 Reign and Saint's birthday also came with a surprise from Kanye West. On Instagram, Kim shared that West made the two a limited edition merch shirt for the occasion, according to People. "Today is Saint and Reign's birthday party and we have merch shirts for them," she said on her story. "So cute." The shirts have a heart graphic on the front and read "Lucky me! It's my birthday." On the sleeve there is a row of smiley faces, and the back has Reign and Saint's names above print that says: "Birthday part dec 2018".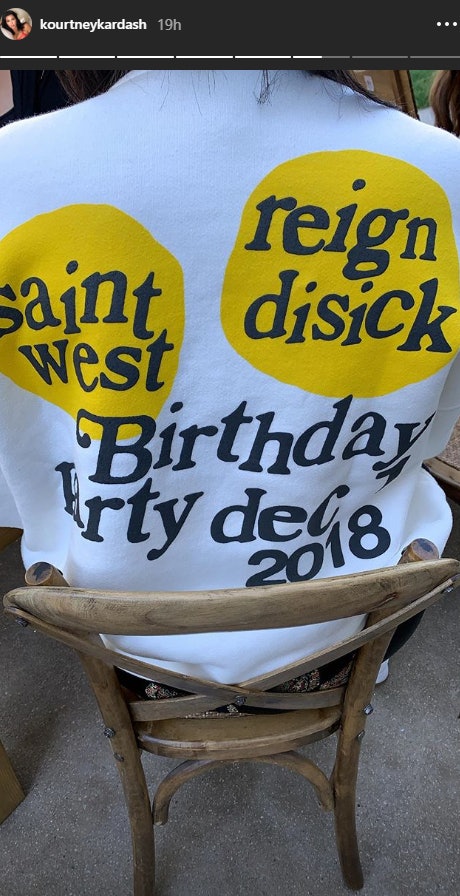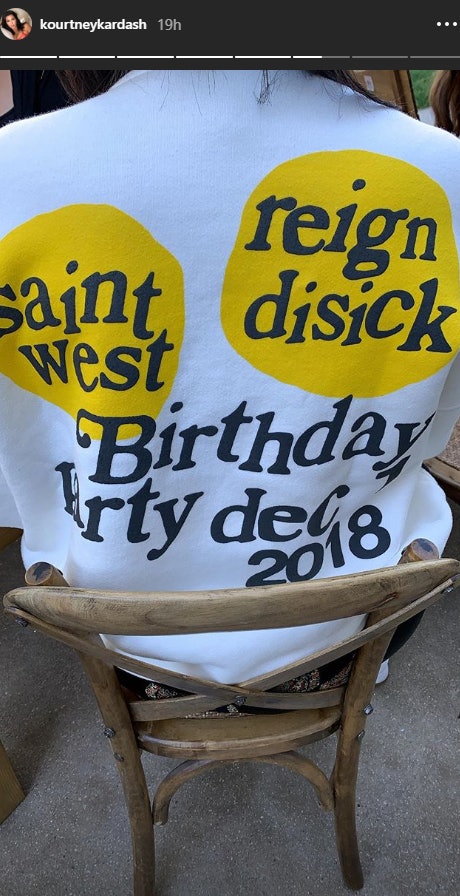 The Tarzan party isn't the first time Kim and Kourtney have hosted joint birthday celebration. Penelope, who is 6, regularly celebrates her birthday with North, who is 5. In October, North and Penelope had a unicorn-themed birthday party, complete with unicorn horns, cotton candy, a glitter slime station, s'mores, and music by DJ Livia. In 2017, Reign and Saint had a Monsters Inc. themed birthday, and the event also included some holiday cheer.
Saint and Reign have teamed up for holidays other than their birthdays in the past, as well. On Halloween, the two kids dressed as Kanye and Lil' Pump from the "I Love It" video. It's clear that these two cousins love to celebrate together, and that this Tarzan birthday was a major success. It will be exciting to see what Kim and Kourtney plan for next year's birthday festivities, but no matter what the theme, it will likely be an adorable surprise for fans.
Source: Read Full Article