Ariana Grande was honored with the Woman of the Year award at a Billboard Women In Music 2018 event last night, and first of all she showed up in this outfit, which we can all agree is incredible:
View this post on Instagram
loofah of the year @billboard
A post shared by Ariana Grande (@arianagrande) on
But she also gave a super emotional speech, holding back tears as she talked openly about what a challenging year this has been for her.
This has been a pretty intense year for Ariana. Yes, she released a hit song and a completely iconic video, but she's also been dealing with the tragic passing of her ex-boyfriend rapper Mac Miller, and the end of her relationship with SNL star Pete Davidson. A million props to her for handling everything life throws at her so gracefully.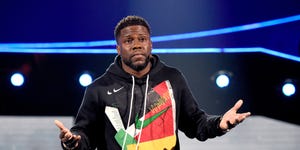 Source: Read Full Article