The scene-stealing smarty-pants from Jerry Maguire is celebrating his 30th birthday and we're checking in on him and a host of other stars who got their start at an early age.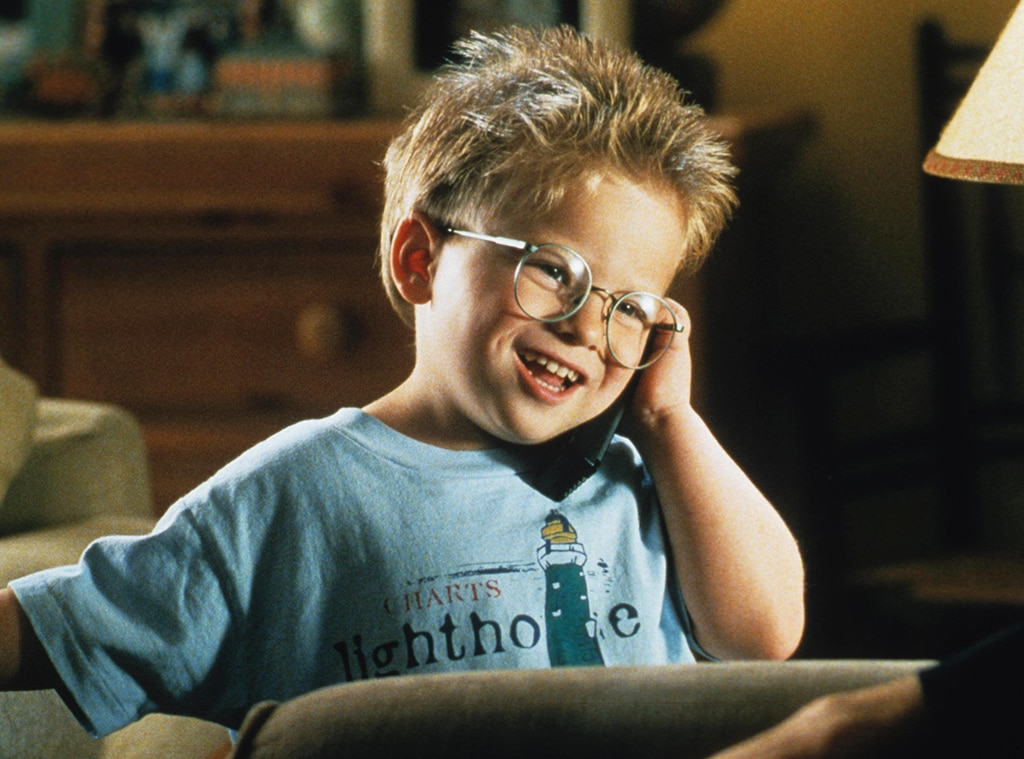 Did you know that the human head weighs 8 pounds? And that bees and dogs can smell fear? And that the kid from Jerry Maguire is 30?
Jonathan Lipnicki, who played Ray, the adorable fact disseminator with big glasses and a promising throwing arm in the Tom Cruise– and Renée Zellweger-starring classic, is turning the milestone 3-0 on Oct. 22.
Which, when you do the math, makes sense, even if the all-grown-upness of the situation is hard to wrap your 8-pound head around. 
But without a doubt, 1996 was a big year for the Los Angeles native, who joined the cast of The Jeff Foxworthy Show at 5 and at 6, a few months later, was on a red carpet celebrating with Cruise and the actor's then-wife, Nicole Kidman.
So, it's been a minute.
Lipnicki's precocious turn in Jerry Maguire, his movie debut, earned him Best Child Performance honors at the Critics' Choice Awards in 1997, after which he starred in the short-lived sitcom Meego and, most notably, voiced Baby Tiger in the blockbuster Doctor Dolittle with Eddie Murphy and played George Little in the Stuart Little films.
And he remains a working actor, but he had the mixed fortune to be so memorable right out of the gate, stealing his scenes as an adorable child star, that he remains best known for his first-ever film. Which took some time to come to terms with, but he did, after hitting pause on his career to play a regular a high school kid following what Lipnicki called "definitely the worst three years of my life."
Aka, middle school.
"Yeah, it was horrible," Lipnicki recalled last year on The Real, talking about the bullying he faced at the time. "At the end of the day, I have a lot of perspective. It's a lot worse for a lot of people, you know, and I grew from it, I learned a lot. And," he added with a smile, "I knew that that wasn't going to be my prime age. I wasn't going to peak in middle or high school."
(He also may have been motivated to get into fighting shape, his Brazilian Jui-Jitsu practice resulting in some intense muscles that he showed off in 2011.)
Besides, Lipnicki had already been encouraged—in his career and in life—by one of the most relentlessly positive-thinking actors in all of Hollywood. 
Trending Stories
Bachelorette Clare Crawley Reacts to Getting Called Out on Prom Claim
Jill Duggar Cut Ties With the Duggars After Autonomy Was "Taken Away"
Nikki & Brie Bella Are Moving to a New City! All the Details
"I have never [since] worked with anyone with that amount of charisma. He can make you believe in yourself like nobody else," he told E! News in 2019, referring to none other than Tom Cruise. "He's great, and he gave me a lot of great advice. He told me to keep creating."
And so Lipnicki did, adding writing and producing to his resume while he continued to seek out acting roles.
"I've thought about other career paths, especially during my teenage years, and there's nothing I'd rather do with my life," Lipnicki also said on The Real. "Whether I'm doing big movies like I did in my childhood, or—I've actually done more work as an adult, it's just that the films I've done haven't hit quite as hard as the ones I did as a kid.
"But," he added, "if you love what you do, you've got to chase that."
Making that leap, from adorable child star to grown-up-actor-with-staying-power, isn't easy—and so many have failed to clear the gap. But like Lipnicki, here are some more performers who were bitten by the acting bug at an early age and never looked back.
Gordon-Levitt was a veteran actor by the time he starred as Tommy Solomon, a member of an alien fact-finding mission posing as an average human family, on 3rd Rock From the Sun. The show premiered when he was 14 in 1996, also the year he was seen as Demi Moore's son in the thriller The Jury. Soon, he was the nice guy with a crush in 1999's 10 Things I Hate About You, a hustler in 2004's Mysterious Skin and the determined teen sleuth trying to find out what happened to his missing ex-girlfriend in the 2005 noir drama Brick.
He could still pass for a teen well into his twenties, but once he started playing adults, his various highlights have included 500 Days of Summer, G.I. Joe: The Rise of Cobra, Inception, 50/50, The Dark Knight Rises, Looper, Lincoln, Don Jon (which he also wrote and directed) and Snowden. Gordon-Levitt is exploring yet another real moment in history with the just-released The Trial of the Chicago 7, streaming now on Netflix.
He quietly married Tasha McCauley in 2014 and they've since welcomed two children.
Thanks to her preternaturally poised performance at the age of 12 in The Professional, Portman was tagged with a certain gravitas at an early age—and she's still living up to her reputation. Since her auspicious debut in 1994, she's starred in huge blockbusters (Star Wars: Episodes I through III; the Thor franchise and Avengers: Endgame), indie favorites (Beautiful Girls, Garden State), comedies (Mars Attacks!, Your Highness), intense dramas (Closer, Brothers) and apocalyptic thrillers (V for Vendetta, Annihilation).
Then there was the longtime Dior spokeswoman's mind-bendy, Oscar-winning pirouette in 2010's Black Swan, and her eerie channeling of a newly widowed Jacqueline Kennedy in Jackie, for which she earned another Best Actress Oscar nomination. Portman made her feature directorial debut with 2015's A Tale of Love and Darkness, adapted from Amos Oz's autobiographical novel.
She married her Black Swan choreographer, Benjamin Millepied, in 2012 and they're parents of son Aleph and daughter Amalia.
Speaking of actors who could've been attached to one iconic role forever, Radcliffe has done an admirable job putting himself out there for consuming parts—whether on stage in dramas like Equus and The Cripple of Inishmaan or the classic musical How to Succeed in Business Without Really Trying; on film as Beat poet Allen Ginsberg in Kill Your Darlings or a flatulent corpse in Swiss Army Man; or on TV as an opioid-addicted physician in A Young Doctor's Notebook or a frazzled angel in Miracle Workers—that only take him further away from Harry Potter.
Up next is the based-on-a-true-story prison-break drama Escape From Pretoria, as well as a third season of Miracle Workers. The British actor has been in a relationship with Erin Darke since 2013.
She made her acting debut at around 6 in the Andy Griffith Show spinoff Mayberry R.F.D., and eight years later earned her first Oscar nomination at 14 for her turn as a girl being prostituted by a creepy pimp in Taxi Driver, her plight being what drives Robert De Niro's Travis Bickle to take violent action. Also in 1976, Foster starred in the original Freaky Friday, the tonal opposite of Taxi Driver, which made her more of a mainstream child star.
The serious student took a break to attend Yale, after which she re-broke through—and won her first Oscar, for Best Supporting Actress—playing a rape victim who presses charges against her attackers, not realizing that she'll end up on trial in a different way, in 1988's The Accused. She made her feature directing debut with Little Man Tate in 1991, then won a Best Actress Oscar for her turn as an intrepid FBI trainee in The Silence of the Lambs in 1992.
The actress and filmmaker, who in recent years has done more directing, especially for TV (House of Cards, Black Mirror, Orange Is the New Black) was honored with the Cecil B. DeMille Award for life achievement at the 2013 Golden Globes. In real life, she's a mother of two sons with ex-partner Cydney Bernard, and she married photographer and director Alexandra Hedison in 2014.
It was natural for former child actress Jodie Foster to take Stewart under her wing when they played mother and daughter in David Fincher's 2002 thriller Panic Room. Also like her mentor, Stewart would go on to have a mixed-bag relationship with fame, but to a whole other level after winning the coveted, life-changing role of Bella Swan in the Twilight series when she was about 16.
"I remember her thinking there wasn't a chance I'd continue being an actor," Stewart said of Foster, talking to Stellar magazine in 2019. That, of course, had nothing to do with her talent, and everything to do with her very non-showboating personality. Stewart added, "I really love my job, but I understand why she would have thought that about me as a kid. I love her."
The actress and Chanel muse hasn't had trouble finding work since concluding the five-film Twilight saga, but other than the 2019 stab at reviving the Charlie's Angels franchise, she has preferred taking on more intimate films, including The Clouds of Sils Maria, for which she became the first American actress to win a Cesar Award (France's equivalent of the Oscars), the eerie drama Personal Shopper and the recent Seberg, in which she played the tragic movie star Jean Seberg.
After her much-chronicled relationship with Robert Pattinson ended, Stewart has primarily dated women, and she's been in a relationship with girlfriend Dylan Meyer for several years.
After completing her iconic quest opposite David Bowie in the 1986 fantasy classic Labyrinth, Connelly had not particularly earth-shattering parts in The Rocketeer, Mulholland Falls, Inventing the Abbots and others—but in 2000 critics took notice of her devastating turn in Requiem for a Dream, playing an aspiring fashion designer descending into heroin addiction.
Then it was off to the races, winning the Oscar for Best Supporting Actress for 2001's A Beautiful Mind and following that up with Hulk, House of Sand and Fog, Dark Water, Little Children, Blood Diamond, Reservation Road, He's Just Not That Into You… and so on. She currently stars on the TNT series Snowpiercer, inspired by the Bong Joon Ho film of the same name, and you'll see her on the big screen when Top Gun: Maverick finally opens.
Connelly has been married to Paul Bettany since 2003 and they have two children.
Several decades before he snapped his fingers and made half of Earth's population disappear, the son of actor James Brolin got his start playing the cool and exasperated but also protective and big-hearted big brother Brandon Walsh (yes, Brandon Walsh) in 1985's Goonies.
Brolin went on to do a few (dozen) movies, including Flirting With Disaster, Mimic, No Country for Old Men (which won the Best Picture Oscar and reinvigorated his career), American Gangster, W. (playing 43rd President George W. Bush), Milk (he was nominated for a Best Supporting Actor Oscar for his performance as Dan White, the San Francisco councilman who killed city official and gay rights activist Harvey Milk), Jonah Hex, True Grit, Sicario and, of course, Avengers: Infinity War and Endgame, cloaked in CGI as super-villain Thanos. He's got a list of movies coming up, including the remake of Dune and the Sean Penn-directed Flag Day.
Brolin has two children from his first marriage, to Alice Adair, after which he was married to Diane Lane from 2004 until 2013. He and wife Kathryn Boyd, whom he married in 2016, welcomed daughter Westlyn Reign Brolin in 2018 and announced in July 2020 that their second child was on the way.
She was barely 10 when she made her movie debut alongside Cher and Winona Ryder in 1990's Mermaids and The Addams Family, co-starring Ricci as the hilariously morose Wednesday Addams, came out the next year.
More classic 1990s moments were made with Casper and Now and Then before Ricci embarked on a career peppered with complicated characters in films such as The Opposite of Sex, Buffalo '66, Fear and Loathing in Las Vegas, Prozac Nation, Pumpkin and Monster, in which she played the girlfriend of serial killer Aileen Wuornos (Charlize Theron, in her Oscar-winning role). Her most mainstream part may have been playing a damsel in distress in the Tim Burton-directed Sleepy Hollow, opposite Johnny Depp, but still, that was no average gothic romance.
Whatever Ricci has been up to for the past 30 years, almost all of it has been adventurous, whether it's playing a glamorous '60s-era flight attendant in the short-lived Pan Am or being chained to a radiator in Black Snake Moan, or taking on fascinating real-life women, such as ax murderer Lizzie Borden in The Lizzie Borden Chronicles and author and literary muse Zelda Fitzgerald in Z: The Beginning of Everything.
Ricci is mom to son Freddie with estranged husband James Heerdegen. She filed for divorce in July 2020.
The Home Alone star cemented his icon status in one fell scream when he was barely 10, but he had already been hard at work since around the age of 5 in numerous TV movies, Uncle Buck, Jacob's Ladder and more. He gave it a nearly decade-long rest after 1994's Ri¢hie Ri¢h, but the musician and painter has bounced in and out of the acting game as he sees fit, mainly in small films with big cultural footprints such as Party Monster and Saved.
After providing his voice to Adult Swim's Robot Chicken and playing a barista version of himself on The Jim Gaffigan Show, and presuming all the pandemic protocol gets sorted out, Culkin will be joining the 10th season of American Horror Story, due to premiere in 2021.
He made his movie debut at 7, alongside big brother Macaulay Culkin in 1990's Home Alone, and then burnished his little-brother credentials in Father of the Bride. After high school, he became a frequent face on the big screen, be it in in lighter fare like She's All That and Scott Pilgrim Vs. the World, heavy dramas like Margaret, or somewhere in between, as in the indie films The Dangerous Lives of Altar Boys and Igby Goes Down, for which he earned his first Golden Globe nomination.
In recent years Kieran has found his sweet spot as defiantly damaged media-empire scion Roman Roy on HBO's Succession, earning his first Emmy nomination in 2020—though, more importantly, he appeared in the Father of the Bride 3(ish) reunion short that dropped this summer, delighting Banks family fans everywhere.
Off-camera, he's been married to Jazz Charton since 2013 and they welcomed daughter Kinsey in 2019.
It seems as if Dakota went from playing Ally McBeal's 5-year-old self and Sean Penn's 6-year-old daughter in I Am Sam to blazing a trail as the first female employee of the New York Police Department turned private detective in the period drama The Alienist overnight. But no.
She's actually just been working her tail off for more than 20 years, turning in memorable performances in Uptown Girls, Man on Fire, Hide and Seek, War of the Worlds, Charlotte's Web, The Secret Life of Bees, three Twilight movies, American Pastoral and Once Upon a Time…in Hollywood, playing real-life Charles Manson acolyte Lynette "Squeaky" Fromme.
In addition to starring in The Nightingale with little sister Elle Fanning, she's due to topline an adaptation of The Bell Jar, Sylvia Plath's classic (and only) novel about a young woman battling mental illness in the 1950s.
She may have gotten her start playing "Lucy 2 years," a younger version of her sister Dakota's character in I Am Sam, but this Fanning has blazed her own acting and style trail apart from her also-very-successful sibling.
Elle amassed the usual roles as the child of the grown-up stars in various films (Daddy Day Care, The Door in the Floor, Babel, Reservation Road) and guest-starred on multiple CSI franchises, Criminal Minds, House, Law & Order: SVU and more stuff she was probably still too young to watch when she was in it. But as a teen and into her twenties, her movie work continued to span genres, from family fare (We Bought a Zoo, Maleficent) and YA (Super 8, Twixt) to prestige dramas (Trumbo, 20th Century Women) and disturbing fantasias (The Neon Demon, The Beguiled).
Along the way, she's played Mary Shelley in a film of the same name and Catherine the Great on the Hulu satire The Great. And next, she and Dakota are signed up to play sisters in the anticipated big-screen adaptation of Kristin Hannah's World War II-era epic The Nightingale.
The actress and singer has grown older since her star-making days on the Disney Channel's Lizzie McGuire, through which she seamlessly segued into family-friendly fare such as Agent Cody Banks, Cheaper by the Dozen and A Cinderella Story.
But, after a bit of a noticeable-role drought, Duff has excelled once again in Younger, playing the more-layered-than-meets-the-eye colleague of Sutton Foster's 40-year-old posing as a millennial in the critically acclaimed TV Land series, which is due to return for a seventh season. And though the prospect of a spin-off centered on Duff's Younger character Kelsey is exciting, O.G. fans really can't wait to see her return as Lizzie, though, in a reboot planned for Disney+.
Duff and hockey player Mike Comrie, the father of her son, Luca, separated in 2014 after about four years of marriage and eventually divorced. She and songwriter Matthew Koma welcomed daughter Banks in 2018 and got married in 2019.
The younger sister of Growing Pains star Kirk Cameron became crimped-hair fashion inspo for 12-year-olds everywhere playing studious eldest Tanner sister D.J. on Full House, which ran from 1987 until 1995.
She has starred in a parade of TV movies, some with major messages to send, such as 1996's No One Would Tell, based on the true story of a high school student who was murdered by her 16-year-old boyfriend after she silently suffered his abuse for months. (Yes, we're still haunted.)
But more recently, after spending two seasons as a co-host on The View, and in addition to reuniting with almost the whole Tanner family for five seasons of Fuller House on Netflix, Candace has become queen of the Hallmark Channel Christmas lineup, as well as the star of the network's Aurora Teagarden murder-mystery franchise, based on the books by Charlaine Harris.
In 2020 she celebrated 24 years of marriage to former NHL player Valeri Bure, with whom she has three children. And, Candace's family is growing—son Lev proposed to his girlfriend, Taylor, in August. "We are SO excited for these cuties!!! #Engaged !" the proud mother-in-law-to-be shared on Instagram. "And this mama/mama-in-love can't wait for wedding planning shenanigans."
After playing middle sister Stephanie Tanner on Full House for eight seasons, Sweetin struggled with drug and alcohol abuse—a journey she candidly described in her 2009 memoir, unSweetined.
Three marriages between 2002 and 2016 also added to the headline fodder, as did her brief engagement to Justin Hodak, who, among his various issues, ended up violating a restraining order she had in place against him and in 2019 was sentenced to more than six years in prison for possession of a deadly weapon and falsifying evidence.
Sober since 2008, the mother of daughters Zoie and Beatrix rejoined the Tanner family for five seasons of Fuller House on Netflix and has starred in several Hallmark Channel movies, most recently 2019's Christmas-themed Merry and Bright.
It took two to play the role of Michelle Tanner, who grew from a wide-eyed baby to a precocious 6-year-old on the classic ABC sitcom Full House, after which the fraternal twins parlayed their success into a series of big-screen and direct-to-video movies, a production company, kids clothing lines, books and other products, making for a full-blown Olsen empire.
While Mary-Kate continued to act past 2004's New York Minute, joining the cast of Weeds for a season and appearing in the films The Wackness and Beastly, Ashley largely left it behind—and now both are merely fashion industry superstars as the co-founders of CFDA Award-winning The Row and Elizabeth & James.
Ashley's boyfriends over the years have included Justin Bartha and director Bennett Miller, while Mary-Kate married Olivier Sarkozy in 2015 and filed for divorce in 2020.
The multitalented kid from Canada got his big break at age 12 on The All-New Mickey Mouse Club and… let's just say, showbiz worked out for him. For the past two decades, Gosling has played every type of guy, from a drug-addict teacher in Half Nelson to an introvert in love with a blow-up doll in Lars and the Real Girl, from one-half of filmdom's most romantic couple in The Notebook to one-half of the most depressing couple ever in Blue Valentine, from a thrill killer in Murder by Numbers to an aspiring jazz club owner in La La Land, from a smarmy Wall Street tycoon with a fake tan in The Big Short to American hero Neil Armstrong in First Man.
He has two Oscar nominations to his name and he won a Golden Globe for La La Land. While making 2012's The Place Beyond the Pines, he swept co-star Eva Mendes off her feet and they have two daughters together, Esmeralda and Amada.
Before the movie stardom, the production company, the activism, the Oscar for The Revenant, the model girlfriends, the perpetual yacht life… he was homeless teen Luke, who comes to live with the Seaver family on Growing Pains in 1991. Also an actor whose baby face made him appear extra youthful well beyond his teens (he was already 16 on GP and had been acting for years), DiCaprio earned his first of six Oscar nominations (for acting) for What's Eating Gilbert Grape, and played a series of troubled kids, in A Boy's Life, The Basketball Diaries, Marvin's Room and—troubled by love, anyway—Romeo + Juliet.
He still kinda looked like a kid in Titanic, but at 22 he had reached full-on heartthrob status.
Accio, adulthood! Moving beyond her auspicious start as Hermione Granger in eight Harry Potter films, the English actress moved on to YA fare such as The Perks of Being a Wallflower and The Bling Ring, co-starred with Tom Hanks in The Circle, and has dedicated her platform as a UN Goodwill Ambassador to empowering women and advocating for gender equality around the world.
The New Mexico native hit the jackpot his first time out, earning a Golden Globe nomination at 15 for his debut role as a sullen kid who bonds with his family's housekeeper in the 1988 TV movie Clara's Heart. But it could've all gone wrong for the star of the dramedy Doogie Howser, M.D., in which he played a 16-year-old genius doctor—and NPH pretended that it did when he gleefully spoofed himself in Harold & Kumar Go to White Castle. But though he had a dry spell while he unwound from overdoing it as a youngster adrift in Hollywood, he did tons of theater, including three Broadway shows, and the right TV role eventually presented itself in the form of genial playboy Barney Stinson on How I Met Your Mother, for which he earned four Emmy nominations. In 2010 alone he was nominated for three Emmys and won two, for co-producing the 2009 Tonys and guest-starring on Glee. 
The quadruple-threat—acting, singing, dancing, magic!—entertainer has now hosted the Tonys four times (winning the Emmy for special class programing as a producer every time), as well as the Emmys twice and the Oscars once, in 2015. He also won a Tony in 2014 for Best Actor in a Musical as the star of Hedwig and the Angry Inch.
Harris and longtime partner David Burtka welcomed twins Gideon and Harper via surrogacy in 2010 and tied the knot in 2014.
At the age of 4, she was ridiculously cute as the scene-stealing Olivia on The Cosby Show, after which she appeared in films such as The Little Rascals, Doctor Dolittle and Doctor Dolittle 2. She landed her own beloved Disney Channel sitcom, That's So Raven, in 2003, and while playing the psychic teen with inimitable fashion sense she also popped up on a bunch of the network's other productions, such as The Cheetah Girls, The Suite Life of Zack & Cody, Kim Possible and Sonny With a Chance.
Her TV work in the ensuing years after her show ended in 2007 included American Dad, Nashville, State of Georgia, The Jim Gaffigan Show, Master of None and Drunk History, and she's had a recurring role on Black-ish since 2015. Symoné also spent three seasons as a co-host on The View and, in June 2020, she married Miranda Maday.
The star of Happy Days and American Graffiti turned prolific, Oscar-winning filmmaker got his start as a child actor, most notably playing Opie Taylor on The Andy Griffith Show starting when he was 6.
Howard's been married to high school sweetheart Cheryl since 1975, and they have four children, including actress Bryce Dallas Howard.
Wood was a prolific child actor, with credits including Avalon, Radio Flyer, North, The Adventures of Huck Finn, The Good Son, The War and Flipper. Then he was a successful teen actor, starring in Ang Lee's The Ice Storm, Deep Impact and The Faculty.
Then, at 19, he took on the role of Frodo Baggins in the Lord of the Rings trilogy—the last of which, LOTR: The Return of the King, won the Best Picture Oscar and earned Wood a share of the SAG Award for Outstanding Performance by a Cast in a Motion Picture. And while taking that role required him to endure some hobbit jokes for about 10 years, he's been working ever since, from Eternal Sunshine of the Spotless Mind and Happy Feet to the FX series Wilfred and Drunk History.
Wood and girlfriend Mette-Marie Kongsved welcomed a child together in 2020.
Few 6-year-olds have made splashier movie debuts than Lipnicki, who went toe-to-toe with Tom Cruise in the charm department in Jerry Maguire and got almost as many memorable lines. He went on to plum roles in the Stuart Little films, Doctor Dolittle (voicing Baby Tiger), The Little Vampire and Little Mike, as well as guest-starred on Dawson's Creek, but took a break to have a normal high school experience.
The same visibility wasn't awaiting him as a young man, but he's worked steadily, appearing in movies such as Beware the Lake, Limelight and Broil while also writing and producing short and feature-length films.
In 2017, Lipnicki opened up about the bullying he experienced in middle school, hoping that sharing his experience could lend some comfort to others. "I have now made more movies as an adult than I did as a child! This makes me really emotional," he wrote in a note posted on Instagram. "I didn't expect to feel like this, but I do. Sure they aren't studio films or wide releases, but they are in theaters! I am chasing my dreams and I couldn't be happier."
But, he continued, back in the day he was "made fun of relentlessly" by some kids who then, down the road, must have forgotten their bad behavior and shamelessly friended him on Facebook. "I was told I was a has-been and would never book a job again," he recalled. He started having nightly panic attacks, anticipating the next day's humiliation. Yet he had survived and, he added, "it's amazing how many people peak in their teens."
He wrote in his caption, "I am grateful for the amazing life I have and I hope I can pass on that it DOES get better."
Source: Read Full Article