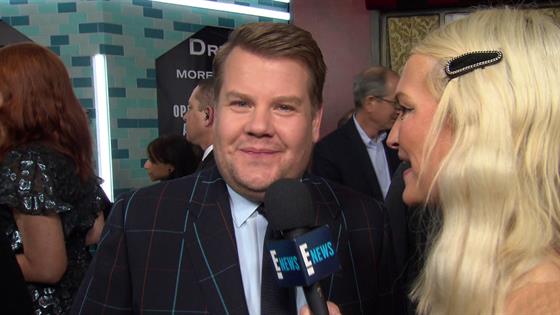 When two worlds collide!
E! News caught up with funny man James Corden at the premiere of Cats in New York City and asked the host if he'd ever plan on doing a Cats inspired carpool karaoke on his show The Late Late Show with James Corden. Unfortunately, for Corden, it doesn't look like he has plans to combine both of his projects anytime soon.
"You're in a room that's the size of two football [fields], everything's scaled up so the doors are 15 ft high and the street lamps are 50 ft high," he dished to Zanna Roberts Rassi about starring in the film. "And you're with Idris [Elba] and Rebel [Wilson] and Taylor [Swift], Judy Dench, Ian McKellen, and then someone goes, 'And now, be a cat.'"
As for the rumor that McKellen actually tried cat food to get into the role, Corden revealed he went farther than that. "I actually lived as a cat for a week," he joked. "I went to a cat hotel and I lived amongst them. I only would take in all my fluids from a saucer. I would go out into the garden and bring back for my wife a dead bird or a dead mouse for her. I really immersed myself in it." While he had a ton of fun, there's a certain reason he didn't invite the cast to carpool with him.
"I don't think so," he shared about a possible carpool karaoke. "It's quite a difficult group of people to get together. We did just shoot a thing for our show today. Idris just literally landed, so it's me, Taylor, Rebel, Jason Derulo, Francesca [Hayward], Tom Hooper and Andrew Lloyd Webber going to cat school. But we literally just shot it. I have no idea if it's good or not, but it will be on The Late Late Show this week."
Corden wasn't the only one who got really into his role in cats. We also caught up with Swift who joked about how excited she was to be involved in the project. "I think I went a little bit more than everybody else," Swift shared with E! News. "I was really, shall we say, enthusiastic about the whole thing."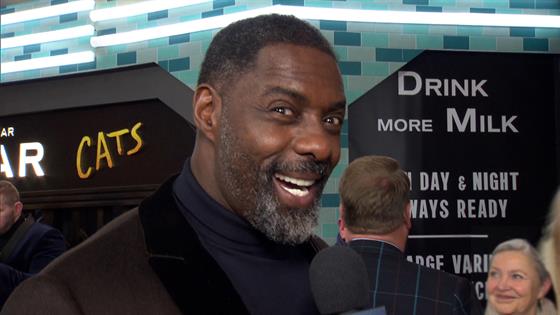 Although Jennifer Hudson couldn't make it for The Late Late Show bit, she did catch up with E! on the red carpet and taught us how to become a real life cat. Hudson is also doing double duty for this film and will provide her vocals for the classic song "Memory" which is absolutely gorgeous. If you're ready to cry tears of joy, we suggest you take a quick listen.
Elba also admitted to E! News that he hadn't seen the film yet, but he was expecting great things ahead. "I expect it to be good. I think it's gonna be magical. Listen, the experience was magical," he shared. "We had sets that mimic the scale of what a cat sees. Just walking around in it, you feel like you're in an amusement park all day. Everyone gave their all. Everyone really went into it."
"Cat school was really Tom saying I want you to absorb what cats do and how they react," Idris shared of his experience at the school. "I was prowling around rubbing my nose, understanding what cats do…It was so interesting how I would see a cat and say, 'I know what you're thinking there little buddy.'" We'll take his word for it!
Cats hits theaters this Friday, Dec. 20.
Watch the 2019: What E! Year end-of-year special Tuesday, Dec. 17 at 10 p.m.! E! News returns Monday morning, Jan. 6 at 7 a.m.!
Source: Read Full Article