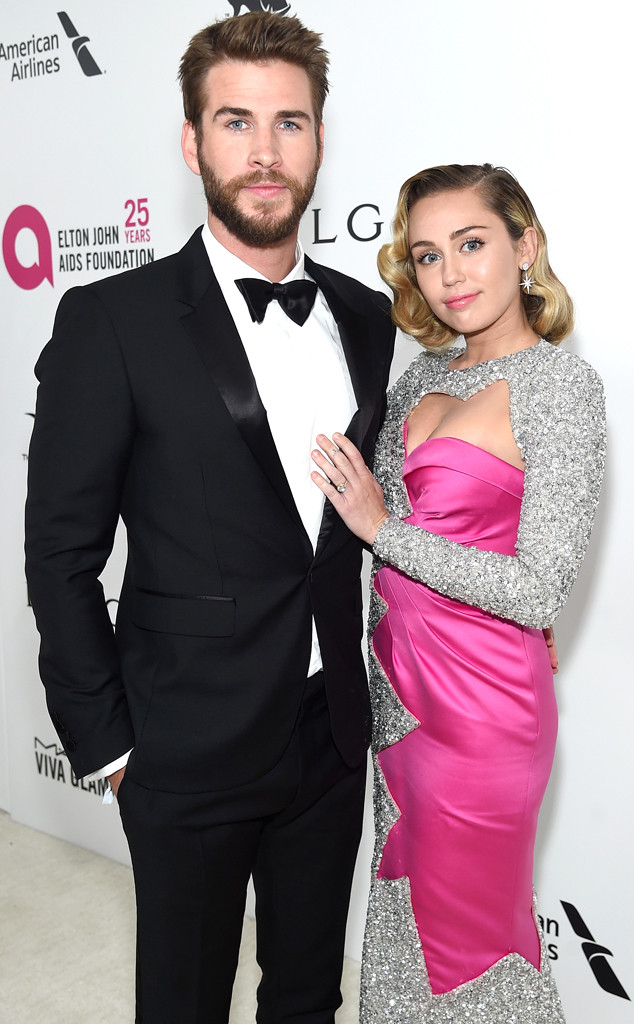 Jamie McCarthy/Getty Images for EJAF
While the end of the year may be looming, there's still one major unanswered Hollywood question: when will Miley Cyrusand Liam Hemsworthtie the knot?
It's been almost three years since the A-list pair rekindled their romance and engagement, more than two years after their 2013 breakup. They've kept a relatively low profile ever since, though a curious gold band later sparked speculation of a secret wedding.
"He wears that ring as more of a 'promise' to Miley, but they are not officially married," a source shared with E! News back in August 2017. "The only thing that is missing is the legal piece of paper. The pair is not focused on planning a wedding at this time. They are more focused on making their love as strong as possible."
At the start of this year, older brother Chris Hemsworth also confirmed they were "not officially married."
It's been more than a year since and it sounds like the same story for the "Nothing Breaks Like a Heart" songstress and her movie star beau. In fact, when asked whether they talk about marriage, Cyrus told Andy Cohen on SiriusXM channel Radio Andy, "I'm very kind of just like in this space of like working, so not too much and he's got a new moving coming out, so we've got a lot going on."
Hemsworth's rom-com, Isn't It Romantic?, comes out on Valentine's Day while Cyrus seems to be in the process of releasing new music, considering the newly dropped single with Mark Ronson.
While they may not be exchanging vows any time soon, these two sound just as in love as they were in their Last Song days.
Cyrus confirmed they will be spending the holidays together at home in her native Tennessee. As for what she wants for Christmas, "We can't talk about that on the show," she told Cohen, "but I'll be getting it, don't worry."
"I got three weeks off, honey," she noted. "It's going down."
Cohen added, "He's going to be busy isn't he?"
"Yeah," she responded. "Tired."
Make of that what you will.
Source: Read Full Article