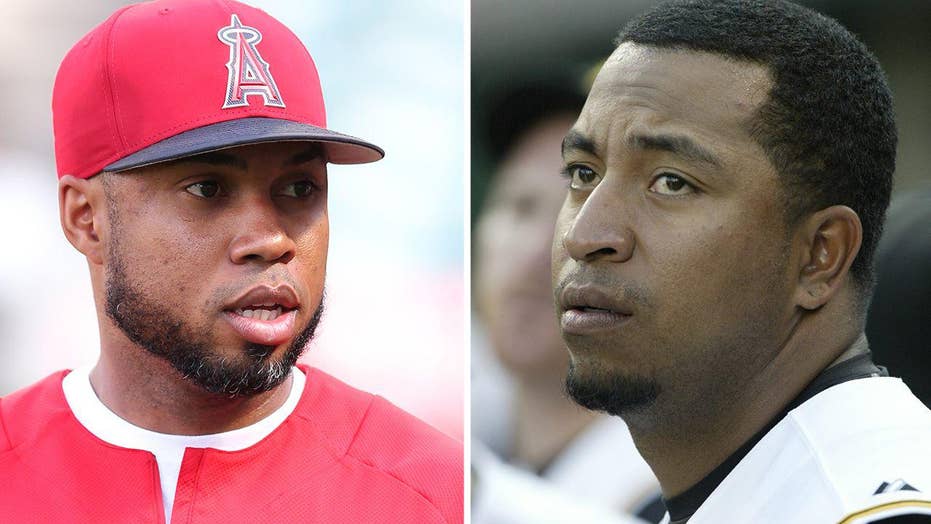 Former MLB players killed in car crash
Former Major League Baseball players Luis Valbuena, Jose Castillo killed in a car crash in Venezuela.
The car crash that claimed the lives of two former Major League Baseball players on Thursday in Venezuela may have been a criminal act, and officials are reportedly looking into whether a gang of thieves engineered the wreck in order to rob the pair.
Luis Valbuena and Jose Castillo, who were teammates in a Venezuelan winter baseball league, were traveling in a white Toyota Fortuner with teammate Carlos Rivero when the vehicle suddenly slammed into a large rock in the middle of the road.
The rock is thought to have been purposely placed in the spot in hopes it would lead to an accident and allow those who orchestrated the trap to rob the vehicle's occupants, Mexican newspaper El Universal reported, citing a preliminary report from authorities.
The act is a common tactic for robbers in Venezuela, El Cooperante, a news outlet based in Caracas, reported.
The vehicle the ex-MLB players were traveling in was destroyed in the wreck — and before authorities arrived, the Toyota had been looted and the players robbed, according to the Venezuelan regional newspaper El Impulso.
Valbuena and Castillo were not wearing seatbelts at the time of the crash, which occurred on a road between Yaracuy and Barquisimeto, and were ejected from the vehicle, according to multiple reports. They were reportedly killed on impact. Rivero was injured in the crash.
Pictures from El Cooperante showed the white vehicle on its side with its grill and hood smashed.
The Cardenales de Lara, the team Valbuena and Castillo were playing for, called the accident a "horrible tragedy," in a statement. Other tributes and statements also began to pour in on social media.
"We are saddened by the tragic news that Luis Valbuena and former major leaguer Jose Castillo have died in a car accident," Major League Baseball said in a tweet.
The Angels said in a statement: "We are deeply saddened to hear of the passing of former Angel Luis Valbuena and former MLB infielder José Castillo. Our thoughts and prayers are with their loved ones during this time of grief."
Valbuena, 33, played 11 seasons in the majors, beginning his career in 2008 with the Seattle Mariners. He also played for the Cleveland Indians, Chicago Cubs, Houston Astros and the Angels. Valbuena suited up for Los Angeles as recently as the 2018 season, but the Angels released him in August. He was a lifetime .226 hitter with 114 home runs and 367 RBIs.
Castillo, 37, played in the majors from 2004 to 2008 with the Pittsburgh Pirates, San Francisco Giants and Astros. He batted .254 with 39 home runs and 218 RBI during his five MLB seasons.
According to Spotrac, Valbuena is estimated to have earned more than $28 million in his career. It's unclear how much money Castillo may have earned while playing.
Fox News' Lucia I. Suarez Sang contributed to this report.
Source: Read Full Article