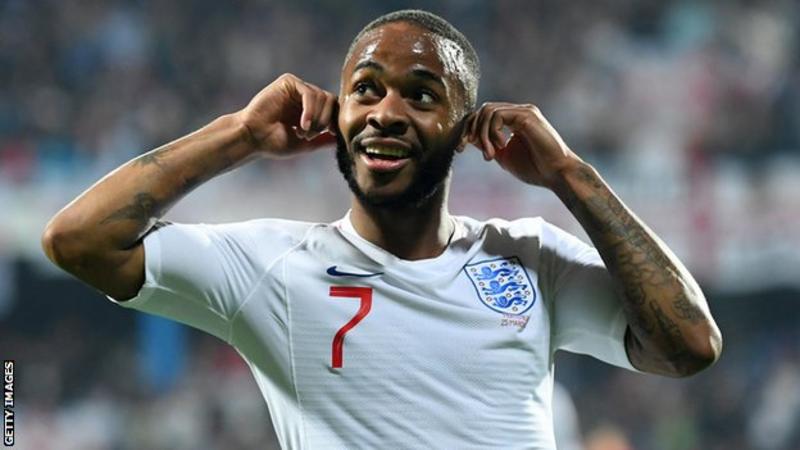 In 2018-19, Raheem Sterling shone brighter than ever in Manchester City's star-studded squad.
The 24-year-old is on the cusp of a domestic treble – Premier League champion, Carabao Cup winner and with the FA Cup final to come on Saturday. His personal honours include the PFA Young Player of the Year and the Football Writers' Association Footballer of the Year, and he was runner-up to Liverpool's Virgil van Dijk as PFA Player of the Year.
Once scorned for his lack of end-product and booed by England fans, he is now one of the most potent attacking forces in the country – scoring 23 goals across all competitions for City this season, plus another six for England, and a further 17 assists for his club.
Yet it is his rise to become an unofficial spokesman for a generation of footballers on race, class, society and the media that has people asking whether Sterling is the most important sportsperson in Britain right now.
A BBC Radio 5 Live special discussed the player's influence, his upbringing, his talent and his possible legacy.
'You're not coming for anyone else' – Sterling the 'big brother'
In December, Sterling suffered allegedly racist abuse from Chelsea fans during City's 2-0 defeat at Stamford Bridge, and followed that the next morning with an Instagram post in which he questioned newspapers' portrayal of black players and said it fed prejudice and aggressive behaviour.
I don't know where all this stuff about him being brash and flamboyant comes from. He cried to me when he went from QPR to Liverpool because he said he had to buy a flash car
Source: Read Full Article