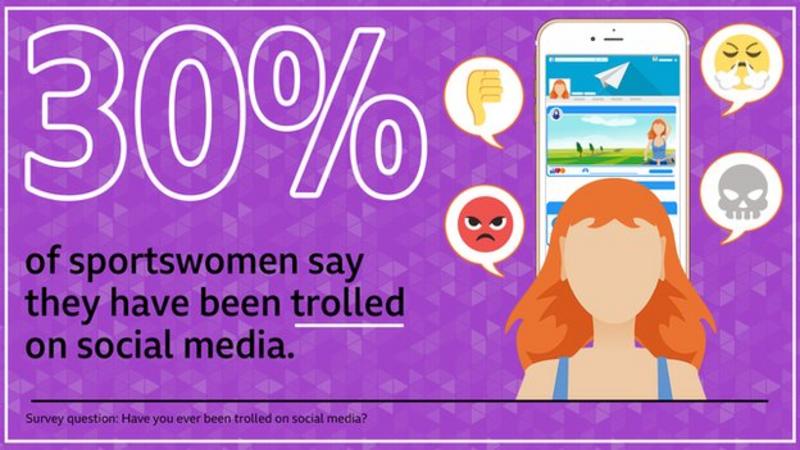 Elite British sportswomen have spoken out about "horrific abuse" on social media, telling a BBC Sport survey about constant comments on their appearance and sexist remarks questioning their right to play sport.
Almost a third of respondents to the biggest women's sport study ever carried out by BBC Sport had been trolled – a figure that has doubled since the last survey in 2015.
Some athletes had received inappropriate images and described the abuse as "threatening" and "scary".
As a result of the findings, BBC Sport has strengthened its stance on combating hate speech on its social media channels.
We have committed to blocking people bringing hate to our comments sections; we will report the most serious cases to the relevant authorities and we will work to make our accounts kind and respectful places.
Minister for Sport Nigel Huddleston told BBC Sport: "The past few years have seen fantastic progress with women's sport starting to get the profile it deserves, however it is absolutely unacceptable that this visibility has been matched by a rise in online abuse of our sports stars.
"We have set out world-leading plans that will make online platforms safer for users, and we will continue to engage with providers to see what more can be done."
The BBC Elite British Sportswomen's Survey was sent to 1,068 women in 39 different sports and received 537 responses. It is the third time BBC Sport has carried out the extensive research, having first gauged opinions in 2013.
One hundred and sixty sportswomen – 30% of respondents – said they had been trolled on social media, up from 14% in 2015.
I was sent an image of a club crest full of ironing boards and told this was the team I should play for.
Source: Read Full Article