ABC Brisbane Radio has changed its morning co-presenters for 2019, proving it is under as much pressure as commercial radio networks as its audience share declines.
Experienced Brisbane radio news reporter and news director Loretta Ryan is the biggest winner of the ABC's reshuffle for 2019.
The ABC's new breakfast co-hosts for 2019; Loretta Ryan and Craig Zonca.
The ABC announced on Wednesday weekend host Ryan would take the breakfast co-presenter's spot with Craig Zonca for 2019.
Zonca and Rebecca Levingston have been split after their first year as breakfast co-hosts as the ABC's overall audience share has halved since 2015, with Levingston to shift to the later morning slot.
Ryan worked at Triple M for 16 years, eventually becoming that radio network's news director, before shifting to 4BH, then 4BC, where she was 4BC's morning show co-host.
Ryan joined the ABC in 2015.
Levingston will present the ABC's morning radio show from 8.30am to 11am.
The ABC's acting regional director Judith Whelan said the change allowed Levingston to cover more local news issues.
"Brisbane is a lifestyle city and there's a greater demand for local news, weather and traffic information earlier in the day," Ms Whelan said.
"It means we can be part of the news and conversations happening right across our city."
ABC Brisbane local general manager Simon Scoble said the ABC's research showed the audience was not clear about why the "double-header" breakfast presenters returned after the national AM current affairs program from 8am to 8.30am.
The ABC combined the breakfast and morning shows in 2018.
"We wanted to have a stronger editorial focus on local issues around the city and we believe Rebecca is the right person to have a more detailed look at issues in and around Brisbane," he said.
Back in 2015, the ABC's total audience share was 12.6, while in the second-last survey of 2018 its total Queensland audience share was 6.8 per cent, according to GfK radio survey results.
It increased to 7.4 per cent in the final survey for the year.
According to the November 2018 survey results the ABC Queensland's total overall audience share was declining, even among people aged 65 and over.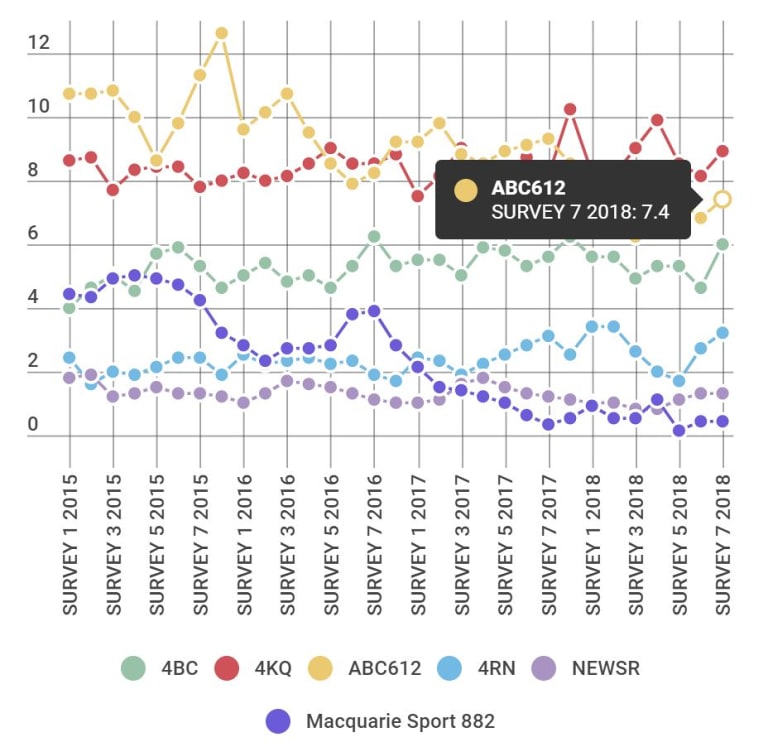 Brisbane's November 2018 AM band radio audience share.
However in the same month Zonca and Levingston increased their personal audience share by 0.9 percentage points to 9.9 per cent, putting ABC's breakfast team in fourth place.
The rest of ABC's Brisbane line-up for 2019 remains the same as 2018.
From 11am, the hour-long ABC's Conversations program returns, hosted by Richard Fidler and Sarah Kanowski.
Broadcast reporter Hamish MacDonald will present Conversations until March 2019, while Fidler is on leave.
Myf Warhust keeps her music arts program from 12.30pm to 2pm, Katherine Feeney stays in the mid-afternoon from 2pm to 4pm, followed by Steve Austin's Drive program from 4pm and Kelly Higgins-Devine from 7pm to 10pm.
The changes begin on January 21.
Source: Read Full Article