Better Call Saul began as a Breaking Bad spinoff and no one, not even the show creators, expected it to become the phenomenon it is today. But over the course of five seasons, the prequel has gradually transformed from a series in the shadow of greatness into a standalone story that some fans love better than the original.
As expected, Better Call Saul has had several BreakingBad character cameos over the past few years. These appearances range fromthe subtle — like a crossover real estate agent — to the exciting, like when DEAagent Hank Schrader and his partner, Steve Gomez, stride onto the scene.
But the Breaking Bad duo everyone is waiting for still hasn't shown up. Bryan Cranston and Aaron Paul recently revealed that they're ready to go whenever Better Call Saul showrunners finally make the call.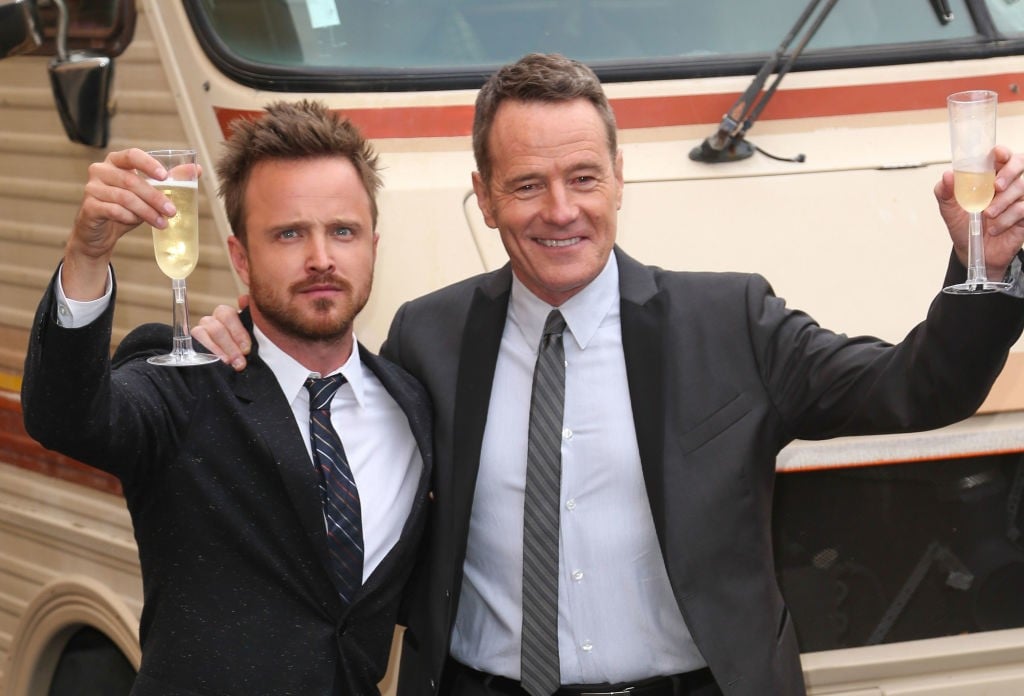 'Better Call Saul' is almost caught up with the 'BreakingBad' timeline
The penultimate season of Better Call Saul concluded in April 2020 and showrunners already confirmed that season 6 will be the conclusion of the series. The final season will likely show the events immediately preceding the beginning of Breaking Bad plus will wrap up the flash-forward scenes with Jimmy's new identity, Gene Takovic.
Vince Gilligan said he always envisioned Walt and Jesseshowing up but never wanted it to feel forced. "I thought we would have touchedbase with them already," Gilligan toldRolling Stone.
"But having said that, it makes perfect sense that we haven't yet touched base with them. Just being in the writers' room, you realize that there's a lot to do before that happens — if and when it does happen."
Bryan Cranston and Aaron Paul are ready to appear on 'BetterCall Saul'
Not even the actors themselves know if or when they'll be asked to appear on Better Call Saul, but they did say they're ready to join Jimmy McGill on his prequel journey.
"We always get asked about Better Call Saul andwhether Jesse or Walt are gonna show up on that show. I don't know how manytimes we've gotta tell Vince we're ready to do it," Cranston said duringan InstagramLive stream. "I just don't think he loves us anymore," he joked.
"You know at least where Jesse went [in El Camino].I don't see how these characters could show up," Paul said. "We'llsee, who knows, we'll see. But if Vince knocked on either of our doors, ofcourse we'd show up in a heartbeat."
How will Walt and Jesse be introduced on 'Better Call Saul'?
It's equally likely, however, that Walt and Jesse never makecameos on Better Call Saul, especially considering how the duo doesn't evenstart work with Saul Goodman until the second season of Breaking Bad.Vince Gilligan has been intentionally coy about the possibility.
"If you bring [Walt and Jesse] in just because folks are demanding it or expecting it, and you kind of bullsh*t the character's way into the show, it's just not going to satisfy anybody. I believe that in my heart," Gilligan explained.
"I mean, it would be satisfying to see Walt… [but] it'svery possible it won't happen if it doesn't feel properly arrived at."
The showrunner concluded by saying that ultimately, the show would remain just as good without cameos from Walt and Jesse. It's become good enough that it doesn't need them.
He concluded: "Yes, I believe that Better Call Saul isso much its own creation now, its own thing. It absolutely stands on its own."
Source: Read Full Article