GMA3 viewers were in their element this week when the team were reunited with a host they all adore.
In the midst of the show's shakeup with Amy Robach and T.J. Holmes' continued hiatus, DeMarco Morgan, Rhiannon Ally and Dr. Jennifer Ashton have been holding down the fort.
And on Friday, they were joined by another GMA contributor, Rocsi Diaz. The stunning TV personality looked incredible in a figure-flattering purple dress and stilettos as she hosted a segment.
WATCH: GMA3 welcomes back one of its main co-hosts – but is it T.J. Holmes or Amy Robach?
Rhiannon loved having her onboard and took to Instagram with a snapshot of them all and captioned it: "Thankful to be around people with such good souls," and Rocsi commented: "Awesome hanging with you."
MORE TODAY: Jenna Bush Hager shares sweet update on life after family expansion
TRENDING NOW: Lilibet Diana's baby album – ultra rare photos of Prince Harry and Meghan Markle's daughter
She also made a revelation on her own social media page when she post of herself presenting and wrote: "Hey 2023 I'm officially back from my social media hibernation. I love I'm starting my New Year with my @abcgma3 family."
https://www.instagram.com/p/CnnrdU9rQEI/
A post shared by Rhiannon Ally (@rhiannonally)
Rocsi looked right at home on GMA3 with Rhiannon and DeMarco
Viewers clearly loved seeing them working together and said as much in the comments. "Love this GMA3 team," and, "you work so well together". Others added: "Demarco needs to be permanent. He's got a fabulous personality and l love the chemistry he has with the co hosts," and, "Wow, gorgeous ladies".
Multiple outlets have reported that both Amy and T.J. have hired attorneys to represent them as they fight their suspension.
MORE: Harry and Meghan's school choices for Archie and Lilibet revealed by Montecito resident
They were removed from the air after their extra-marital affair was revealed in November.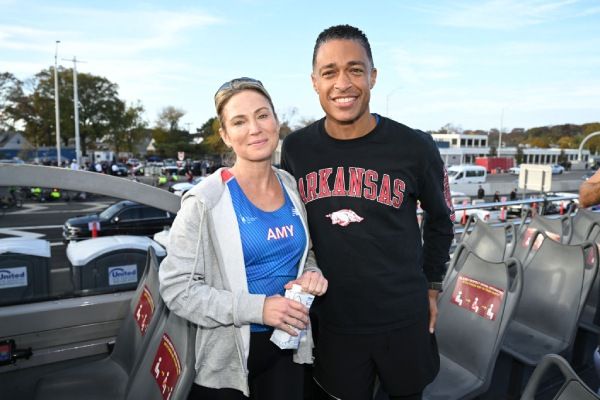 T.J and Amy are now in a relationship
According to People, while it's unlikely the duo will return, they have not yet been terminated.
When first announcing their hiatus, ABC News President Kim Goodwin admitted it wasn't an easy decision
Kim confirmed that the two hosts would be taken off air while the GMA team figured out next steps – and now, over two months later, it appears the investigation is ongoing.
Read more HELLO! US stories here
Source: Read Full Article