You'll have to forgive Jordan Fisher if he fooled you into thinking he's still a teenager. He can't help it.
The 28-year-old husband and father has been in show biz for years, and his acting chops and boyish charm (and the fact that he can shave off a decade just by shaving his face) make him a perfectly cast YA heartthrob—including as Aidan in Netflix's newest rom-com Hello, Goodbye, and Everything in Between, which is based off Jennifer E. Smith's 2016 book of the same name.
But Jordan has so much more going in addition to being our generation's rom-com king. Along with his latest Netflix flick (which, fun fact, he also produces), he's got a bucket list packed with sophisticated dramas, a slew of projects already in the works, and somehow the time to experiment with new music, so ready your Spotify playlists accordingly.
Cosmopolitan hopped on the phone with Jordan to talk about the rom-com genre, working with Talia Ryder, his career goals (@Aaron Sorkin, you'll want to listen), newborn parent life with his wife Ellie Woods Fisher, and what it *really* took to film those water scenes in Hello, Goodbye, and Everything in Between.
I watched the movie last night, and the emotion on your face at the end when Clare's telling Aidan she loves him is amazing.
I'll never forget that moment, truly. It was such a tumultuous journey for Talia's character. It's so thrilling and also comforting to watch, because it's just two people going through a pretty normal transitional period. It's a tough time, and Talia and her character work with Clare—the character is not written to be a very likable person—just managed to bring so much warmth and heart and depth to the role. I'm just so thrilled I got to do it with her.
How did you work with Talia to create that immediate on-screen chemistry?
It's a great question. You know, as an actor when you are tasked with synthesizing what is supposed to feel real—like real passion, real love, real heart, real hurt—to fabricate that with somebody you don't have that relationship with, it kind of incites a yearning to want to get to know that individual as quickly as possible. That's the beauty of being on location somewhere, it almost feels like summer camp. You know, super concentrated.
And for us, it happened at the height of COVID. This was like September/October 2020. We were able to successfully and safely film the whole thing with no illnesses, no nothing, thank God. There are definitely challenges in terms of being able to connect with with people; We couldn't do cast parties, we had be in our own pods. But we could look out on each other's balconies and talk to each other, and we would have little FaceTime game nights and movie nights and stuff, so when that two-week quarantine was up, it felt like we had been friends for years. She's like a little sister to me. I'm thrilled for people to get to see more of her.
Music seems to be a thread throughout Aidan and Clare's relationship, involved in how they met, the breakup, the flashbacks to the "Twist and Shout" number. Do you see in more music-related roles in your future? Is that something that you're prioritizing consciously in your career?
Yeah, 100 percent. Where the narrative is concerned and the music being a thread, it's just life imitating art/art imitating life. That's really all it is. It's a connective tissue for everybody, so it's always important to me as a creative to have a thoughtful soundtrack, score, anything that has music in it at all, because it needs to be there for a very specific reason.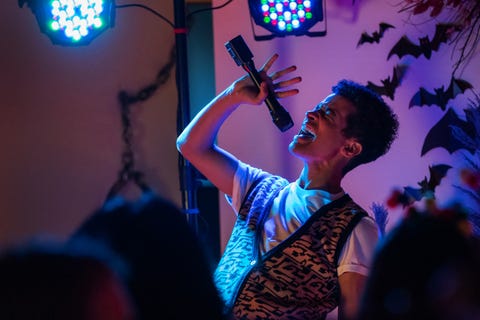 On the personal side of things, there is very much actually new music in the future, which you're the first person I guess I've really talked to about it openly. I won't go into too much detail because I'm still in the lab on this playing with something brand new. It's the most authentic I have felt in the studio in a very long time, and I'm really excited for people to listen.
Our readers will be excited to hear that! I want to ask, it seems there is such an appetite from Gen Z specifically for newer rom-coms, almost an itching for a rom-com resurgence like we had in the '90s and early aughts. What do you like about being a romantic movie lead?
I was a child of the '90s and early aughts and I ran home on Fridays to watch TRL. I was listening to NSYNC and The Backstreet Boys. And for me, something that's really definitive of that era of film was the way that it looked. Close your eyes and think about Dawson's Creek for two seconds, think about The OC, think about all those early Y2K Chad Michael Murray, really sweet, feel good, funny, slapstick rom-coms.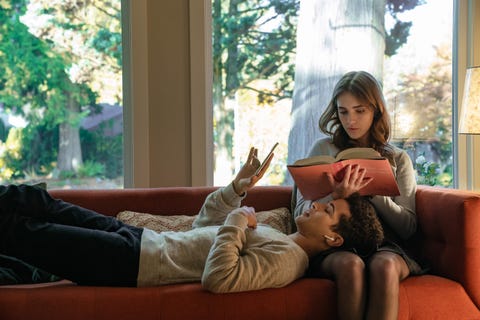 There are certain actors, one specifically, that means so much to me from that era. I've loved his career for forever, and I also just love him as a human: Matthew McConaughey. He really set the table for a beautiful career after doing a handful of rom-coms. Obviously, we don't act alike at all. There's nothing similar about our styles by any stretch of the imagination. But I love him and his roles, and that's what I see in his work on rom-com stuff. On a selfish level, I love being able to play in that space too for the last handful of years. It's been a lot of fun.
Congratulations on becoming a dad this year! Your pictures of Riley on Instagram are adorable. How is dad life treating you?
There aren't words to describe what it feels like. It's something that Ellie and I both wanted for forever, and we've been dreaming about it. We're so excited about it. You don't know what that kind of love feels like until you finally have one and you see your kid for the first time and you meet them after they've been in the womb for the last nine months and you've grown to love them, even though you haven't seen them. Your heart is beating outside of your body, basically, when you're holding your baby. And that's for forever and ever, amen.
https://www.instagram.com/p/Cf3S-jKO3fT/?utm_source=ig_embed&utm_campaign=loading
A post shared by Jordan Fisher (@jordanfisher)
For me personally, it's my favorite project I've ever taken on. It's my favorite thing I've ever done. I am built to be a dad, I love being a dad. We are the happiest we've ever been. We're the healthiest we've ever been because of it. There's a sense of completion for us for sure in starting our family, and we're so excited to have more and have our tribe and love our life in Florida. It's great. I'm a happy man.
Huge in the best of ways, congrats to both you and your wife. Speaking on dreams and looking forward, do you have any bucket list projects or roles?
Social culture is really funny because everyone's like, 'Oh, my God, Jordan can play a teenager until he dies.' [laughs] I've been fortunate that whenever I shave my face, I look young. I look 18 or 19 when I shave, and I've been able to ride that for a really long time, but I've gotta tell you, just this past year I feel like I've aged 10 years. I was talking to somebody about this the other day, playing a teenager is freaking hard. Playing a high schooler or college student is hard when you're not that age. There's a different kind of energy as an actor that you have to carry. And I've been doing it for such a long time, I'm so used to it.
My dream roles are honestly real roles of sophistication, films or shows where I'm literally just sitting down at a table across from some incredible actors and doing great scene work. Walking and talking, like The West Wing. Anything written by Aaron Sorkin, it's stuff that I grew up watching and stuff that I study today. A show like Severance, anything with real meat and depth and a journey and suspense and sophistication. That's really the stuff I'm excited about. I've got a handful of projects in development as well, and it's exciting to be in my place and have a seat at the table in the industry to collaborate with people.
Cast Jordan Fisher in Severance!! Last questions for you: How many takes did that water tubing scene require? Were you actually on a lake?
We were actually out on a very very cold lake, can you believe it? I actually drove that speedboat. I'm a water guy. I always have been, I love to be in the water, I'm a Pacific Islander. My wife and I moved from L.A. to the panhandle of Florida so that we can live literally between a bay and a shore. I've got to be near the water all the time, I love cold plunges.
This was a different journey. We filmed a summer movie in the fall. That's tough. It's cold, and the water is frigid. We had a water safety team as well as a cold water swimming specialist who gave us instructions. Any time we had to be in cold water, she would be with us. We had drills and exercises to be able to withstand it, but [the tubing scene] wasn't even the hardest to film. The really quiet one when the sun's rising and we're talking, oh my God. The tubing, we were riding around for about 15 minutes and we had it. Thank God for stunt doubles!
WATCH 'HELLO, GOODBYE, AND EVERYTHING IN BETWEEN' ON NETFLIX HERE
This interview has been edited and condensed for clarity.
Source: Read Full Article