Actors Reese Witherspoon and Kerry Washington have a new Hulu miniseries, titled Little Fires Everywhere. While doing promotion for the show, they spoke about their careers, as well as quintessential '90s flick both auditioned for (and didn't get): Clueless.
Reese Witherspoon and Kerry Washington star in 'Little Fires Everywhere'
The actors lead the new Hulu miniseries as Elena Richardson (Witherspoon) and Mia Warren (Washington). Elena is a journalist and mother of four, who lives a picturesque life in suburban Ohio. But when Mia and her daughter, Pearl, arrive in town, things begin to change rapidly for both families.
Witherspoon and Washington are more than just the leads of the series. They're also both executive producers, and were involved in much of the decision-making process for the female-led show. The first three episodes began streaming on March 17, 2020, and subsequent episodes will be released each Wednesday following.
Both began acting in the 1990s
Washington and Witherspoon have both been in Hollywood for many years. The former appeared in a number of TV procedurals in the early '00s, though she first began acting in the mid-90s. Her performances in films like Save the Last Dance, Ray, and The Last King of Scotland elevated her status, while her long-running series Scandal made her a household name.
Witherspoon had an even earlier start. Her first film, 1991's The Man in the Moon, earned her critical acclaim. She appeared in several films throughout the decade, breaking out around the turn of the century with Cruel Intentions, Election, Legally Blonde, and her cameo on Friends. Her turn in 2005's Walk the Line earned her an Oscar.
How Witherspoon and Washington met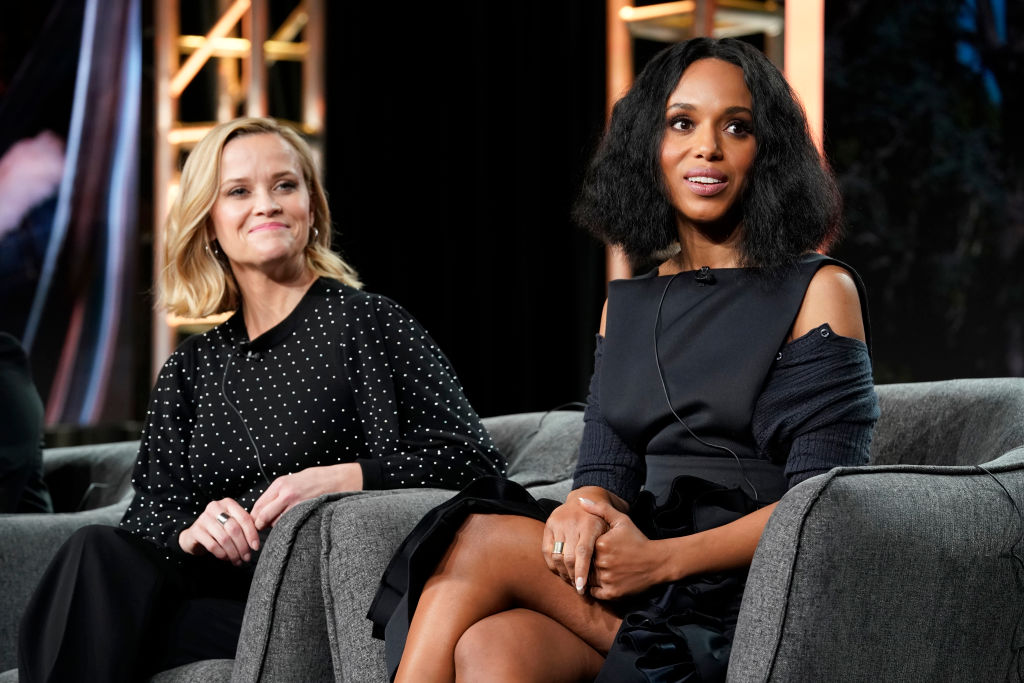 As two of the biggest names in the entertainment industry, Witherspoon and Washington's paths often cross. In a March 2020 interview with BuzzFeed, Witherspoon says they've become close through their work with the organization Time's Up. Washington says they're "in each other's tribe," and both support one another as owners of their own production companies.
But they first met quite a few years ago. "Reese and I met at a kind of workshopping meeting reading of a script at Leonardo DiCaprio's house," said Washington. "It was for a movie that eventually went [into production], but neither of us was in it." Witherspoon chimed in, "Neither was Leo!" So we'll just have to guess as to what film this was.
They auditioned for 'Clueless'
Speaking of what could have been — can you imagine Clueless starring Witherspoon and Washington? It could have been a thing. "I auditioned so hard for Clueless. And I didn't get it," said Witherspoon. "I did too!" added Washington.
The film was released in 1995, so both actors would have been in their late teens. This is right around the time that Washington was just starting out, while Witherspoon had a handful of films and TV appearances under her belt. "We should do a remake," laughed Washington. That's definitely something we'd love to see.
'Little Fires Everywhere' is set in the '90s
Washington says that she and Witherspoon "were weighing in on scripts" for Little Fires Everywhere, with the latter adding "we got to be sort of '90s consultants because we were teenagers in the '90s." The series takes place in 1997, and the characters playing their children are around the ages they really were at the time.
While Clueless is a comedic portrayal of hyper-wealthy teenagers in the mid-90s, Little Fires Everywhere takes a deeper look at the class and racial divides that are still a part our lives today, but through a time-specific lens.
Source: Read Full Article