Season 3 of Lost In Space wraps up the Robinson family saga with a few nail-biting adventures. And through the action-packed season, Penny (Mina Sundwall) is still juggling her feelings for Vijay (Ajay Friese) and Liam (Charles Vandervaart) and trying to find her place in the world. So after her epic journey through space, what happens to Penny at the end of the Netflix series?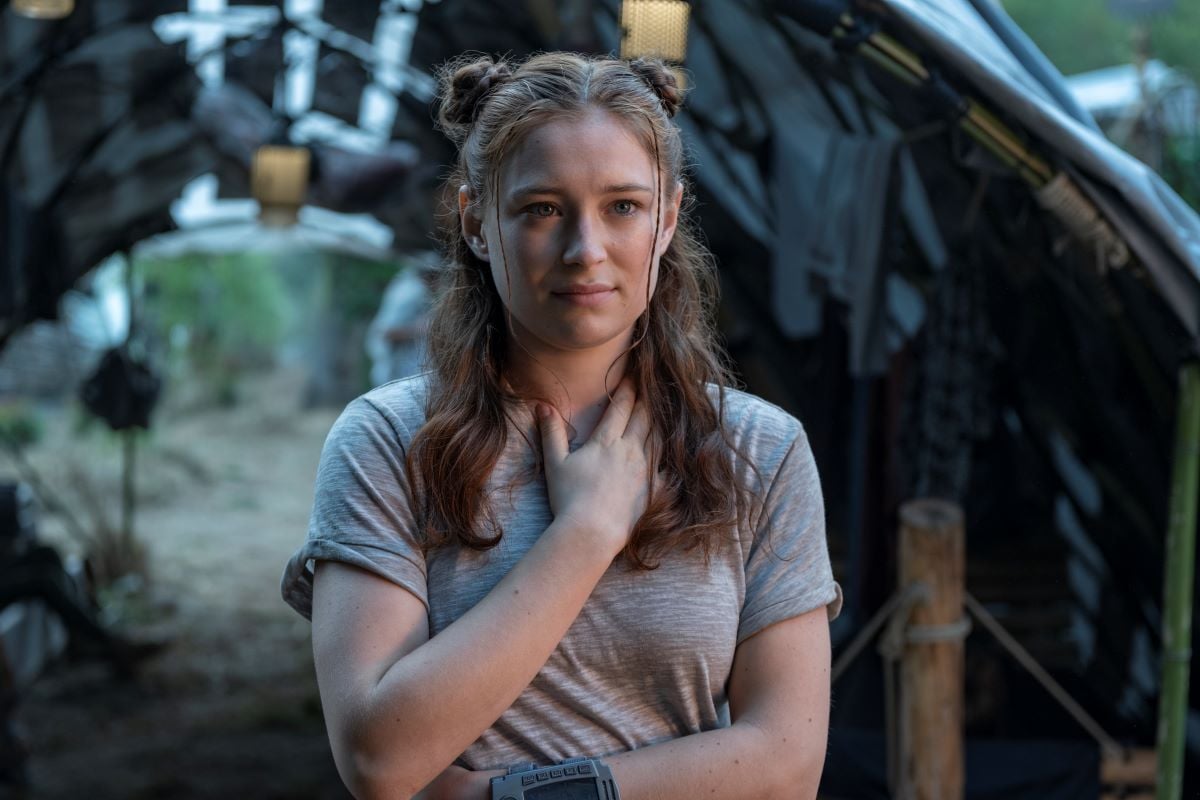 Penny finds her voice in the 'Lost In Space' finale
By the final episode of Lost In Space Season 3, the Robinson crew is on Alpha Centauri trying to figure out how to thwart the impending robot attack. After Will (Maxwell Jenkins) urges her to find the robot engine, Penny heads out toward the alien wreckage to retrieve it. When she sees an injured robot, Penny helps it and inadvertently releases it from its programming.
When the robot transforms into a friendly figure, Penny names her Sally. Penny's actions inspire others to help the robots. And as a result, the humans gain allies who help them battle SAR. Penny's empathy also prompts Will to head to the robot planet and urge them to help.
After the robots are defeated, Penny kisses Vijay. And later, as she sits with her book eating the Oreo cookies Vijay gave her, Penny narrates the ending, which she names "Chapter 1." She realizes that her strength is understanding the stories of the journeys, friendships, and family bonds she's become a part of.
'Lost In Space' star Mina Sundwall says Penny's empathy made her a hero
In the first two seasons of Lost In Space, Penny is at odds with her siblings because she feels lost to herself. Judy (Taylor Russell) is a brave and brilliant doctor, and Will is a talented scientist with a Robot best friend. But according to series star Mina Sundwall, by season 3, Penny learns that her strength is her heart.
"Penny's journey into her empathy [is] part of the reason why she was able to communicate to robots," the actor told Looper. "And having her own robot and letting that be the driving force of her hero's journey, rather than through action or through science, which is a lot of what her family has. That's where she really found herself in the places that she had been lost in the previous seasons."
Mina Sundwall explains what messages viewers can take away from the series
Lost In Space looks like a space odyssey on the surface, but it is a family story at heart. And beyond that, Sundwall says the show has many meaningful messages it leaves with its viewers.
"One [message] that I've always carried from the show that has to do with inclusivity of everybody and learning to understand something new or foreign to you rather than reject it immediately because it's something you're not familiar with, that's a big one," she told Looper.
"But I think the main [message] of the show is always that no matter what, looking out for the people around you and bringing people into your world is so important," Sundwall added. "I'm trying to find the best way to word this, but just to take care of everyone around you, really. I think we could use a little bit more of that in the world right now."
Season 1 to 3 of Lost In Space are currently streaming on Netflix.
Source: Read Full Article