Adult stop-motion animated series launches Dec. 2 on HBO Max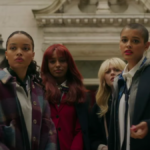 Then Santa, who is the coolest guy in snow biz, rolls up to greet his employees and many adoring (and some breast-flashing) fans.
"Good news, sir! More American kids believe in you than they do vaccines or the Holocaust," Candy tells Santa. "That's great! I mean, disheartening for America, but great for us," Santa replies.
During a press conference, Old St. Nick is asked if he's picked out the Santa who will succeed him: "Subtext: Santa is old and knocking on death's door. F— you!" Santa shouts at the North Pole reporter. "I mean, good question, I'll give it some serious thought. Ha, ha. Ho, ho, ho. Bye!"
This is when Candy starts to think about how the position of Santa has mostly been a white man's gig, and she decides she wants to be the next chief of Christmas. But in order to get the gig, she's going to have to impress Santa and his fellow old white men in charge.
"What I need to learn is how to bro out with these guys," Candy says. "Shoot the s—. Do shots. Shoot shots of s—."
While Candy pledges, "I'll be named successor or die trying," Santa seems to doubt her ability to take over: "She has ideas, but can she really be the face of Christmas?"
Along with Silverman and Rogen, the voice cast for "Santa Inc." includes Leslie Grossman, Gabourey Sidibe, Craig Robinson, Nicholas Braun, Maria Bamford and Joel Kim Booster.
The series is created and written by showrunner and executive producer Alexandra Rushfield. Additional executive producers include Silverman and Amy Zvi; Rogen, Evan Goldberg, James Weaver and Joshua Fagen for Point Grey Pictures; Rosa Tran, Seth Green, John Harvatine IV, Matthew Senreich, Eric Towner and Chris Waters. Harry Chaskin directed the eight-episode series.
"Santa Inc." hails from Lionsgate Television and Point Grey Pictures.
All eight episodes of "Santa Inc." will launch Thursday, Dec. 2 on HBO Max.
Source: Read Full Article