In a move he will likely come to regret, Tanner Tolbert showed up on Nick Viall's podcast The Viall Files and started complaining about his sex life. Which is an iffy move at the best of times, but to be clear, his wife Jade Roper quite literally just had a baby four weeks ago. Like…TANNER WHAT ARE YOU DOING?
Tanner told Nick that their relationship has "changed completely" since their first child Emerson's arrival, and said that he wants to have sex more and Jade "wants it less." Like, maybe because she's busy raising two teeny children and recovering from giving birth on her bedroom closet floor mere weeks ago? Just a guess!
https://www.instagram.com/p/B0j9BqkganS/
We are officially a family of 4! Baby boy threw us for a curveball last night… but him and his mom are healthy and all is well… now we just have to pick a name…
A post shared by Tanner Tolbert (@tanner.tolbert) on
"It took a dive [when Jade was breastfeeding Emmy] and then pretty much right after the breastfeeding stopped, we got pregnant again with Brooks," he said. "And now he's here and we have two kids. It is tough. I feel like I've begged for it. And I don't want to feel selfish—I hate asking, I hate trying, 'cause I don't want it to be pity sex."
New Episode!! with @ttolbert05 putting to bed the Demi/Kristian debate face-to-face, discuss the JPJ freakout. Then the fatherhood, some tips on how to keep the spark alive amidst dirty diapers and crying newborns. https://t.co/oPchovQ1mF https://t.co/LpZb3dWndr pic.twitter.com/gywsMhKtkm
Truly amazing he said this out loud, but okay! He did try to come through for Jade a little though, saying that her focus "should be on the kids, not me" but that "I do feel on the back burner."
Truly, I'm speechless.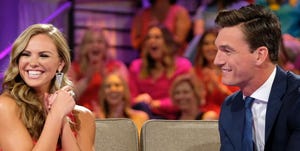 Source: Read Full Article