So, um, I'm sorry to be the one to say it but…you're probably never going to look at popcorn the same way again thanks to the arrival of this absolutely demonic creature from The Masked Singer season 4. Yep, that's right, we now have to contend with a full-on human-sized kernel of corn dancing and singing on stage. Just what you need in 2020!! How are any of us still intrigued by this show?? The medical community will be studying it for years, I'm sure.
But the worst part is is that some poor D-list celebrity is currently trapped inside this thing, so the sooner we can figure out the salty guy's real identity, the better. I don't know about you, but I'm not trying to watch a singing corn puff during my downtime any longer. Luckily, I may not have to, as there are already some pretty convincing theories based on almost no information due to Masked Singer fans being next-level sleuth-y. Proud of you guys. Here's what we know thus far: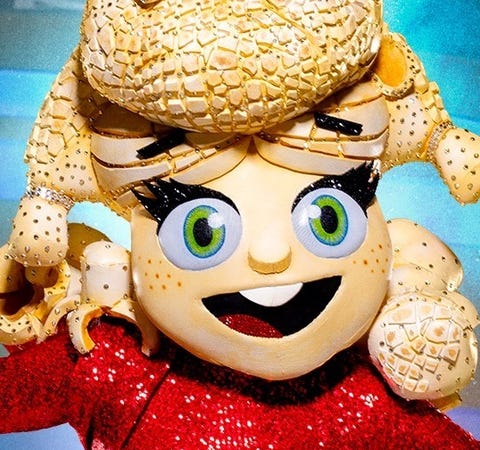 The Clue Package(s)
Please be advised that The Masked Singer originally bestowed a short Popcorn clue package upon us before the show's premiere, but it's since been scrubbed from the internet. I'm not saying they're trying to hide things, but I'm also definitely saying they're trying to hide things.
HOWEVER! Joke's on them because I watched the video before it disappeared, and the contents have been etched into my poor brain forevermore. Takeaways included:
Which brings us to clue package number two.
This one is a little longer and packs *way* more info, incluuuding:
And since they haven't been eliminated yet, we got a third clue package!
They didn't give us too much to work with besides being in a hospital setting—judge Nicole Scherzinger got "major soap opera vibes" from it—plus a hair crimper and a Rubik's Cube. By my estimation, it could be anyone at this point.
The Theories
Cyndi Lauper
https://www.instagram.com/p/B7xFxCpghB7/
My money is on this '80s pop star. Not only does it SOUND like her, but a lot of the clues solidly point to her, too. There has been lots of color involved during the Popcorn's time on stage, which could have something to do with Lauper's hit song "True Colors." And the random meat loaf would make sense because she has performed with *the* Meat Loaf a handful of times. The people have a feeling it's her:
Source: Read Full Article