Though Meghan Markle hasn't even been a full-time royal for a year, she's already doing things her own way. Markle has left behind her life and career as a Hollywood actress, and she's trying to find her stride as a member of the British Royal Family. Though it looks like she hasn't missed a beat, we do know that Markle doesn't exactly like to adhere to all of the strict traditions and protocols that the Windsors have in place. For example, Markle is no fan of those fancy hats or pantyhose, and she has no desire to simply sit back and be waited on.
However, now that she and Prince Harry are expecting their first child, the Duchess of Sussex might have to follow some of the royal family baby traditions that include not revealing her baby's gender and notifying Queen Elizabeth II of the child's birth before anyone else. And yet, there seems to be one royal baby tradition that Markle just refuses to do. Will she pose for the traditional post-birth photo?
Prince Harry, Duke of Sussex and Meghan, Duchess of Sussex | Chris Jackson/Getty Images
The Lindo Wing photo opp
When Prince William was born in 1982, his parents, the late Princess Diana, and Prince Charles posed with him outside of The Lindo Wing at St. Mary's Hospital in London. They would pose again on those same steps in 1984 when the Princess of Wales gave birth to their second child, Prince Harry.
When Prince William and his wife, Duchess Kate Middleton, had their own children, Prince George, Princess Charlotte, and Prince Louis, they continued that tradition. However, it seems like when Duchess Meghan Markle gives birth in the Spring of 2019. She won't be partaking in that traditional photo opp. Though it seems absurd that any woman would want to engage in a full-on photoshoot just hours after giving birth, Markle's reasons might be a bit more complicated than that.
View this post on Instagram
The Duke and Duchess of Cambridge are delighted to announce that they have named their son Louis Arthur Charles. The baby will be known as His Royal Highness Prince Louis of Cambridge.
A post shared by Kensington Palace (@kensingtonroyal) on
A home birth
It looks like Markle might be considering a home birth instead of Lindo. A source close to the royal couple told Vanity Fair that Meghan is considering a home birth at her neww home, Frogmore Cottage which is located in Windsor– an hour away from London. However, the plan is not set in stone since doctors are encouraging the first-time mom to check into the hospital.
However, since the Duke and Duchess of Sussex want more privacy for their baby, a home birth seems ideal, especially since Markle's mom, Doria Ragland will also be intimately involved and on hand to help during the birth. Vanity Fair reports, "Doria plans to be around a lot when the baby arrives, and there are plans for her to have a dedicated space at their new home. She wants to be on hand to help Meghan and Harry with the baby. Doria will be involved, and if she's involved she will be encouraging Meg to go for a natural birth."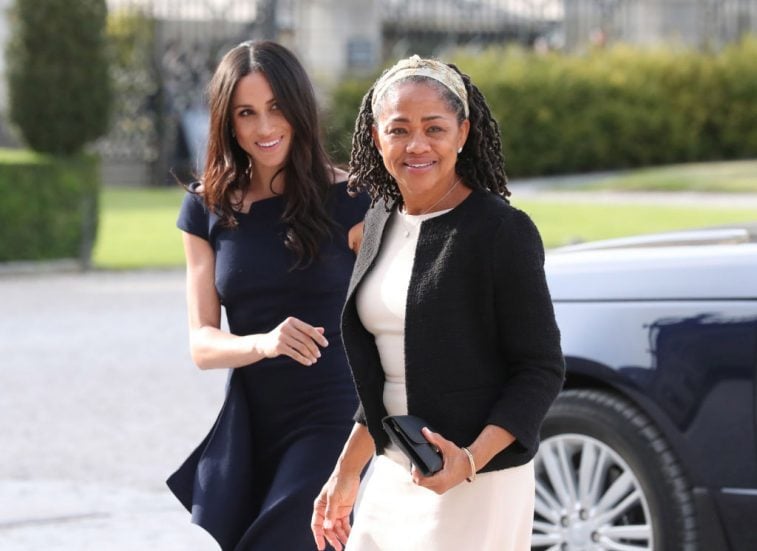 Meghan Markle and her mother, Doria Ragland | Steve Parsons-Pool/Getty Images
The newlyweds are known for doing things their own way, and choosing how they want to have their baby is no different. As a source close to the royal family explained, "Harry and Meghan are intent on doing things their own way. One way or the other, they will get what they want."
Read more: Everything Meghan Markle and Prince Harry Have Said About Having Children
Check out The Cheat Sheet on Facebook!
Source: Read Full Article