Myanmar's army is hunting for seven well-known supporters of protests against this month's coup and they face charges over comments on social media that threaten national stability, the army said on Saturday.
Among those named was Min Ko Naing, a one-time leader of bloodily suppressed protests in 1988, who has made calls supporting the street demonstrations and a civil disobedience campaign.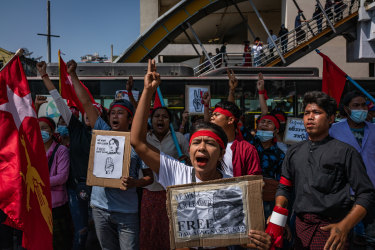 Protesters hold placards and shout slogans. Credit:
It said cases had been filed under section 505 (b) of the penal code – which was often used by previous juntas and imposes a sentence of up to two years for comments that could cause alarm or "threaten tranquility".
"I am so proud to have a warrant issued along with Min Ko Naing. Catch me if you can," said one of those named, NLD lobbyist Ei Pencilo, on her Facebook page, which has over 1.6 million followers.
The United Nations human rights office said on Friday more than 350 people have been arrested in Myanmar since the coup.
Journalist Shwe Yee Win, who had reported on opposition to the coup in the western town of Pathein, was taken away by police and soldiers on Thursday and has not been heard from since, her TimeAyeyar news website and her mother said.
"I am really worried," said Thein Thein, now looking after her daughter's one-year-old child. "Her son is in trouble now since she was breastfeeding him. She didn't even get chance to put on her shoes before they took her."
The government did not respond to requests for comment.
Reuters
Most Viewed in World
Source: Read Full Article