The final group of the season debuted with Anteater, Donut, Candelabra, and Hibiscus taking the stage and battling it out on "One Hit Wonder Night" — they were one of the strongest groups vocally, but what was up with that terrible Smackdown song choice?!
One last batch of masked celebrities were revealed — save a final Wild Card next week — as The Masked Singer welcomed Group C to the stage. Unlike the last group, everyone was pretty solid in this group, which included Anteater, Candelabra, Donut, and Hibiscus.
The theme was one-hit wonders, with the contestants not only singing songs that qualified, but their on-stage clues were also one-hit wonders. We found ourselves wondering if these celebrities were one-hit wonders themselves!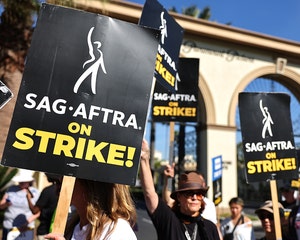 Hollywood Reacts to SAG-AFTRA Strike End as Studios and Actors Reach Agreement
All in all, it was a compelling night of performances, with a couple that positively blew us away. We're still scratching our heads a bit about how the night played out as things progressed, but ultimately, it was exciting to welcome all these new voices — and incredible costumes — to the competition.
We also think this week might just have featured the worst-ever choice for a Smackdown song. It did absolutely nothing to help either singer, but we can't even fault them. The song is so uniquely tuned to its original singer, how can anyone else show anything by taking it on? One of the masks even started laughing as they sang, as if understanding just how ridiculously bad this was.
Let's jump right in with this week's mask. And don't worry, before we get to the shocking unmasking(s), we're going to make you power through the terrible (and occasionally good) guesses made by our illustrious panel of Robin Thicke, Jenny McCarthy, Ken Jeong and Nicole Scherzinger first. We do this because we love … to torture you.
Along with the panel's guesses, we'll be sharing some internet speculation, too, so if you don't want to be potentially spoiled (because they are very good at this), you may want to skip past the guesses sections.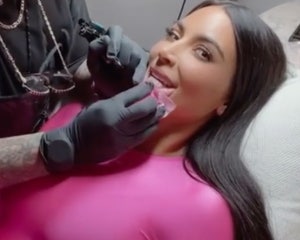 Kim Kardashian Reveals Secret Lip Tattoo She's Had for Years: 'No One Knows, No One Sees It'
ROUND 1: ONE-HIT WONDER NIGHT
Donut
Unable to render YouTube Video.
("Hooked on a Feeling," Blue Swede) Donut had classic crooner all over his vocal presentation. That costume, which looks like a stoner's fever dream, can't be easy to move in, but he was still able to bring some showmanship and even some moves to the performance. Vocally, his tone was rick and on point, even as it didn't strain itself too much. But he's beautifully in that wheelhouse for that kind of lounge singer Vegas vibe.
Guesses: It looks like Donut has had a hard time being defined as how he sees himself. He said that a "mega hit" catapulted him to number one, but then says that he was mostly associated with a rough-and-tough "flavor," suggesting he was pigeonholed or typecast as one thing. He showed what looked like a law enforcement badge at this point.
There was an LA flag and the dazzling lights of show business showing cowboy boots as he talked about being a country boy with a refined side and even a theater connection with shows like Chicago and 42nd Street.
He said he's been known to pour his heart into a song or two, and is doing this show coming off of the toughest year of his life, hoping to turn things in a more positive direction. While there were a lot of neon lights, we definitely saw a focus on a bow-and-arrow, as well.
As for his on-stage clue, it was the one-hit wonder "How Bizarre," by OMC. Donut explained, "You know what's bizarre? Me being on one hit wonder night, because just like Rocky, I've got hit after hit after hit."
Nicole went the easy route, thinking maybe this was Sylvester Stallone, but that voice felt way too polished to us to be Sly (could it be brother Frank who had a hit of his own in "Far From Over"?).
Ken, was thinking Jeff Bridges, but Jenny wasn't looking at actors at all. Instead, she was thinking maybe this was a legendary singer with the bow-and-arrow pointing to Tom Jones' "Cupid." Robin was feeling confident that Jones was the voice he heard, backing Jenny's guess.
The internet was also feeling the Tom Jones guess, with some of the younger users humorously noting that their moms are saying that has to be him! There were some other guesses, as well as those who were certain he sounded country. We didn't hear that at all, though.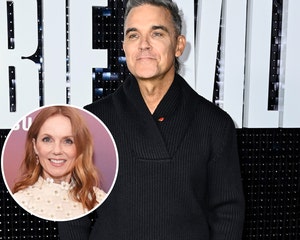 Robbie Williams Looks Back on 'Confusing' But 'Magical' Relationship With Spice Girl Geri Halliwell
Hibiscus
Unable to render YouTube Video.
("It's Raining Men," The Weather Girls) Hibiscus came out with a very intimate and "freaky" hug for Nick. She definitely strutted around the stage with that same level of confidence, while we found ourselves mesmerized by her lower singing register. We also hoped she'd show a little range on the upper end, but aside from one not pushing a bit, it didn't happen. She was in tune, nailing the delivery, though, so she's either a talented non-professional or maybe a seasoned pro whose voice has dropped notably from their heyday.
Guesses: Hibiscus described her life as part fairy tale, part soap opera, and part comedy of errors (with an emphasis on the comedy). She said that she's always had a love of performing, dating back to fighting for attention in her big family.
A late bloomer, she said that she suffered a stint in the hospital, but after that was a "sexy flower" in a "big city." In fact, she was even told she looks like Sharon Stone at one point, which certainly fits her statuesque physique here.
In her career, she shared that she's hung with royalty, name-dropping both Sir Elton John and David Bowie, before saying that minus a few pitfalls and "a husband or two," she's proud to have gotten to where she is now. Visual clues included the Statue of Liberty, a gingerbread house, and a vampire.
Her on-stage clue when she could stop fawning over Nick, was Right Said Fred's "Too Sexy." Hibiscus added, "I've been in a couple beauty pageants, and I've also worn a tiara." Jenny was picking up a Housewives vibe, thinking maybe Countess Luann de Lesseps and KIm Zolciak. They were both nurses, but thinks the Statue of Liberty points to Countess Luann.
"That would make a whole lot of sense with all this hugging and kissing going on up here," joked Nick, who said he doesn't know who's under this mask. "You hug and kiss everyone, darling," Hibiscus shot back. Ken's guess was Bonnie Hunt, but Robin shut it down immediately, instead thinking maybe NYC model and beauty icon Janice Dickinson.
We're backing Jenny up on this — and we definitely trust her when it comes to Housewives — because Luann has such a distinctive musical personality when it comes to how she performs and sings. We're definitely getting a Countess vibe here, too!
As for the internet, they had guesses all over the place, but the ones who had the most confidence behind their guesses were jumping on board the Bravo train, too. Or maybe we're just projecting.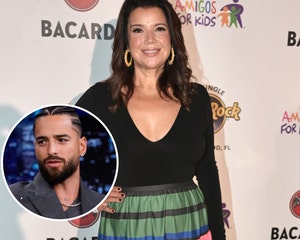 The View Co-Host Ana Navarro Receives Backlash After Claiming She Wants to 'Breastfeed' Maluma
Anteater
Unable to render YouTube Video.
("Walking in Memphis," Marc Cohn) Anteater sported an unwieldy costume but it didn't matter because he brought an incredible vocal. What's more impressive is that he stylized this well-known song to suit his own artistry, which we don't often see on this show. That's a beautiful rasp in his voice, a great smoky tone, a lot of soul and a falsetto?! Okay, Anteater. We see you!
Guesses: Anteater has apparently experienced the ups and downs of fame in his long career, where he learned the hard way that fame isn't everything. He shared having at one point the houses, sports cars, yachts, all of it. But then, some bad business deals and a loss of self cost him basically everything.
He said he regrouped with a chicken coop and a donkey named Jasper, building his dream home, starting a family and learning that sometimes you have to lose it all to gain everything. One striking visual clue was an eye painted on a wooden box. We also saw a glowing angelic shape in the sky and a cougar.
As for his one-hit wonder clue, that was "Somebody's Watching Me," by Rockwell. "There was a time when I performed in front of 40 percent of the entire world," explained Anteater. That immediately sent Jenny to joking he might be the Pope, while Robin Thicke immediately thought of the Live Aid concert in 1985.
Ken springboarded off of that to find Rick Springfield, thinkin the height and overall shape (so much as we can see) fits. Plus, there was an angel in the clue package. Could that refer to his "Earth to Angel" song? Is his voice this raspy now? He then said cougars love him, to tie that visual clue in, which was a terrible guess.
Instead, could it be John "Cougar" Mellencamp? That was Jenny's guess, which even got Ken excited. Nicole noted Bryan Adams, who did play Live Aid, but we're not here for the eye representing "(Everything I Do) I Do It for You." That's Ken-level bad!
The internet wasn't much better, though there were some good guesses thrown in people second-guessing their own guesses live (like it sounds like Randy Newman but he's too tall so it's not him).
There was also some support for the panel's non-Rick Springfield guesses, with most people looking for '80s iconic short kings — so Daryl Hall is a bad guess, too! We're kind of digging the John Mellencamp guess as it fits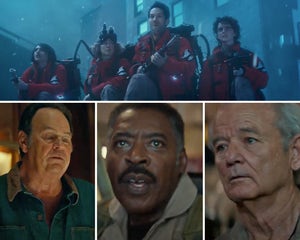 Ghostbusters: Frozen Empire Trailer Moves Action Back to NYC, OGs & Firehouse Make Icy Return
Candelabra
Unable to render YouTube Video.
("1 Thing," Amerie) Candelabra was so effortless on this song she carried herself and sounded like a bona fide R&B superstar. She sashayed around the stage like a pro, but more impressively was the power of her voice. We had no idea how strong she was going to come out, but she had personality for days, along with power and a playfulness that painted her as a total package entertainer.
Guesses: With dreams that started at a young age, Candelabra said she was calling performers from her hometown from 12 years old for someone to give her a shot. All it took was one yes and her career began to take off. It was a dream she said she carried from a young age.
But even as things were taking offf, she never stopped the hustle, always working and pushing to keep herself and her career hot. She's got fans all over the worlds, plenty of accolades, but the hustle never stops. Visual clues included a phone call to Kevin Hart (is he from her hometown?), a picture of California, a blue butterfly, and a package labeled "Santa's Naughty List."
"Two Princes" from Spin Doctors blasted as her on-stage one-hit wonder clue. "Listen, who needs two princes when you have one fire princess," said Candelabra. Ken was immediately super-confident in throwing out his guess, Mariah Carey.
"I think I would know my baby mama," Nick replied, but Ken immediately shot back. "Be more specific." Even Nick had to give him props on that one, with Candelabra giggling alongside. Ultimately, though, he shifted to Regina Hall, who does have a Kevin Hart connection.
Nicole threw out Brandy, who certainly played a princess in Cinderella. Robin was on board with it being a pro, but instead was wondering if it was The Princess and the Frog star Anika Noni Rose. Social media, though, is thinking it might be Keyshia Cole, though they're not totally sure, either.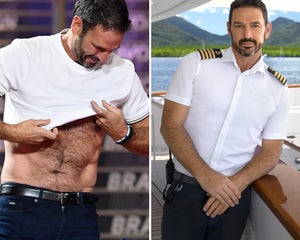 This Real Housewife Claims She Hooked Up with Below Deck's Captain Jason Months Ago
ROUND 2: SMACKDOWN
This was a tough one as Group C came out strong with their first appearances on the show. No one was so obviously bad as to deserve immediate elimination. Anteater definitely blew us away, with Candelabra also owning her moment on the stage. That leaves Donut and Hibiscus, who were both solid enough. But unlike their counterparts, their performances did leave us feeling like there could have been a little more.
Did the studio audience and panel agree with that assessment, or did they think the fact Donut could well be a legend elevate his status, endangering … well, it would have to be Candelabra, right? We had to imagine Anteater was untouchable at this point. We imagined wrong.
Speaking of wrong, what is wrong with this studio audience that they sent Anteater into the Smackdown?! We agree with Hibiscus, but Anteater was one of the most compelling voices of the whole season, and had more emotion in this one performance than anyone else yet.
Tiki v Hawk
Unable to render YouTube Video.
("Hey Mickey," Toni Basil) Anteater did the best with a song so stylized no one can really shine on it. He got buried under the music and had no real flare, sounding nothing like his original performance. It lacked that magic, but it was pretty solid. Hibiscus didn't seem as confident on this track, either, but she struggled even more to shine on it. We're not even sure she stayed in tune. By the end, it sounded like she was laughing hat herself and at how terrible a choice this song was for a Smackdown.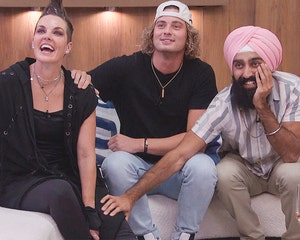 Big Brother Blowout: Final Predictions as Final 3 Battle for HOH — Plus, Ranking All 17 Houseguests
UNMASKING 7
The Smackdown was a mess and a bit of a disgrace, but it didn't change in our minds what happened earlier in the night. Hibiscus is just okay as a singer, competent but not mind-blowing. We want more range and vocal dynamics from her. Anteater, meanwhile, has such a cool sound and unique energy to his performances, we just want to see what else he can do.
Thankfully, the panel was voting this time. They were perplexed like us when Anteater even had to battle it out in Smackdown, so of course they saved him. That meant the end of the road for Hibiscus, who immediately got cozy with Nick again before taking her mask off.
Robin Thicke: Janice Dickinson
Jenny McCarthy: Countess Luann de Lesseps
Ken Jeong: Kim Cattrall
Nicole Scherzinger: Hannah Waddingham
Unable to render YouTube Video.
Jenny locked her guess in by recalling Count Dracula, tying to the Countess. Nicole, though, thought the Sharon Stone lookalike clue could mean Ted Lasso star Hannah Waddingham while Ken went way out on a limb with Kim Cattrall. But we were also feeling the Countess, in her mannerisms, delivery and voice.
In the end, that's exactly who it was as Real Housewives of New York City alum Luann de Lesseps stood revealed after first taking off her gloves and finally her mask. There's also the fact that Jenny is a Housewives superfan, so of course she's going to recognize her.
Luann even got to go out not reprising her Masked song, but her own track, "Money Can't Buy You Class." It was … well, it was what you would expect from a Countess Luann performance. We can only assume she negotiated this into her contract. Could it even qualify as a one-hit wonder if it was never really a hit?
The Masked Singer continues next Wednesday with the final mask of the season joining Group C as a Wild Card for "Trolls Night" at 8pm ET on Fox.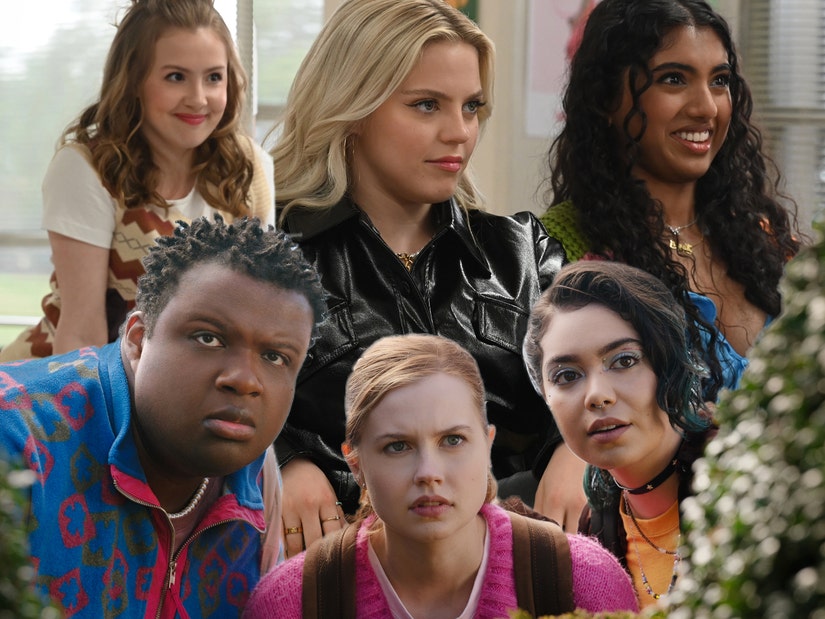 Source: Read Full Article