Aspinall, right, floored Pavlovich with two right hands in quick succession
Aspinall's hard work has yielded results as terrifying as Pavlovich and the Russian's own statistics. The Briton is now 7-1 in the UFC, with his only loss coming as the result of an injury 15 seconds into a fight, and his victories all coming in the first and second rounds. Meanwhile, Pavlovich entered his bout with Aspinall with a 6-1 UFC record and all wins via first-round finish; in other words, Aspinall was right to harbour a little fear.
Now, however, Aspinall may just be the most fearsome fighter in the division, especially with Jones absent. Aspinall's clash with Pavlovich came together on two weeks' notice when the heavyweight champion suffered an injury that derailed his planned title defence against Stipe Miocic – and which is set to keep the former light-heavyweight king out of the ring for up to a year.
Still, the UFC's plan seems to be to reorganise the bout, despite the facts that: Jones may be 37 by the time he returns, Miocic could be 42 by then, and the latter has not fought since he was brutally knocked out by Francis Ngannou in March 2021. Furthermore, Jones's heavyweight title win over Ciryl Gane in March marked his first fight in three years.
Age and activity are working against the Americans, as is apathy; in the aftermath of UFC 295, fans have expressed disinterest in that 'legacy' fight, preferring the prospect of a unification bout between Jones and Aspinall.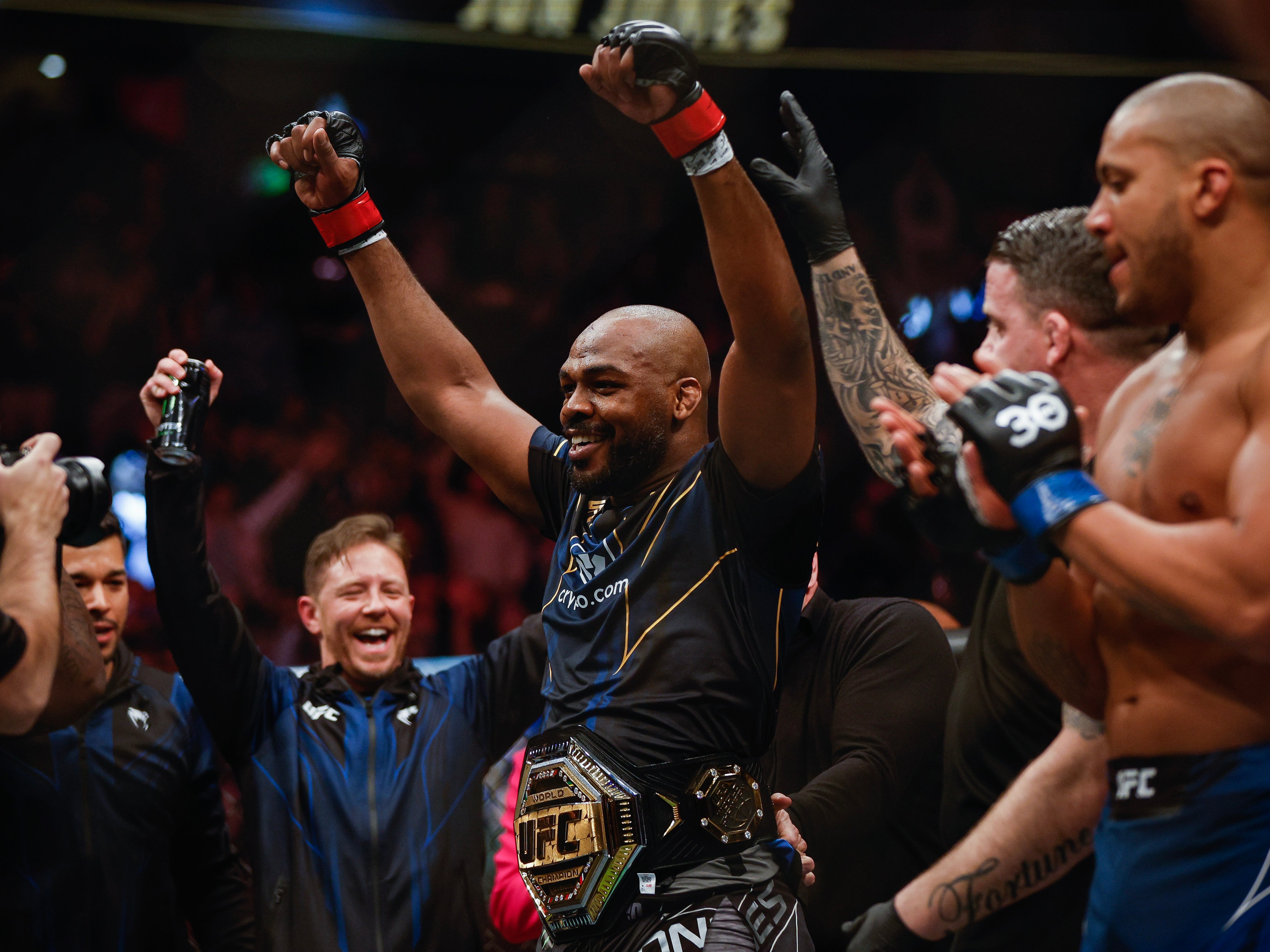 Jon Jones celebrates winning the UFC heavyweight title in March
Naturally. Miocic may be the greatest heavyweight of all time, but few were giving him a chance against Jones. While both men have been inactive and ageing, Miocic is the older and less active of the two, and Jones at least impressed with his rapid submission of Gane this year.
But to debate how Jones vs Miocic would play out feels very 'March 2023'. The greater question is how Jones vs Aspinall would play out, and for all of Jones's feats and accomplishments over the years, the reality is that he would be facing the quickest heavyweight in the sport, who also hits harder than any of the American's previous opponents, and who is only approaching his prime at 30 years old. Furthermore, Aspinall has the kind of well-rounded skillset that might just enable him to neutralise Jones – or even get the better of him – in any grappling exchanges.
Of course, the situation is further complicated by the fact that Aspinall may not want to sit out until Jones returns, while the UFC will also be keen to keep the Briton active. It may mean that Aspinall has to defend the interim title, a rarity in the UFC. That could make for intriguing an match-up between the 30-year-old and Ciryl Gane, Jailton Almeida or even Curtis Blaydes, who picked up a technical win over Aspinall when the latter sustained his knee injury at UFC London in July 2022.
At this point, the hope is that all roads lead to Jones vs Aspinall – one of the biggest fights in the history of British MMA. Aspinall has nothing to fear, but then again: A little fear goes a long way for the interim heavyweight champion.
Source: Read Full Article