Save articles for later
Add articles to your saved list and come back to them any time.
We were mightily amused on Wednesday at shock jock Steve Price's reaction to the revelation on former premier Dan Andrews' non-application for membership at the Mornington Peninsula's Portsea Golf Club.
"If Dan Andrews is allowed to join the Portsea Golf Club, I'll quit, I'll resign, I'll tear up my membership and I'll go and play golf somewhere else," Price thundered, on Sky News on Wednesday night.
Daniel Andrews playing golf during his days as opposition leader.Credit: Justin McManus
But that wouldn't be the end of Steve's days on the greens.
If his anti-Dan principles force him off Portsea's "inclusive" fairways he can keep playing around the corner at Portsea's posh neighbour the Sorrento Golf Club, where Price confirmed when we caught up with him on Thursday he had been a member for "quite some time".
"I'm happy to play at both, as long as Andrews is not a member," Price told us.
Now, it's not controversial to say there's something of a class divide between the two clubs, which flirted briefly last year with the idea of a merger.
Portsea is of choice for many working-class heroes — who may or may not vote Labor, who knows — while Sorrento is wall-to-wall rich-listers where you'll pay more than $4000 a year for the top tier of membership, there's a joining fee of more than $12,000 and a six-and-a-half year waiting list.
So we wondered how Steve might go about picking a side in the annual informal challenge match between members of both clubs, where the "Pigs" of Portsea take on the "Counts" of Sorrento. "I'm playing as I always have for Portsea," Price told us.
UNION BLUES
It's bad enough for the Labor Party that the Greens keep taking their lefty inner-city seats, but its really gonna sting the comrades if a card-carrying greenie jags a key leadership role at one of the ALP's most reliable union bastions.
A key player in the concerted challenge to the long-standing national leadership of the Community and Public Sector Union led by Labor-4-lifer Melissa Donnelly is none other than Adriana Boisen.
Melissa Donnelly, secretary of the Community Public Sector Union. Credit: Louie Douvis
Boisen, who is running to be the union's national president, is a former ACT Greens candidate who now works as a staffer to the party's federal housing spokesman, Max Chandler-Maher, who is known — not fondly — in Labor circles simply as "Hyphen".
But, Boisen told us the internal CPSU insurgency, which has forced the union's first contested elections in 18 years, was a cross-party effort. Another candidate from her group, which is called Members United, is an ALP member who works for an ACT Labor government MP.
Members United argues that the close relationship between the CPSU and Labor is a problem when union officials faced their ALP mates across the wage bargaining table, to say nothing of the hundreds of thousands of dollars in affiliation fees handed over each year.
Voting is under way and polls close on December 6. Exciting stuff. Donnelly declined to comment.
OPT-OUT
The catastrophic failure of the Optus network last week continues to cramp the style of CEO Kelly Bayer Rosmarin.
Attendees at Thursday's REA annual general meeting in Melbourne hoping to see Bayer Rosmarin in the flesh there — she is a director of the real estate listings giant — would have been disappointed.
REA chairman Hamish McLennan — no doubt enjoying a break from questions about the bin fire that is Rugby Australia, which he also chairs — broke the news that Bayer Rosmarin would be beaming in from Canberra where she was required for a "public hearing".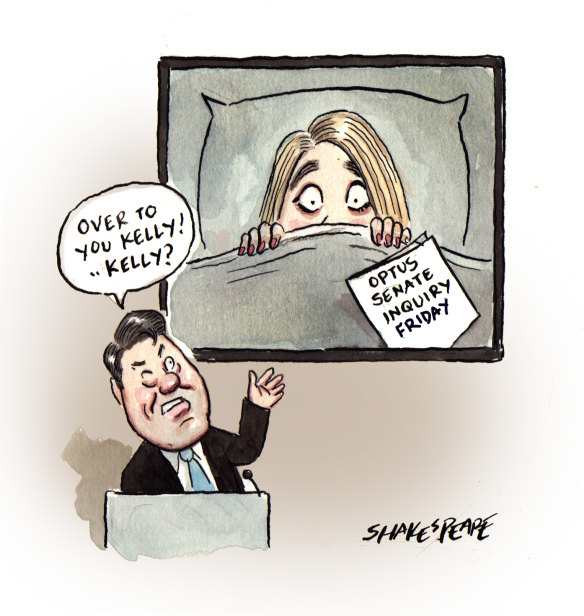 REA's AGM failed to see KBR .Credit: John Shakespeare
Which we thought was a little weird because the Optus CEO wasn't due to front a much-anticipated hearing of the Senate Standing Committees on Environment and Communications, chaired by the Greens' Sarah Hanson-Young, until Friday morning.
Wasn't that weird, it turns out, with a source close to the Optus camp telling us that Bayer Rosmarin and her team thought it sensible to get to the capital in plenty of time for the hearing. Nothing to chance and all of that.
PICTURE PERFECT
Former immigration minister Alex Hawke is learning about the price of loyalty. A powerbroker for the Liberal Party's Centre Right faction, Hawke was Scott Morrison's loyal consigliere, helping his prayer buddy work the numbers during the 2018 leadership spill.
Alex Hawke
Now, Hawke is a backbencher facing a tough preselection fight to remain the member for Mitchell in his Sydney electorate, and perceived closeness with Scomo is not helping his cause.
It's so tough that Hawke has had to put together a preselection booklet, documenting his achievements for the local branch members and also featuring a pretty dodgy photoshop effort.
The MP's face was awkwardly superimposed onto a picture of his family, and it didn't take long for political watchers to find the original picture, of just the family sans Hawke, on his Facebook page.
It's not the only bit of touching-up in the booklet. There's no mention of Morrison, and the former PM isn't even among the published endorsements, which include Opposition Leader Peter Dutton, Deputy Liberal Leader Sussan Ley, and anti-Voice campaigner Nyunggai Warren Mundine.
Hawke has soured on Morrison a little, telling author and Herald columnist Niki Savva that the former PM had gotten "addicted" to power and "wasn't the greatest listener". We'll soon see if the preselectors were listening.
The Morning Edition newsletter is our guide to the day's most important and interesting stories, analysis and insights. Sign up here.
Most Viewed in National
From our partners
Source: Read Full Article